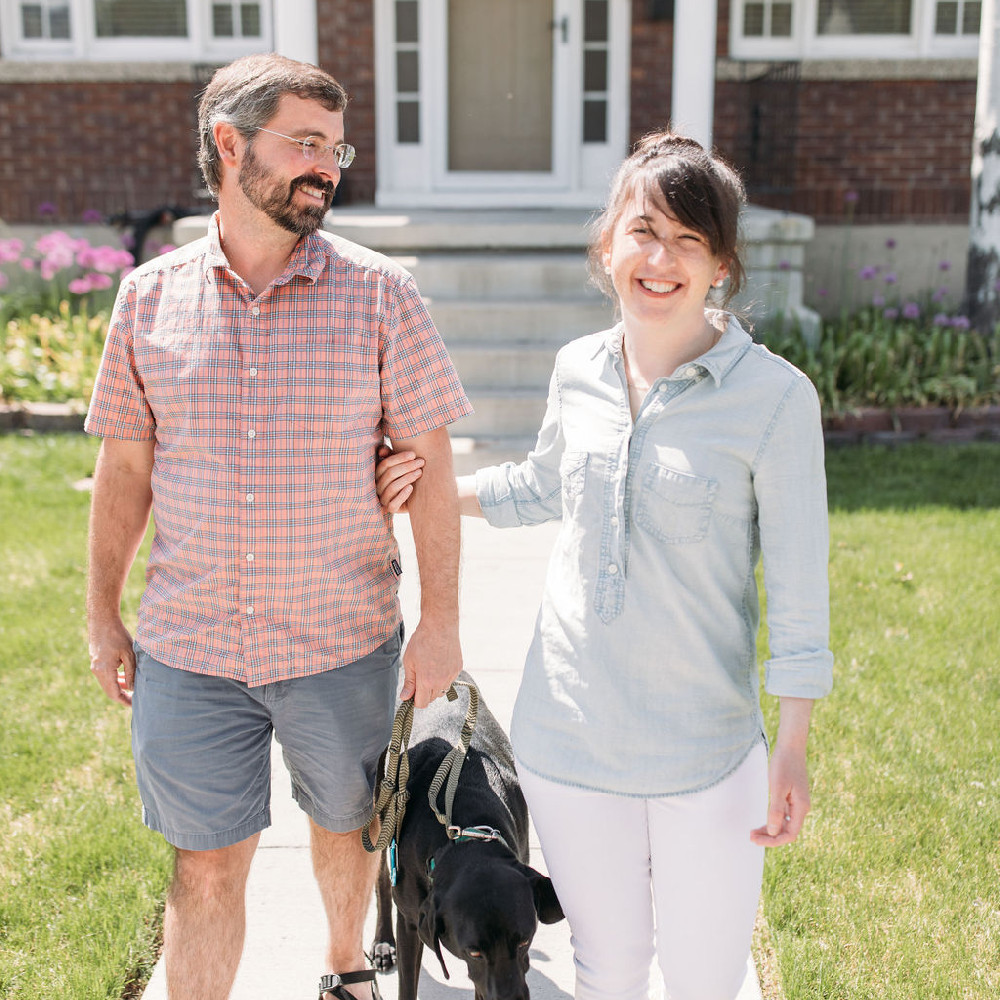 Family Facts
Region:

Southwest

Education:

Graduate Degree
Thank you for taking the time to get to know us! We are an active couple who live in Salt Lake City, Utah with our dog Moose. We met 10 years ago while we were working at an outdoor gear shop in Vermont. We clicked right away over the best pizza dinner with a brownie sundae dessert and fell in love with each other while hiking, kayaking and skiing. We married in 2013 and are best friends. In our time together, we have moved across the country, purchased a home and had a lot of fun adventures and travels along the way.

Why Adoption?
For years, we dreamed of becoming parents, but this proved challenging. Through our infertility struggles, we realized we wanted a child to love and we would be incredibly fortunate to love a child who came to us through adoption. Boy or girl, we welcome a child through adoption with open arms into our fun and laughter-filled home. We have so much love to offer to our future child, as do our extended families. We are committed with our whole heart for our whole lives to raising and loving our child unconditionally. We dream of nurturing a baby into a happy healthy child and then a well-balanced adult. We look forward to story times, holidays, teaching them to ski and mountain bike as well as impressing upon them the importance of kindness. We can't wait to involve a child in the activities we love, but also help them to develop their own interests. Our child will always know their adoption story and the love of their first family and our family. We hope to incorporate some of our child's birth family traditions and culture into our family to preserve connections. While open adoption is our goal and we are open to phone calls, visits, texts and emails, we are also open to any situation (semi-open or closed). What is best for you and your child is our highest priority and we promise to be honest and transparent as we navigate adoption together.

Get To Know Us
Holly is inclusive, kind and loving and brings those traits to our home and her work as a Physician Assistant in a busy Emergency Department. She works just 12 days per month, which leaves quite a bit of time at home. In her downtime, she can be found reading a book, running, Nordic skiing or having coffee with a friend. Aaron is a selfless, thoughtful and a fiercely funny person. He works in the outdoor industry at a Monday through Friday job that requires minimal travel. When he is not working, you can find him working on his (and Holly's) mountain bike, watching Virginia Tech football or reading the news. Life isn't all about work, though. In fact, we both love our jobs for the amount of time they allow us away from work, both at home and outside. We enjoy mountain biking, hiking and downhill skiing together and have easy access to these activities where we live. We seek both small and big adventures - an overnight camping trip in the nearby mountains, biking in southern Utah, and traveling as far as Nepal to backpack and volunteer with healthcare teams. But the simple gifts of life are often experienced and enjoyed in the quieter moments -like nightly walks around the neighborhood with Moose the dog, after dinner treats at a local ice cream shop, impromptu dinners with friends, snuggling on the sofa to watch a show, or sitting down to breakfast and a cup of coffee together before work.

Our Home & Community
We live in Salt Lake City, Utah in a bungalow built in the 1920s that has four bedrooms and two bathrooms. A house doesn't feel like a home without a dog, and our four-legged friend, Moose, certainly brings happiness (and a little bit of mischief) to our lives. Our home has plenty of room for a child to grow and a bedroom waiting right next to ours. We love spending time in our living room listening to music or watching a TV show. Once in a while you can find us dancing to our favorite songs. Our fenced-in backyard is perfect for grilling dinner and playing fetch with the dog. We love our neighborhood and most evenings you can find us walking the dog around it. We often meet up with our neighbors for impromptu dinners -especially when the weather is nice. There is a playground a couple blocks away and a larger park with more swings and a splashpad at a nearby park. Our extended families don't live near us, though we are hoping Holly's parents will move to Utah in the future. Regardless of geographic distance, we keep in touch with phone calls, texts and video chats. Our families couldn't be more supportive of our journey to adopt and we know that we will have lots of visits from them with a new grandchild/family member. Some of the things they look forward to are endless hugs and kisses, quilting baby blankets, introducing them to the beach and outdoors, enlisting a new home improvement helper, participating in bedtime baths and stories and trips to Disneyworld to list a few. We feel so fortunate to have families that will love and support our child.

What We're All About
This is just a glimpse into our life. We love one another deeply, laugh a lot, believe in honesty and hard work, and dream of welcoming a child into our family whom we will love unconditionally. We want your child to know that they can trust our love for them. We want them to learn and appreciate the importance of honesty and forgiveness. Education is important to us and we will do our best to make learning fun and ensure your child has access to the resources they need to succeed. We hope to teach them how to respectfully and successfully advocate for themselves throughout their life. Our goal is to raise a kind, respectful and responsible child who always knows that the greatest gift ever bestowed on us is being their parent.