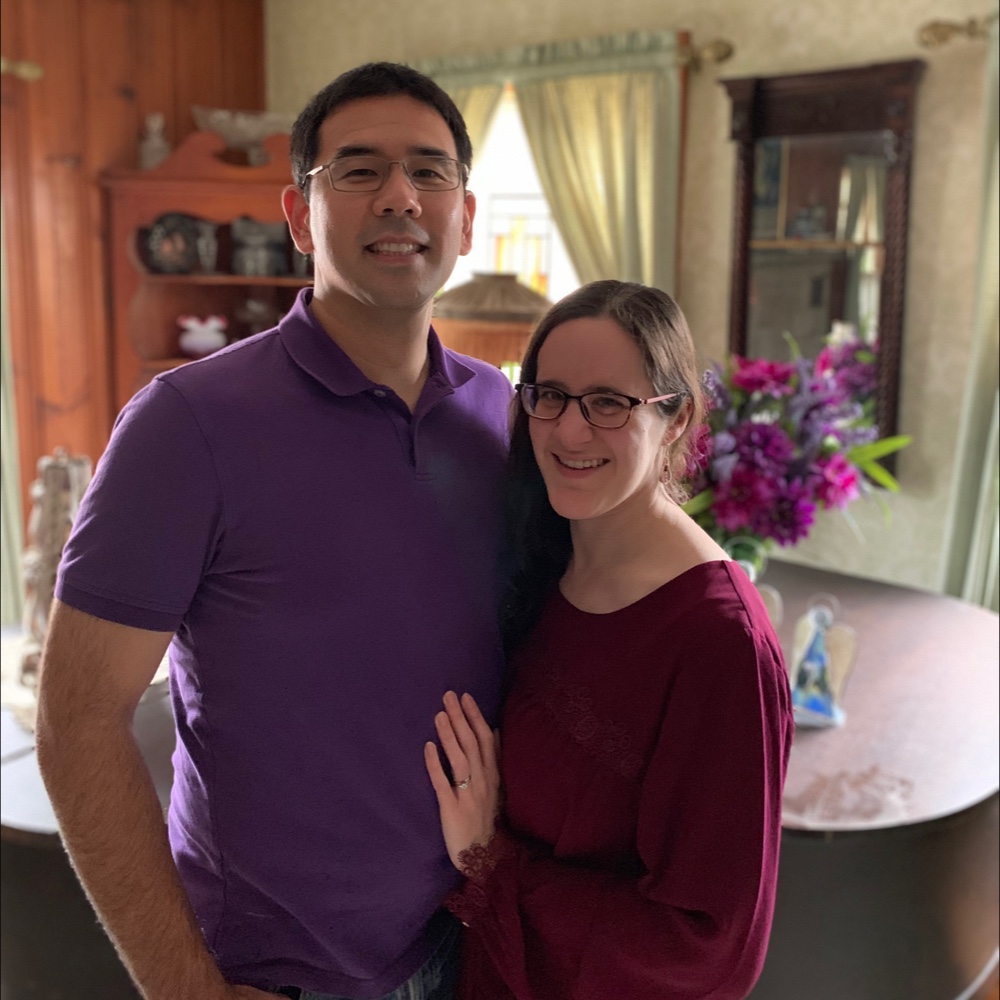 Family Facts
Region:

Mid-Atlantic

Faith:

Catholic

Education:

Graduate Degree
We have prayed for children to share our lives with for many years, and have felt our hearts called to adoption.
We hope for an open adoption, and a continually growing relationship between you, your child, and us. We will always make sure that your baby knows their first family and the love you have for him or her.
A little about us - our weekends often include projects and time relaxing around the house, walks, church, and time with friends. We are excited to open our lives to a child, and help them grow, learn, and fulfill their dreams.

Our Home & Community
We live in a four bedroom house with a large yard - lots of space to play! We look forward to running around in the yard with our child and gardening, growing vegetables and picking the berries growing in our yard. We are in a quiet neighborhood with several children around, and enjoy going to block parties to spend time with our neighbors. While the neighborhood is quiet, we are not far from a large city with lots of things to do and history to explore. We enjoy exploring the museums and zoo in the city with our friends and their children, and can't wait to bring our child along! Every Sunday we spend time with our friends and their children, going out to lunch after church. We also have game days, bonfires, and trips to the park together. Sunday evening we have dinner with Bryan's brother and some very close friends. Our friends have become our close-knit community here.

Get To Know Us
Bryan grew up in Hawaii and came to the mainland for college. He is now an engineer, and enjoys spending his free time watching hockey, playing video games, caring for his fish, or building computers. Sarah grew up in New England and moved south after college. An elementary school teacher by day, she spends her free time singing, crafting, doing DIY projects around the house, and reading. We met at church and married there five years ago. Together we enjoy working in the yard, hanging with friends, wine tasting, and traveling. Right now, we are working on visiting all fifty states together. We are at sixteen so far and look forward to continuing to explore the country and hope to show our child many of the different sites and experiences this country has to offer. We also enjoy cooking and experiencing other cultures' foods! So far, our favorites are Croatia and Korea.

What We're All About
Our faith, family, and friends are very important to us. After church on Sundays we spend time eating, talking, and playing with our friends and their kids. Our child will have lots of people to play with from the start! We visit our families as often as we can, and have dinner with Bryan's brother and our friends (that have become like family) just about every week. We also spend time volunteering at church or in the community. On the weekends we are often around the house, in the yard, or walking around the neighborhood. We are excited to take walks and bike rides as a family, and to spend time every night eating dinner together.

Why Adoption?
We got married in 2013 after dating for four years, and found out before we were married that we probably would not be able to have children ourselves. We know in our hearts we want to share our lives and our love with children. We feel called to grow our family through adoption, and are excited as we begin this new chapter in our lives. We know having a child will change our lives, and we are excited to share our lives and our love with a child. We hope to have an open adoption, including visits, pictures, and letters. We want our child to know the love of his or her birthparents, and be able to build a relationship with you. Thank you for taking the time to consider us as you make the difficult decision about what is best for your child.