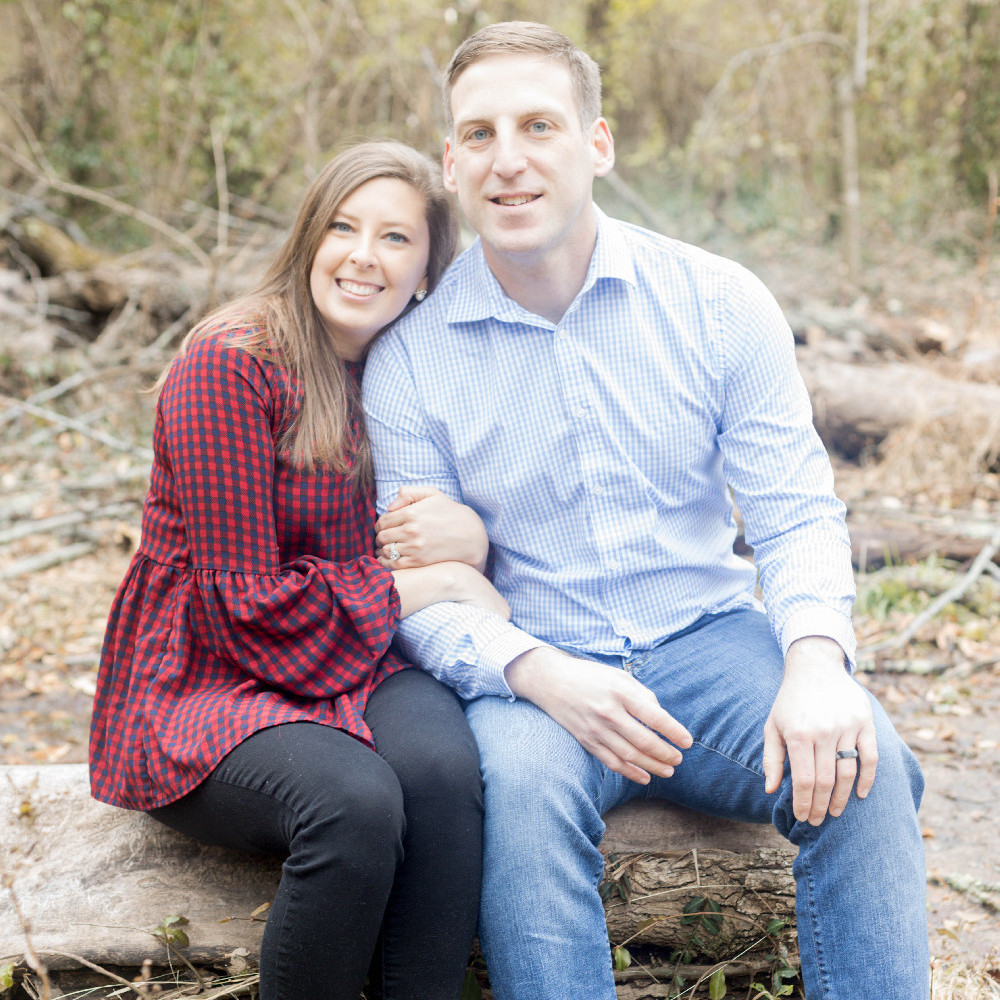 Family Facts
Region:

Southeast

Faith:

Christian

Education:

Graduate Degree
Welcome to our profile! We hope that you are able to get a glimpse into what our life is like, the love we have for each other, and the love we will have for you and the baby.

We have a great marriage built on faith, laughter, adventures, sarcasm, and lots of love. We try to be as active as we can by hiking, kayaking & canoeing, and taking walks around our neighborhood after dinner. While we do enjoy being active, some nights are best spent on the couch watching a show and eating popcorn. We look forward to introducing our future child to different adventures and traditions with us. We have a big, loving, and supportive group of family and friends and they are just as excited as we are about expanding our family!

Why Adoption?
We have enjoyed our small family of 2 over the past few years. The time we have had together has helped to strengthen our relationship, create traditions, travel to new places, and go on some fun adventures! However, we are ready to start a new adventure by starting our family through adoption. We knew early on in our relationship that adoption would be the preferred way for us to have a family. Our hope is to have an open adoption where we can work with the birth family leading up to the birth of the child and throughout their life. Maintaining a healthy, positive relationship with the birth family is something we are looking forward to having. Maintaining a relationship with you, so our child knows their birth family, their background, and how loved they are by you, is something we want to incorporate into our parenting. We are ready to share the love we have for each other with you and your child. We, along with both of our families, have a lot of love to give and would love to share that with you! We have personally seen the joy adoption has brought to our family and friends and look forward to being part of the adoption community! One of our cousin's adopted a little boy 8 years ago. We have talked with them about their story and are inspired by their love for their child and gratefulness of the birth family.

Get To Know Us
Kyle is a nuclear medicine technician at a local hospital. He enjoys his job because he knows that what he does helps people! Ally is an elementary school teacher and is currently teaching 1st grade. She has been teaching for 8 years and her passion for her job and students continues to grow! Kyle is a runner and has completed several half marathons and one marathon. Ally has tried to keep up with him, because she is competitive, and has completed some races and one half marathon! When we aren't racing others, or each other, we like having game nights with family and friends. When we need a night to recharge and relax, we like to spend it at home, on the couch, rewatching The Office. Weekends are typically spent around town, eating at new restaurants, and going to church and our couples bible study on Sunday.

Our Home & Community
We recently bought our first home! It has plenty of room to grow in and we hope to fill in some of the rooms soon. When we were buying our home, we were very intentional about where the home was located because we wanted our family to have access to many activities! We live 2 blocks away from our neighborhood pool and a mile away from a walking trail and park. We look forward to spending summer days outside in our neighborhood. We have loved making our house our home! A lot of love has been put into the home already and it is starting to fill up with furniture built by Ally's dad. Our favorite piece is the crib that will be in the baby's room that her dad has built. It was used by Ally's niece and nephew when they were younger and we are looking forward to having our sweet baby sleep in it too. Ally's family is all close and many live in the same city as we do and a few live within an hour drive. There are several nieces and nephews that are looking forward to have a new cousin to add to the crew! Kyle's family lives out of state, but we enjoy visiting with them and spending time with our niece and nephews when we visit! We are very close with both sides of our family, so having them close by allows us to celebrate birthdays, holidays, and create family traditions!

What We're All About
We are a loving, accepting, and driven couple who encourage each other to strive to our personal best in all that we do. Kyle has a very level head and often helps me to see things from a different point of view. He is the most selfless person I know and will do anything to help a friend in need. It was these traits that helped me to fall in love with him. Ally is passionate in all that she does and will give 110% on any given task. I have the ability to look at a situation and find a positive way to work through it. We've have gone through some difficult times, but between Kyle's level head and Ally's positivity we have always gotten through it stronger than ever. Together we value our family and friends who have become family. We have strong relationships with our loved ones and have been very open about our journey to start our family. In our home, we have a strong Christian faith that helps to drive our decisions. We belong to a couples bible study that has been praying for us, our birth family, and child since we started this journey. We are excited to welcome you into this loving and supportive community we have. As we plan for our child, we are excited for what is to come! We look forward to bonding with our child through the late night feedings, walks around the park, and watching them grow. We are excited about celebrating our baby's milestones with our families as well as yours. We cannot thank you enough for the love you have for your child. We would love for you to learn more about us and for us to get to know you too. This is just the beginning of an amazing, life-changing journey!