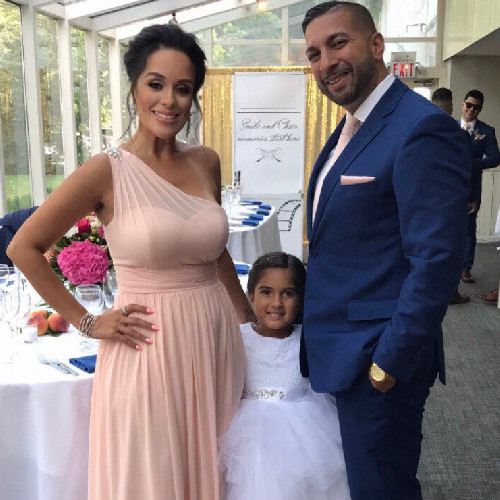 Family Facts
Children:

One Child

Region:

Northeast

Faith:

Catholic

Education:

Graduate Degree
Thank you for stopping by our page. We truly appreciate you taking the time to learn about our wonderful little family and our journey! We are a loving, happy, and energetic family of four. There is Mom and Dad (Karen and Gino), the baby girl Gianna, and Gianna's best friend-our dog Hershey. We are a loving family of faith both growing up in Catholic homes our entire lives. Each of our parents have been married over 40 years! We have a large family including many siblings, nieces, and nephews. Family is everything to us. Our love story begins in 2010 with a simple hello. Who knew over 10 years later we would be in a loving marriage with our beautiful daughter Gianna being our absolute everything. In June 2012, Gino proposed to Karen in Central Park on a beautiful summer day. A little more than a year later Karen and Gino had a beautiful beachside wedding overlooking the ocean in San Juan, Puerto Rico. We chose San Juan because Karen's immediate family is from Puerto Rico and it was just the perfect setting for us. A few months later we found out the news about our miracle baby and in August 2014, our princess Gianna was born. Gianna is our everything and as she has grown up to be an energetic loving child, we wanted nothing more than to give her a sibling to complete our family. This is where our journey to adoption started.

Why Adoption?
Our journey to adoption started shortly after our Gianna was born. We immediately fell in love and wanted to expand our family and give Gianna a sibling. At first the natural way did not work, so after some time we made the decision to go the IVF route. We were so excited because at the time, we assumed it would work. But as many say when you have a plan in life, God laughs. We did IVF treatment after IVF treatment. One after another failed. After several years of miscarriage, failed IVF treatments, and heartbreak, we did not want to give up and God lead us to decision of pursuing adoption. We have so much love to give and did not want to give up on our dream to expand our family. Gianna is our main driving force to wake up everyday and keep fighting, and fighting is what we are doing. The pain and heartbreak is not easy to overcome, but our trust in God and love in our daughter is what keeps us going. Our view on adoption has evolved over time. We view adoption as a wonderful way to expand our family and give all the love in the world to a child. But more importantly, our daughter Gianna has all the love in the world to give a sibling and she is so excited for us to go through the adoption process. We have close friends who have an adopted son and they were an additional motivation to adopt. We are open minded and completely respectful of the thoughts and feelings of the birth mother. We know this may be the most difficult decision in the world to make. All we can do is open our hearts and minds to communicate openly and honestly with any potential birth mother. We are excited to show the love our family has to offer not only to the child but also the birth mother. The bottom line to our family is the goal of adoption is to give unconditional love to an innocent child. That includes showing love, care, and emotional support to the birth mother. We are confident if any potential birth mother gets to know our little family, they will immediately see our genuine love for life and the child.

Get To Know Us
Gino currently is the Chief Operating Officer of an Asset Management division for a Global Insurance Company. Gino has a Bachelors from Boston College and an MBA from Fairleigh Dickinson University. Karen currently in the Tenafly School District as a ParaProfessional. She has an BA and Masters from Fairleigh Dickinson University. As a family, we love to travel, eat, dance, and hang out with our friends. We are big into fitness and nutrition. Every summer we are on the beach as Gianna loves to swim! We have an overall passion for life. We have been together as a family to the Poconos, Disney World (Gianna's favorite), San Juan Puerto Rico, Miami Beach, and Cape Cod. We hope to continue to travel and explore the globe! Gino is a big time Mets, Giants, and Knicks fan. Every Sport is covered. Gino is extremely passionate about his alma mater Boston College. We even went to a Boston College football game as a family! It was great touring the campus and showing Karen and Gianna where Daddy went to school. Gino has grown a passion for cooking, always trying to surprise Karen and Gianna with wonderful new dinners and dessert treats! Karen loves to decorate their home for every holiday especially for Christmas, her favorite holiday! She is big into home décor and making every holiday festive and special for our family. On Christmas Eve we bake cookies for Santa, listen to holiday music, all while wearing our matching Christmas Pajamas! Karen has a passion for makeup and attended Paul Mitchell Parisian Beauty Academy where she was certified as a makeup artist. Karen has worked as an MUA for MAC Cosmetics in their NYC flagship department store. Karen is big on health and making healthy choices which is why she is a Vegetarian. She also loves to meditate and exercise regularly especially on her Peloton bike (which she received as a birthday gift from Gino). Gianna is active and plays soccer, basketball, softball, swimming, and karate. She is currently in the 1st grade and excelling in school. We love the fact that she is learning and growing right in front of our eyes. Karen and Gino both believe school is the most critical and important part of a child's life growing up. Gianna is very happy in her school and is learning so much everyday! Some of the best times we love are the holidays! Those are the best times and memories spent with the family. We always celebrate every single birthday in our extended family. We feel it is important to do that as life is short and you always need to celebrate family any chance you get.

Our Home & Community
We live in a vibrant and beautiful community in Fair Lawn NJ. We moved here in 2016 and have loved living here more and more each day. Gianna is now a part of the school system and we could not be happier. Her teachers are amazing, and she has made some wonderful new friends. Karen and Gino were born and raised in NY. Karen in Manhattan and Gino in Westchester County. We have set up our family in Fair Lawn and we are so excited about our future here. Our house is the perfect match for our family. As soon as we saw it, we knew it was the home for us. It was not only the look, design, and style of the home, but it was the feeling we got when we walked in. Gianna loved it as soon as we moved in! Her favorite part of the house is of course her beautiful bedroom! She has pretty pink walls with many of her favorite Disney princesses on the wall. She has a closet full of toys which she can play with for hours. One of the most important parts of the home was the space for Gianna to play. We wanted her and a future sibling to be able to play and let their imaginations run wild! Gianna also loves the big backyard we have. When the weather is nice, Gianna and our dog Hershey love running around the backyard. They play catch, soccer, and tag. It's a great thing we have so much space for them both to run because they have sooo much energy! Gianna also has a favorite part of her backyard and that is the wonderful swing set we have. It has three separate swings and a clubhouse to explore. Gianna loves playing in the clubhouse after taking some time to swing up high. Karen loves to decorate all the rooms in the house and has a passion for home décor. Gino spends time in the basement where he was able to set up a TV room and a home office to work. The best thing about our house is the kitchen. It is the heartbeat of the house. We love cooking eating and enjoying our morning coffee in our kitchen. It is the part of the house that truly makes you feel at home. When we have family and friends over, that is where we spend so much of our time. We love to entertain, and the kitchen area is where we do it. One of the main reasons we chose Fair Lawn is not only the great school system, safe neighborhood, and overall wonderful community environment, but also because it is so close to our parents. Karens family lives in Teaneck NJ which is a short 10 mins drive. Ginos family lives in Westchester NY which is only about a 30 min drive. It was critical for us to move somewhere close to both of our families because we wanted them to be able to see Gianna on a regular basis. Family is everything to us and if we could not spend holidays, birthdays, and special events together, we would not have felt home. Our family is everything to us and being close to them was of the utmost importance.

What We're All About
The most important thing in our life is family. Our mothers, fathers, brothers, sisters, cousins, uncles, aunts, and even extended family, our close friends. Our life revolves around our daughter and we are so happy we have been able to share all the great milestones in her life with all our family members. What we are truly all about right now is expanding our family and giving a home to a beautiful child. Gianna has all the love in the world to give to a sibling and we would love nothing more than to provide that for her. More than for us, we are looking to fulfill Gianna's dream of having a little brother or sister. We have been so blessed in so many aspects of our life and deep down, we want to share these blessings with a child and open our home of love to a child deserving of that love .