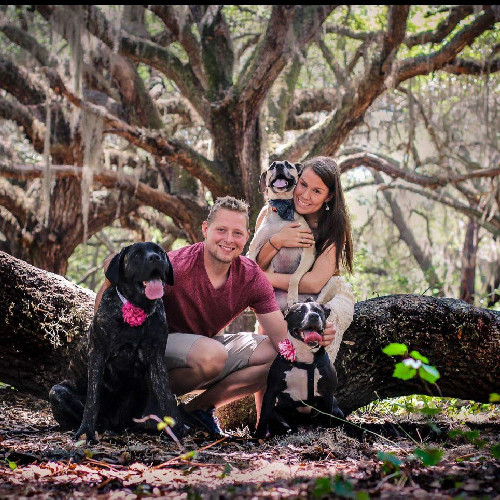 Family Facts
Region:

Southeast

Faith:

Christian

Education:

College Degree
Where to begin!

Our family is comprised of 3 kid-loving dogs and us (Josh and Jen)! We are extremely cultured in every sense of the word! What makes us so unique is what we have to offer! We are big kids at heart, but with old souls. Such old souls that we are one of the few who started our relationship with a 10 year friendship, before dating, and then marrying! Our marriage is incredibly strong, built on the foundation of friendship first, and while we have many similarities, we also have many differences, that will definitely come into play when raising a child! Jennifer is a teacher, so she is structured and believes in routines, while engaging kids and having fun. Josh is more light - he loves to play, be imaginative and creative, while still holding on to accountability and respect. Which brings us to the next aspect: We feel in today's world, another thing that makes us unique is that he still hold on to respect, morals, traditions, and boundaries. We want our kids to have a blast, while instilling values. While we are very attuned to today's culture and pastimes, we also enjoy "old school" pastimes (such as music: Queen, Eagles, Styx, etc. / Games: Nintendo 64 / Movies and Shows, etc.). We are also a couple who loves to stay busy, but also enjoys lazy days - it all depends on the day. We are all over the place - in a good way! We absolutely do not judge and are so incredibly open to everyone - our friends and family are a melting pot of people! Finally, what makes us unique, is that fact that we have several individuals in our lives, who mean the world to us, who have been adopted!

Why Adoption?
We have both had the belief that being related and loved has nothing to do with biology! We have so much "adopted families" all throughout our life, which makes life so beautiful! While we have never been told we cannot have children, we have struggled to conceive for the past few years. We want to have kids now so that we can enjoy being young(er) with them, keep up with their energy, and we are just beyond ready to create a family, no matter how that may happen!

Get To Know Us
Jennifer can be summed up as the following: I am a tall, athletic, female, with brown hair and brown eyes. I am super outgoing, honest, and Type A. I love everything there is about learning and sharpening my mind, especially in regard to reading, writing, and editing. I have a Bachelor's Degree in Education and I graduated Magna Cum Laude. I have also taken a few classes toward my Master's in Education. I am good at multitasking and organizing. I work with advanced students, but I am also the teacher that they give the students who have learning and behavioral disabilities to because I know how to work with them, teach them, and connect with them. While education and being "Type A" is important to me, so is fun, engagement and laughing. Life is too short to not enjoy it! When I am not teaching or learning, I am enjoying time with my husband, our dogs, and my friends and family. I enjoy any type of adventure that life throws my way. I enjoy anything with animals, dressing up in costumes, card games, writing, reading, baking, swimming in our pool, decorating for holidays, scrapbooking, amusement parks, museums, festivals, any small-town events going on downtown, movie theatres, going out to eat, walking the lake front, being lazy on the couch - literally anything the day brings, I'm up for it. Whenever kids stay with us, I enjoy creating activities and just having a blast with them. Some of my favorite random "things" include: the band Queen, the show, The Office, the series Harry Potter and Star Wars, dogs and monkeys, college football (Go Irish!), anything related to Disney, and thriller books. Joshua can be summed up as the following: I have a lighthearted and open personality. I would describe my looks as an average 35 year old man. I'm in decent shape and run 3 to 4 times week. I was also formerly in the Navy. Most of my know how is skill trade related. I own my own business (granite) and put my all in every job that I do! When I am not working, I enjoy reading, swimming in our pool, disc golfing, longboarding, beaches, drawing, creating art on shoes, anything artistic really, amusement parks, museums, festivals, any small-town events going on downtown, movie theatres, going out to eat, walking the lake front, being lazy on the couch - I'm a pretty easy going guy!

Our Home & Community
We live in a bright, sunny, three-bedroom, two-bath house in an established area in Florida. The home is very clean and neat and decorated with a rustic/farmhouse vibe. There is a large fenced yard, with a pool. There is a four-foot tall Water Warden Safety Fence System encircling the outdoor patio, separating the pool and back yard from the house. There are smoke detectors throughout the house and a fire extinguisher. Cleaning supplies are kept under the sink in the kitchen. We have a safe for anything that may need locked up. We are planning to child-proof the house once we are matched with a birth mother. We have the luxury of a "small town" feel, while a busy city is located just 30 minutes away! We love where we live! Our house is located near two parks, several schools, a hospital, a lake with a three-mile paved lakefront right across the street from them, a child swim area, and barbecue area. There is also a police station and fire department within 3 miles. The neighborhood is quiet, safe, and friendly. There are many families with children in the neighborhood. The area is racially diverse. The local school system is good; any child that is adopted will be attending the school that Jennifer works at, which is graded as an "A" school in Florida. There are parks and theme parks nearby. It is an ideal neighborhood for raising children.

What We're All About
To put it simple, we are all about each other, children, doggos, family, friends, and having a blast in a controlled environment! As different as we are, we also have so much in common. We are both driven people (just in different aspects). We both believe that sarcasm and humor makes the world go round. Another thing we have in common, which we both believe are hard to find, is that we are a good blend of homebodies and busybodies. We love going out on adventures and having fun, but we also appreciate lazy movie days on the couch. As far as children go, we continue to have so much experience and fun! We have had so much experience, both separately and together, with children. Josh: I raised a little girl from 1.5 years – 9 years old in a previous relationship. I know what it's like to raise a child from sunrise to sunset, and through the good, bad, and ugly. Jennifer: I have worked with children since I was in high school. I babysat, worked for daycares and preschools, and I nannied for several families throughout college (about 6 years). I am now a teacher and I am with kids all day every day. Together: Our friends who have children trust us unconditionally. We watch two girls (Sasha and Kiki) who are adopted from their grandma. We take them about once a week. We are the only friends/family that their grandma trusts for them to stay the night. We also have Aashika (one of the girls who Jennifer nannied for, who is also adopted from India) come down once a summer for "Uncle Josh and Aunt Jen Camp". Her and her family live in Michigan, so they literally fly across the United States so that we can continue to keep a close relationship. Her parents go stay somewhere else, while we get to have a blast together. Josh's friends have three boys (ages: 2,3, and 6). When we go back home to Michigan, or they come to Florida, we watch the boys and give them free time. This is another family who does not trust anyone but us to watch their children. We've made a name for ourselves as the "big kids". These kids have so much fun with us, but also know we mean business when it comes to respect, listening, and rules. It's a great balance. Our pups are spoiled, just like I'm sure our future children will be! They get toys every month, go on walks on our lake front, dog parks, always up-to-date on shots, medication, and preventatives, we take them to dog events, etc. We know how to have fun with them, but they also are so well trained and behaved (as we are always reminded by everyone that comes into contact with them!). They love kids - they are so gentile and docile. Our family and friends are so important to us! Although we live in Florida, and most of our biological family lives in Michigan and Indiana, we still find ways to communicate weekly, in some instances daily! We visit each other a few times a year! Jennifer's mom and stepdad, and Josh's grandma are planning to move to Florida in the next 2-3 years - they are all so excited to meet their grandchild(ren). We have an incredible "Florida Family" who have "adopted" us into their life! We are together about 4 times or more a month! From Sunday dinners, to celebrations of birthdays, holiday events, and "just because" times - we are an extremely well-knit bunch! Our Florida mom and dad treat us like their own - even when they introduce us to people, we are their "son and daughter". As mentioned above, blood and biology does not make family! As far as what we're all about - don't take it from us! Here are what our references had to say about our passion for each other, children, family, and friends: The references all felt that Jennifer and Joshua interact well with children and will be wonderful parents. Jennifer's mother, Penny, stated that "I've seen both with all ages and they are great – and just yearn to be parents". She notes that both work well with children of all ages and even help with their friends' children. The couple received a personal reference from Darcy Freese, a social worker, and childhood neighbor and babysitter of Jennifer's. Darcy stated that Jennifer showed dedication and a willingness to work from the moment she met her and that after being Jennifer's babysitter, she had Jennifer babysit her own children when she was older. Darcy feels that "children gravitate to both of them" and stated that the couple is aware of the need for structure and boundaries so they "lead with firm guidance and clear expectations". Another reference came from Aradhana Das, who met the couple five years ago, when she hired Jennifer through a childcare website to nanny her adopted daughter. Aradhana stated that Jennifer and Joshua became a big part of her, her husband, and her daughter's life, and that even once they moved to Florida, they remained in contact, even sending her daughter down for "Camp Jen and Josh" week every summer. Their bond is so close, that her daughter now calls them "Aunt Jen and Uncle Josh". She stated that "they have a very loving, kind relationship, that is the foundation for a strong and healthy family. They have welcomed so many other children into their lives, and we have no doubt that their adopted child would be a blessing to them and they to him/her". Aradhana's adopted daughter, Aashika, also wrote a letter of support, stating that hearing Jennifer and Joshua wanting to adopt a child, "makes me feel happy for them because they are going to be great parents". She continues, saying "I am adopted myself, I know how important it is to have a nice family and I know Aunt Jen and Uncle Josh will be wonderful parents". Another personal reference came from Heather Avery, an extremely close friend and teacher who works with Jennifer and has known the couple for a little over five years. She shared that Jennifer and Joshua love interacting with her two grandchildren, whom she raises, including when playing, teaching, talking, and helping with homework. She shared a story of a time when "Josh researched a topic my older one was interested in so he could discuss the characters and situational impacts of the subject on her". Heather stated that Jennifer and Joshua are able to provide "a fun-loving environment, that is encouraging and structured" and noted that they are the only non-family members she trusts to watch over her two children. Heather's two grandchildren, Kiki and Sasha, also wrote letters recommending Jennifer and Joshua as adoptive parents. Kiki stated that she knew "Josh and Jennifer will be great parents because they are fun, loving, and helpful", while her sister Sasha wrote that the couple, "loves us like we are their children" and that the couple "love children and have a safe home".