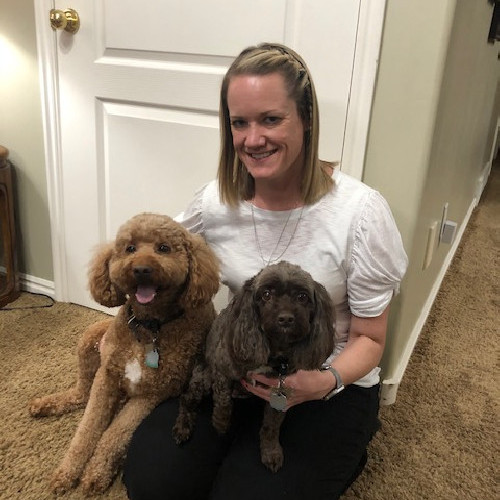 Family Facts
Region:

West

Faith:

Christian

Education:

College Degree
For the last twenty years I have put my heart and soul into teaching. There is one every year. A child that I gained an unconditional love for. A child that changes who I am and makes me better; a better teacher, a better person. Some years, that child is a mischievous one that likes to cause problems. Some years, that child is the innocent quiet one. Sometimes that child is going through real struggles, whether it be losing a close family member or living in a hotel because their house burned down. Sometimes they come from the most loving home and they in return share that love with all of those around them. No matter what their circumstance is, I have found that they were meant to change me. As I look back on those children, I see that what they taught me has prepared me to become what I ultimately want to be: a mother.

Why Adoption?
I have always wanted to be a mother, yet I have not had this opportunity through the traditional methods. Through soul searching and reflection, I have come to know that adoption is what is going to fill me up with the happiness that I am seeking. My ultimate urge to be a mother and fill my home with a child has led me to this path of adoption. I have tried this path once before. I previously worked through foster care to try and adopt one of my students. I was originally told that there was a good chance that I would be able to adopt her. The process was difficult on me emotionally, especially when I was ultimately told that she would be placed with another family. I was devastated. The love that I already had for her was so strong and powerful, yet I wouldn't be able to be the one that would get to help raise her and guide her through the ups and downs of life. I have had to work through that heartache, yet I still know that beyond a doubt, I am supposed to adopt. I know this through the promptings that I have felt and through the deep, intense feelings that have come about as I have pondered and searched out this path. I am ready to be the protector and advocate for a child. I am ready for an open adoption, where a birth mother will be able to still have a watchful eye on the child. This baby will have so many opportunities given to them. They will have lots of quality family and friend time and time to play with the dogs. I am ready to hear footsteps and laughter in my home. There is no one better to teach and to have love for than a child that is in my home, a child that I am to raise and guide.

Get To Know Us
For the past 20 years, I have worked as an elementary school teacher. I have taught different grades and have gotten to know hundreds of children and their personalities. I thoroughly love my job and watching children learn and grow. I love watching them accomplish something new or working with them when they are having a challenging time. I enjoy trying to make fun and engaging lessons and I even work on this outside of school. Walks to the park and through the neighborhood are a daily experience. Weekends are spent doing all the things that are enjoyed, parks, crafts, baking, and spending time with family and friends. I enjoy many different crafts such as, scrapbooking, crocheting, and quilting. I love to read. My extended family is close, and we like to spend time together. Anything from BBQs to family vacations. We try to travel somewhere new at least once a year. We have been all over the world and have had many adventures together. These opportunities have brought us closer and are an important part of our family traditions. I love spending time with friends and their families. Visiting different attractions, shopping, movies, celebrating accomplishments and even being there during the tough times. Pets are a terrific addition to this family with the dogs, Charleigh, and Finnegan, playing an active, protective, and loving role. I would love to continue these experiences with my own child and being able to see them through their eyes.

Our Home & Community
The home in which I live is less than 5 years old. I knew right away that this was the area in which I was to build a home. The home is a two story with 4 bedrooms upstairs. One of those bedrooms has already been designated for a baby. The room has been carefully decorated and planned. The closet and dresser have been stocked with necessities and the room is just waiting for a baby to come into it. It is situated in a quiet neighborhood with children all around. Right out the door is a community swimming pool where the neighborhood meets up to play and socialize. There is a park less than a minute walk and many other parks that are within a 5-minute walk including a splash pad, ice skating rink, and a dog park. I look forward to being able to share lasting memories with a child as we participate in community events and attractions such as carnivals, farmer's markets, food trucks, and movies in the park. Safety is a top priority, with the police station right within walking distance. It is a very family-oriented area where neighbors look after neighbors. There are so many neighbors that are always willing to help and are always there for support. My parents, sister and family, brother and family, and friend are all within 20 minutes of my home. My biggest supports are my mom and my friend, Theresa, who I can call on at a moment's notice if I need anything. I have always believed that it takes a village to raise a child and I have that village.

What We're All About
Throughout my life, I have always appreciated the importance of family. Families come in so many different forms. I have always defined family by love and acceptance. A child raised in my home will be taught the importance of family, faith, and loyalty. They will always know they are adopted and will be able to learn firsthand the definition of family as being love and acceptance. The story of their and my adoption path will show them the importance in having and believing in faith. One of my favorite adoption books for children is I Wished for You. I have wished and hoped for a child to raise for many, many years. I know that adoption is the path for this dream. This has been affirmed to me through much pondering and faith. A child will complete me. They will fill the holes in my heart as I nurture them and love them with all that I have. Loyalty will be taught through example. Loyalty to all parts of their family and friends. Loyalty to their words and actions. I am fiercely protective of those things that mean so much to me. A child in my home would be at the top of my list of things to protect and nurture. I am ready to hear the pitter patter of little feet and the laughter and joy that will make my house a home.