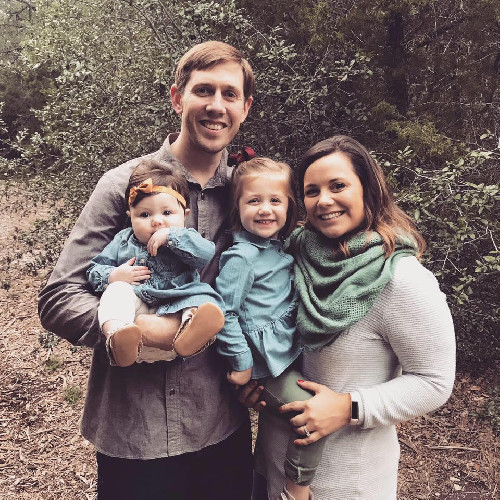 Family Facts
Children:

Two Children

Region:

Southwest

Faith:

Christian

Education:

College Degree
Hello! We are Brandon and Annie! We met at a local coffee shop in college, Brandon was the barista and Annie was his customer. One perfect latte and Annie was hooked for LIFE! We have lived all over the country for Brandon's job. We have lived in Boston, MA, Milwaukee, WI, Chicago, IL, Florence, SC, Denver, CO, and Austin, TX, where we currently reside. We both have huge families and see them often. Though we have had 4 miscarriages, the Lord has been so good to us in blessing us with our daughters Hallelujah "Halle" (3.5) and Nora (1.5). These sisters talk about their new baby brother or sister daily and LITERALLY can not wait to be chosen. Welcome to our profile and thank you for spending the time to hear our story.

Why Adoption?
Adoption was never plan B and You will never be plan B to us. We have prayed and prayed for the right timing to adopt and we are over joyed that that time has come. We love adoption. We love it because a life is a life no matter how small. We have a passion for young women who have found themselves in an unplanned pregnancy and want to stand with you.. We love you and want to have a relationship with you. You would be known by your child, loved by us, and always be a part of our family. We love the opportunity in adoption to welcome the child into our family while also honoring the child's birth family they came from and we would commit to do the same for you.

Get To Know Us
Brandon is a Lean Coach for Baylor Scott and White hospital and Annie is a stay at home mom. Family is everything to us. We have very close ties with each of our parents and siblings and nieces and nephews. Most weekends are spent with these family members to in our local community. We love to stay active and ride our bikes to the park or down the street to our favorite snow cone stand. Since we met in a coffee shop, coffee is pretty important to us. We have owned 3 homes and have loved renovating them ourselves. Brandon is pretty handy and Annie loves to dabble in interior design. We live about 45 mins away from Annie's parents who live on a lake. We spend many weekends on the lake, riding the tube, wake surfing or just jumping off the dock. Our girls love the water and being on the go. We love to travel and hope to steward this passion in our children's lives as well.

Our Home & Community
We live in a beautiful 2-story white stone home. It has a modern farm house vibe to it, with coffee always brewing. We have 2 dogs, Oakley and Copper that are obsessed with our girls. The girls have dressed them up, ridden them like horses and these sweet pups keep coming back for more. We are very involved in our church and Life-group. Within that group, 2 couples have adopted a child domestically. So this new baby would not be alone in their experience of having a birth mother. Today is literally National Neighbors Night out and our neighborhood is having a big party down the street. We love where we live. It's very diverse ethnically, politically, and generationally. We have 4 great parks within biking distance and have a membership to the children's museum.

What We're All About
Jesus! I know thats a silly "Sunday School" answer, but it is the truth. We love Jesus and He is the reason we get up each morning. We love our children, because Jesus loves us! We love our neighbors and serve our friends, because Jesus did! We travel and see other cultures and nations, because Jesus loves them too! We love each other, seek forgiveness and grace, because Jesus is all of those things. "We love because He first loved us." 1 John 4:19