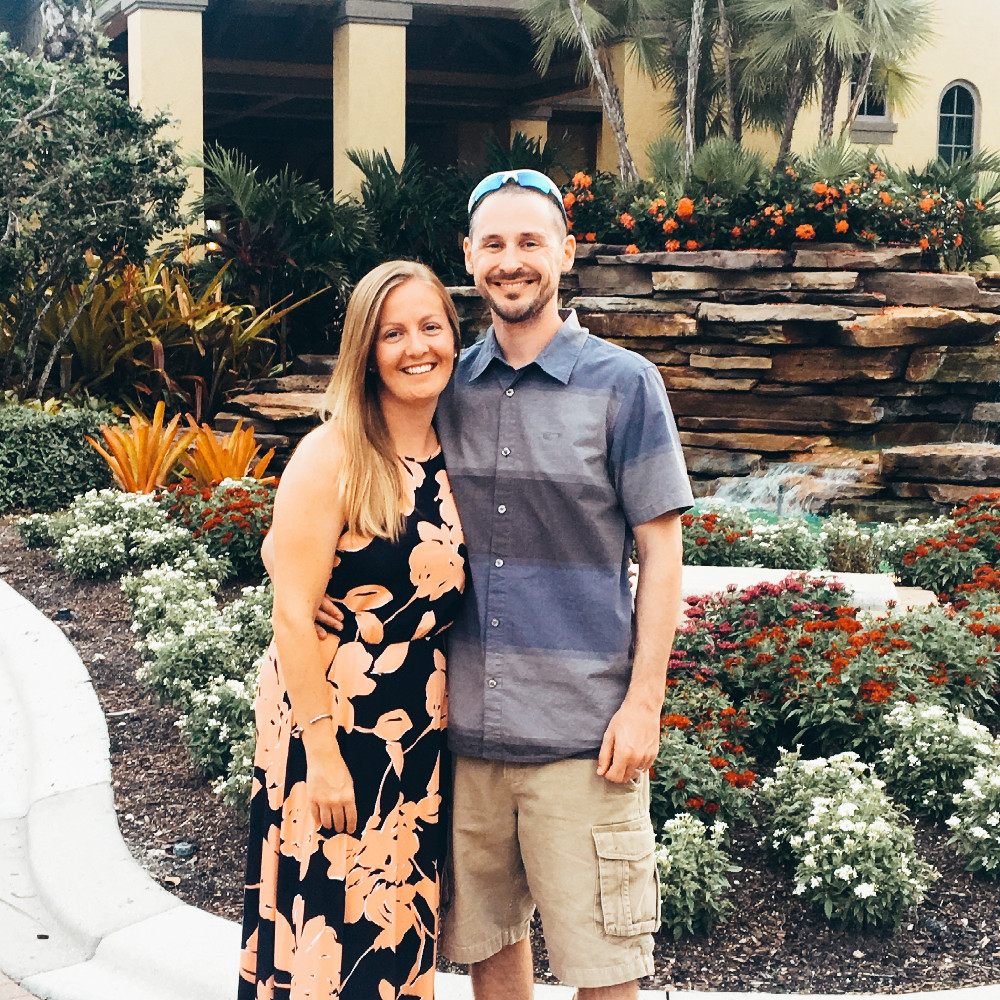 Family Facts
Region:

Southeast

Faith:

None

Education:

College Degree
Hello. Thank you for taking the time to read our profile! When reading this, we hope you leave knowing how much love we have for each other, our future child and our family.
We are a loving, laid-back, devoted couple that has celebrated 14 years of marriage and boy are we excited to grow our family! It hasn't been an easy road so far, but it has made us realize some of the greatest blessings do not come easily and we are ready for the adventures that lie ahead.

Why Adoption?
We waited eight years before trying to grow our family. Our desire to grow our family was strong and we both knew the time was right. Unfortunately, the process of having children has not been as easy as we had hoped. After years of trying and several failed fertility treatments, we began discussing alternative ways to grow our family. After many conversations, we both felt strongly that adoption was meant to be in our story and we decided to stop all fertility treatments and begin our adoption journey. Our road to parenthood has not been easy, but if anything, it has bought us closer as a couple and made our desire to parent even stronger. We cannot wait to love and share our life with a child. We promise to raise him or her in a loving, joyous environment surrounded by family that will love them as much as we do. Our hope is for an open/semi-open adoption. Ultimately, we want to be respectful of your choices and would love to hear about your wishes moving forward.

Get To Know Us
About Drew written by Toria: Drew is going to be the most amazing father and has so much love to offer. He is extremely family oriented and was raised by a close-knit family; this is something he is excited to offer his child. Drew is generous, loving and funny. His caring nature is one of the main characteristics that attracted me to him. He has the best personality, he enjoys time outdoors playing hockey, walking with Max, but also loves to relax, watch movies and play Canasta (our favorite card game). He loves pasta, especially with his dad's homemade sauce and if he had his way he would eat that every night for dinner! About Toria written by Drew: Toria is an amazing, kind and caring individual. Her fun-loving personality and family values are just a few of the reasons why I knew I wanted to be with her forever. Toria loves spending her free time walking along the beach every chance she gets with Max (our dog) and myself. In addition to the beach, Toria loves to read, paddle board, hike, watch movies, play board games and spend time with her twin sister. Toria absolutely loves Christmas and everything that comes with it, the music, the family time and the light displays! Toria is going to be the most amazing mother. To see the love, she has towards her family and her students is heartwarming and I know she is eager to love, guide and share many giggles with our future child. She will be supportive and encouraging through every stage of our child's life. We have a 2 year old Labradoodle, Max. He is a loving, silly, boy who is such joy. He is super friendly and will be so excited to have another best friend.

Our Home & Community
We moved into our home last year and we love it! It is a one-story, 4 bedroom house with a large yard. Two of the reasons we fell in love with the house are the yard and neighborhood. We are so excited to fill the yard with toys and a climbing frame. The nursery will be next door to our bedroom and I have a Pinterest board with nursery decor inspiration ready to go! We have room for a play room and the living/dining area is open concept perfect for toys and playtime. We are so fortunate to live a few miles away from the beach. We really enjoy spending a lot of time there with our dog, family and friends. Toria grew up in a coastal town and some of her fondest memories are those spent at the beach. We can't wait to watch our child build sandcastles and jump waves! Luckily, we get to enjoy the beach during all seasons. Our neighborhood is in a wonderful school district. We are close to many parks, a water park, outdoor walking trails and child friendly indoor activities such as an aquarium. We live close to my (Toria's) twin sister and her family and we have a fantastic community of friends around us.

What We're All About
We absolutely love to travel and hope to share this passion with our children. Whether it be a domestic trip to Florida with the family, seeing the sights in New York or international travel to soak up the many amazing destinations! To see the sights and share the experience with our child is one of the things we are most excited about. Every other summer, my parents (Toria) rent a house in Florida for the family. This is one of our favorite traditions as it combines family, beach and pool time! We also love active vacations such as hiking in the Lake District, England. The world is full of endless possibilities and adventures!