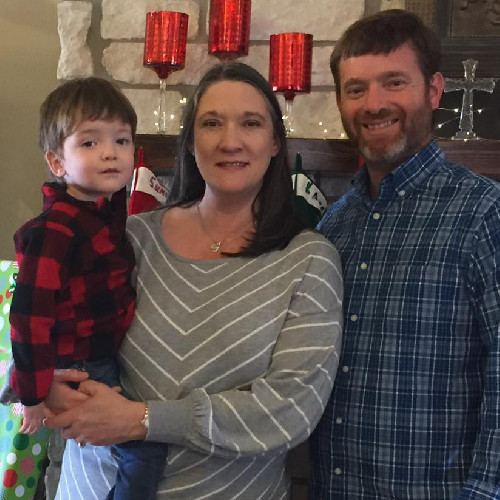 Family Facts
Children:

One Child

Region:

Southwest

Faith:

Christian

Education:

College Degree
We married when Summer was 18 and Jason was 20 years old, 22 years ago! We met at church and our first date was pizza at CiCi's. Jason proposed 2 months later while we were watching the clouds race over the moon while lying on the trampoline in the backyard. 1 year later we were married and making our way through college.

Why Adoption?
After Summer graduated, we looked toward starting our family. We had no idea then that this seemingly simple task would end up a very long, difficult journey. All told, we actively tried for 15 years and after many procedures and 3 miscarriages our doctor told us that we would never have our own baby. God had another plan though and mere months after that we found out we were pregnant. Our son is now 3 years old and is an absolute miracle from God. We find great joy in raising him together and look forward to expanding our family through adoption.

Get To Know Us
Our top priorities in life are family and our relationship with God. Summer is a sci-fi nerd, crazy about spring, is a planner, loves loud music, has a green thumb, stands outside during thunderstorms, and is compassionate and serious. Jason is a grill master, loves cool weather, enjoys RC cars, puts sriracha on everything and is always goofing off and making us laugh. Growing up Summer was a tomboy and outside as much as she could be and still is! She loves doing all things outdoors like camping, fishing, and gardening. She enjoy planning and going on outings with close family, from walking along the river to vacationing around the state. Jason was raised in the construction field and his dad had him cleaning work sites starting when he was 12 years old. Over the years, he became a very good craftsman and is now a Master Carpenter. He owns his own business is able to be there any time for our family even if it's just going to a Dr's appointment. The day to day home life makes him happy; he loves playing with our son and being able to come home for lunch each day. He enjoys grilling and cooking together, improving our home, and serving at church.

Our Home & Community
We have two Maine Coon cats, Linik and Mela. They are big and wonderful! They greet visitors at the door and follow Nolan around in hopes of playing. Jason just built a deck in the backyard so we can watch all the beautiful sunsets together! He grills at least twice a week regardless of the weather. I grow orchids indoors and enjoy vegetable gardening as well. We literally live across the street from the best park in town. Weather permitting, we go daily. There are also miles of paved trails behind our home that we use. We enjoy camping, fishing and hiking and go often. We took special trips to SeaWorld, the zoo, and apple picking last year! We look forward to buying some land to play, hunt and fish on.

What We're All About
Our son, Nolan, is 3 years old and full of confidence and personality. He loves cars and cars and cars, going to the park, reading books, and playing with his cousins. The moment we get off work Nolan squeals with excitement as he runs for his wagon for our daily walk and park visit. He also loves anything with a motor (cars, helicopters, tractors)Nolan is kind, intuitive, assertive, extroverted and demanding. He cannot wait to be a big brother! It is our desire to make your dreams for your child real. Your child will know of your strength and you will hold a place of honor in our home.