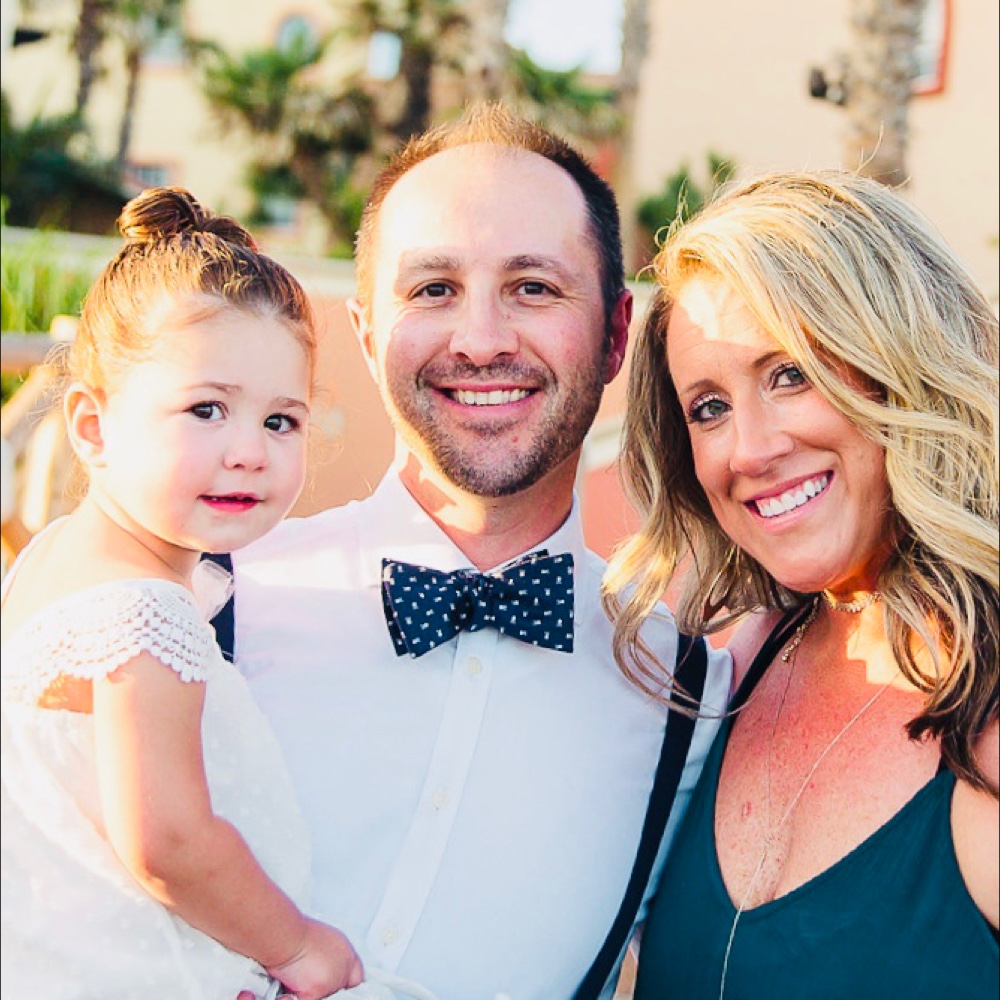 Family Facts
Children:

One Child

Region:

Midwest

Faith:

Other

Education:

Graduate Degree
We write you this with kind and open hearts, forever grateful for your consideration. Although we cannot know what you feel as you consider to make an adoption plan, we respect your decision for choosing this path and admire your courage. The gift of adoption has already enriched our lives as we welcomed our daughter Quinn in 2015. We promise your child will be loved and protected and surrounded by family and friends who will celebrate them and love them unconditionally. We will always let them know that you are an incredible person who placed their needs above those of your own.

Get To Know Us
Kimberly is a Medical Assistant for the Department of Orthopaedic Surgery at University Hospitals of Cleveland. She enjoys cooking, making homemade ice cream and hosting friends and family to try her creative cuisines. She also loves to play golf and take Quinn and the family dog Bentley on nature walks. Craig is the SVP of Credit for a private finance company. He too, loves to play golf and watch movies in his free time. He looks forward to his weekends, where he can relax and explore the city of Cleveland, looking for new and exciting things to do with his family.

Our Home & Community
We love our home and the sense of comfort it gives our family. It is peaceful and quiet, designed to be a loving retreat. We live in a suburb outside of Cleveland, Ohio called Pepper Pike. It is close to parks, restaurants and shopping. We call it country living in the city. Our big back yard offers us the chance to run, play and swim until our hearts content. After a long day of play we go grab an ice cream cone up the street. Our dog Bentley is small in stature but big in spirit and might! He loves running and playing catch and going on long walks. He is a cuddler and loves snuggles!

What We're All About
Together, over the past 15 years, we have made many memories and built a solid foundation. Family and friends are two of the most important things in our lives and we cherish those relationships. We love to travel with our family and create amazing memories, whether it be at the beach or at our family lake house in New York. Our friendships mean the world to us. We have so much fun getting all of our families together, going on adventures and having parties just to celebrate being together! The memories we make with our family and friends is everything.

Why Adoption?
After many years of unsuccessfully trying to start a family on our own, and with the help of many medical professionals, we decided that adoption was our next path in life. Our daughter Quinn came to us in June of 2015 at 11 days old. To this day we have an amazing relationship with Quinn's birthmom. We celebrate milestones, birthdays and holidays with her, and many weekend adventures around our hometown of Cleveland, OH. It is very important to us that Quinn knows where she came from. As with all relationships, it takes time to grow. We look forward to another open adoption in the future.