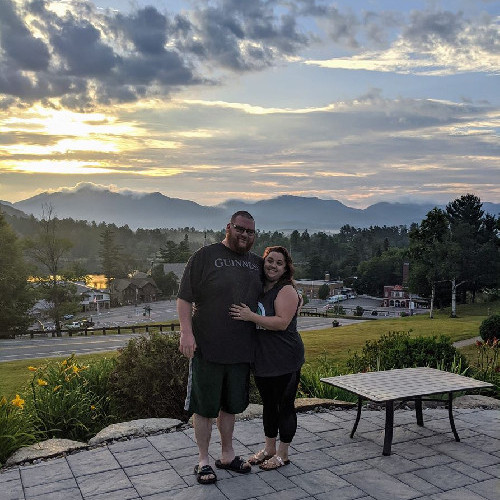 Family Facts
Region:

Northeast

Faith:

None

Education:

Some College
We are a fun-loving and goofy couple, who have learned to make the best out of every situation. We have wanted nothing more than to be parents since we got married 10 years ago. Unfortunately we are unable to conceive on our own. But we refuse to let that stop us from fulfilling our dream of parenthood. We could not be more thrilled about becoming parent through adoption! Not only are we excited to build a loving bond with a little bundle of joy, but also to create a lasting relationship with the strong, courageous woman who is making all of this possible for us.

Why Adoption?
For the last 10 years, we have struggled and fought to become parents. After going through multiple miscarriages, ectopic pregnancies and failed IVF cycles, we decide that we needed a new plan to make our dream of parenthood become a reality. That's when our adoption journey began. Our relationship has only become stronger by everything we have gone through and it has only made us want a baby that much more. We are so honored that people like you are willing to consider us as potential parents for your child. Our dream would never be able to come true without the selfless act of expectant parents making the decision to give their child the best life possible.

Get To Know Us
Ashley is a creative, caring and affectionate person. Some of her hobbies include drawing, painting and crafting. She enjoys snuggling up with a good book, cooking (especially re-invented her grandma's recipes) and spending time with her loved ones. She can't wait to become a mother to start her own family traditions. Brendan is a goofy, compassionate, hard-working person. Some of his hobbies are playing games (outdoor sports, video games, board games), building things around the house and grilling. He loves all animals and enjoys reading comic books. He can't wait to become a father so he can teach his child how to do all sorts of things, from helping with homework to doing fun science experiments.

Our Home & Community
We live in a three bedroom house with a huge fenced in back yard. We have two dogs, one cat and a turtle who have all been great with any children who have come to our house. Not only are we excited to become parents, but our family and friends can not wait until we have a new little addition. Family is something that is extremely important to us and we spend a lot of weekends getting together with them. Whether we're having dinner or a game night, we're always having fun and enjoying our time together. We also have a close group of friends that we get together with frequently. Ashley has know some of them since grade school and when we got married Brendan was able to bond with them quickly.

What We're All About
We both love learning new things and bettering ourselves. We love going on trips to places where significant parts of history took place. For our first few anniversaries, we went to places like Baltimore, Washington D.C., and Gettysburg. We share some similar interests, but we also have many different interests from each other. This is one of the best things about our relationship. Over the years, we have taught one another so much and learned to appreciate the interests the other one has that we may not have enjoyed otherwise. No matter what is going on in our lives, we know that we will always have each other and we will get through anything that life throws at us.