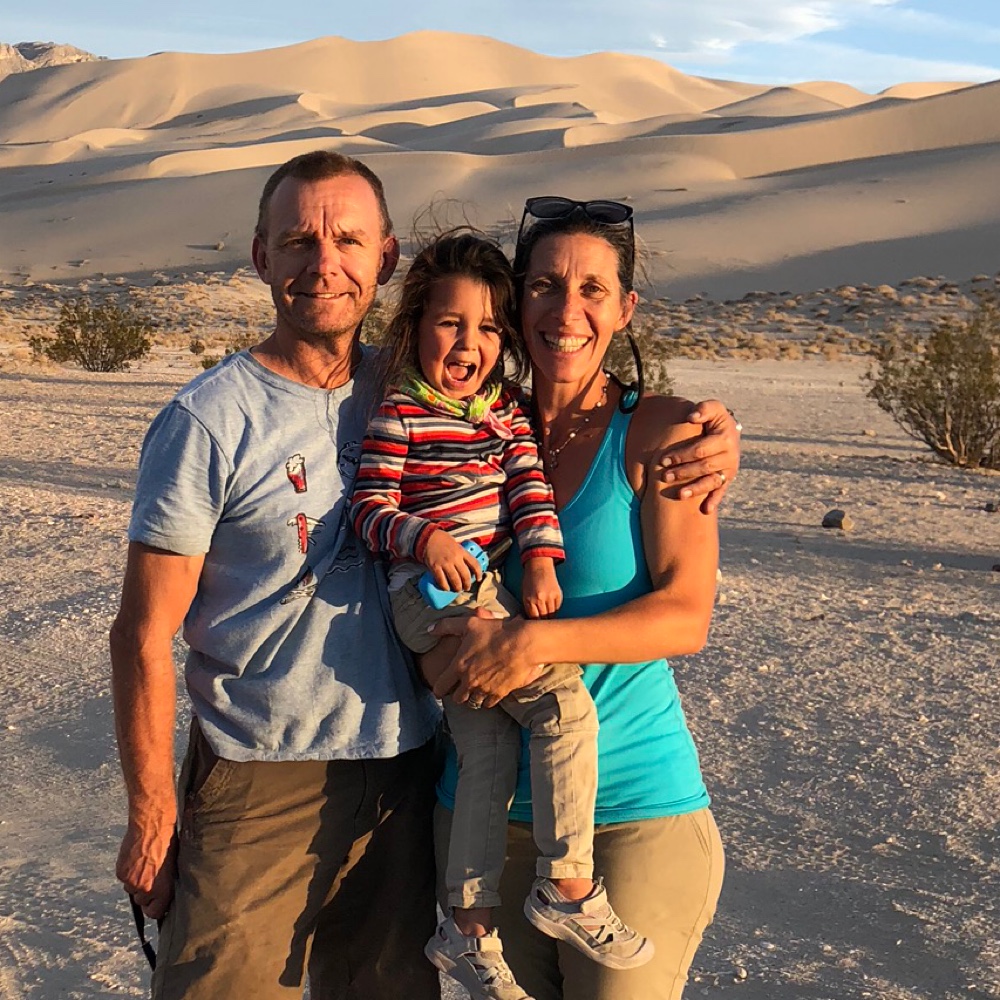 Family Facts
Children:

One Child

Region:

Southwest

Education:

Graduate Degree
Hola! Hello! Cześć!

We're Analia, Darek, and Olivia. Thank you for taking the time to read our story.
(* English below)

Somos Analia, Darek & Olivia
Muchas gracias por tomarte el tiempo de leer nuestra historia y por considerarnos para ser los padres adoptivos de tu hijo/a.

Estamos seguros que ha sido un camino emocional que te trajo hasta este momento y a leer nuestra historia. Sabemos que debes tener el coraje, fuerza y amor incondicional para considerar un plan de adopción. Nos gustaría agradecerte por considerarnos para ser padres de tu hijo/a.

Ambos crecimos con hermanos que siempre han sido (y son) parte de nuestra vida es por eso que esperamos poder ampliar la familia nuevamente a través de la adopción y dar esa experiencia tan única de hermanos a ambos hijos. (** español debajo)

----------------------------------------

*We are sure it has been an emotional journey that brought you to this moment and reading this profile. We realize that you must have gathered great courage and selflessness to consider placing your child for adoption. We want to thank you for considering us as parents for your child.

We now speak from experience as we have adopted Olivia in June of 2014. It was one of the best things we have done in our lives. Growing up with siblings has been a big part of our lives and we hope that Olivia can have the same unique experience.

Why Adoption?
*After each of us (Analia and Darek) survived cancer that left us unable to have children we tried fertility treatments for few years but this was not meant to be either. We finally decided upon adoption and it was one of the greatest things we have ever done. That is how Olivia came to our lives. We are now a happy family of three and hope to grow it to four! We are in favor of an open adoption as it takes a lot of mystery, anxiety and questioning out of the process. On the other hand, we are very respecful of the birthmom's and her family's privacy. To us open adoption means staying in touch via email-text, sharing photos and cards. It may even mean occasional meeting in person. We also understand this is a case by case situation which can always change and adjust. We also think that open adoption is sharing the story and as much as we know with your child. As an example, in case of Olivia she has a collage with pictures with all her biological and adopted parents in her room so she has been aware of her adoption story since her birth. ——————————————————— **Despues de que ambos ( Analia y Darek) hayamos sobrevivido al cancer, nuestra fertilidad se vio afectada por los tratamientos que ambos tuvimos y a pesar de haber pasado por tratamientos de fertilidad tampoco funciono. Finalmente decidimos que la adopcion era la major opcion y una de las cosas mas importantes que hemos hecho en nuestras vidas. Asi fue como adoptamos a nuestra hija Olivia en el 2014 y como ella llego a nosotros y ahora nos gustaria ampliar la familia a 4! Apoyamos la adopcion abierta ya que ayuda a eliminar el misterio, ansiedad y muchas preguntas dentro de proceso de adoption. Por otro lado, somos muy respetuosos de los deseos y privacidad de la mama de nacimiento y la familia biologica con lo cual entendemos que cada caso puede ser diferente. Por ejemplo en el caso de Olivia, le armamos un collage de fotos con su familia biologica y adoptiva desde que nacio y lo tiene colgado en su habitacion ya que ha sabido la historia de su adopcion desde que nacio.

Get To Know Us
*We are passionate about travel and we love to explore. We have made it Coast to Coast on a 3-month road trip in our truck; we have visited almost every country in South America, hiking the Inca Trail and visiting Machu Picchu, visiting Galapagos and crossing Patagonia on a train. Darek was born and raised in Poland. He is a Physical Therapist and works in the outpatient clinic and helps people get better after injuries or surgeries. Analia was born and raised in Argentina. She works part time in her own small home based travel agency selling trips to South American and teaches physical Education in Spanish weekly. Her schedule is very flexible and revolves around Olivia's school so she has the time to care for another child. On Sundays we Skype/Facetime with our families in Poland and Argentina Our traditional Christmas Eve dinner mixes Polish, Argentine and American dishes and customs. We love to take Olivia to the aquarium as she loves everything about the ocean and animals that live in it. For vacations we rotate alternate between Poland and Argentina to visit friends and family. We love to take bike rides, go to the libraries and book stores together. Darek loves to take Olivia to the records store where they both look for old vinyls. Analia likes to play tennis and have parties and friends at home. Our core values as family are respect, honesty, education, hard work and love for each other. ————————————————————————————- **Nos encanta viajar y explorar! Hemos manejado de costa a costa en USA en un viaje de 3 meses, visitamos casi todos los paises en Sudamerica, hicimos el Camino del Inca en Machu PIcchu, visitamos las islas Galapagos, cruzado Patagonia en tren y navegar alrededor del Cabo de Hornos. Darek nacio y se crio en Polonia y es terapista fisico y trabaja en una clinica ayudando a la gente a rehabilitar despues de una cirugia o accidente. Analia nacio y se crio en Argentina y trabaja medio dia en su agencia de viajes ( desde casa) vendiendo viajes a Sudamerica y da clases de Educacion Fisica en espanol una vez por semana. Sus horarios son flexibles y los acomoda en funcion de la escuela de Olivia asique tiene el tiempo para poder ocuparse de otro hijo. Nos gusta llevar a Olivia al acuario ya que le encanta todo lo que sea del oceano y sus animales. En las vacaciones alternamos entre viajes a Argentina y Polonia para visitar a nuestras familias y amigos. Andamos en bicy, vamos a las librerias y bibliotecas juntos. A Darek le encanta llevar a Olivia a los negocios donde venden discos de vinilo y buscar algunos viejos. A Analia le encanta jugar al tenis y tener fiestas en casa o simplemente amigos a cenar. Los domingos llamamos via Skype o Facetime a nuestras familias en Polonia & Argentina. Nuestra cena tradicional de Nochebuena es una mezcla platos y costumbres polacos, argentinos y americanos. Nuestros valores como familia son el respeto, la honestidad, educacion, trabajo duro y amor el uno hacia el otro.

Our Home & Community
*We live in a modest but very comfortable and cozy house in Southern California in a quiet, family neighborhood with schools and parks nearby. Our house reflects our approach to life: keep things simple, avoid clutter and stay close to each other. We have a spacious yard with a vegetable garden, a deck that is our summer living room, and we have a couple of sweet rescue dogs Alma and Bodie. We have great neighbors who also have children and over the past few years we become friends sharing dinners, outings and time with the kids. ——————————————————————————- **Vivimos en una casa modesta y calida en el Sur de California en un barrio tranquilo y familiar con escuelas y parques cerca. Nuestra casa refleja nuestro enfoque en nuestra vida: mantenemos las cosas simples y estar cerca uno de otro. Tenemos un jardin amplio con una pequena huerta, un deck que es nuestro living en verano y tenemos 2 perros adoptados que se llaman Alma & Bodie. Tenemos vecinos muy buenos que tambien tienen hijos y con el tiempo nos hemos hecho amigos, compartimos cenas, salidas y tiempo con chicos.

What We're All About
*We are a Polish-Argentine-American family. It is important to live our lives without regrets and incorporating our cultures into our child's education and life. At home we speak Polish, Spanish and English. We are more about experiences than things in life and parenting has been one of these life changing experiences which we look forward to repeating and continuing with a second child. We have also seen how Olivia interacts with smaller children and she asks about adopting a sibling. We believe that having another child will enrich our family in ways we cannot even imagine yet. We feel we still have much to give and would be honored to parent your child. ———————————————————————- ** Somos una familia polaca, argentina & americana. Es importante para nosotros vivir nuestra vida sin arrepentimientos e incorporar nuestras culturas en la educacion de nuestros hija/os. En nuestra casa hablamos ingles, polaco y espanol. Creemos mas en las experiencias vividas que en las cosas materiales y habernos convertido en padres ha sido una de esas experiencias unicas que esperamos repetir y continuar con un segundo hijo. Vemos tambien como Olivia interactua con chicos mas pequenos y ella tambien pregunta cuando adoptamos un hermanito/a. Pensamos que adoptar otro hijo/a va a enriquecer nuestras vidas de maneras que no podemos aun imaginar. Sentimos que tenemos todavia mucho para dar y seria un honor poder ser padres de tu hijo/a.