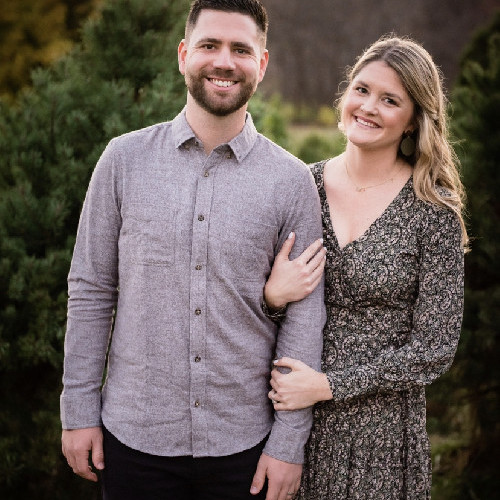 Family Facts
Region:

Midwest

Faith:

Catholic

Education:

Graduate Degree
Hello! "You're braver than YOU believe, stronger you YOU seem, and smarter than YOU think!" We are Mary and Andrew and we are BEYOND excited to be on this adoption journey. We are doing everything we can to be prepared to welcome a beautiful new life into our home. We were high school sweethearts who are now both in our 30s and have successful careers as physical therapists that has evolved from our love of sports. We love spending time with our 10 nieces and nephews and playing with our dog Jack on the weekends. We love taking new adventures, near or far, and finding JOY in the little things that life has to offer, especially a delicious meal! We have known for a long time that we want to expand our family and are extremely excited that our road has led us to adoption. We want to make sure your child knows of your love, strength and selflessness in making this decision. We thank you for taking the time to learn more about us and for considering us in your adoption plan! We hope this gives you a glimpse into our lives. We look forward to possibly meeting you someday!

https://www.adoption-beyond-families.org/mary-and-andrew-adopt

Why Adoption?
"Not all of us can do great things, but we can do small things with great love." We realize adoptions can have many different forms but we know they all begin and end with love. For us, adoption came from 5 years of struggling to have a family through natural means and 9 failed rounds of infertility treatments. We have had the joy and sorrow of losing 3 angel babies and although those moments will not be lost on us, we are SO excited to be parents through adoption. We are overwhelmed with joy and excitement that God has led us on this wonderful journey. We believe adoption is one of the greatest acts of love and we promise to always do what is best for your child. We are completely open to listening and learning through this adoption journey. We have an amazing community of family and friends who love and support us unconditionally and will do the same for our future family. Adoption is a wonderful opportunity to have so many people that want to love and support your child throughout his or her life!

Get To Know Us
Andrew is 32 and grew up with one younger sister. Andrew loves to golf, work out and watch movies. His favorite foods include pizza, Thai, and breakfast burritos! Mary is 31 and is the youngest of 4 siblings. She loves the outdoors, coaching youth volleyball and likes to stay active. Her favorite foods include ice cream, sushi, and tacos! Starting out as high school sweethearts, we grew up together and dated for over 8 years before we were married in 2015. We both went to the University of Kansas and both earned our Doctorate of Physical Therapy degrees that we use every day! We are both proud directors of separate outpatient physical therapy settings and we love our jobs. Family has always been very important to us and we love being part of a big family of 87 cousins combined! Together we love to travel, gather with our friends and family, try new restaurants and hang out with our dog Jack. We are huge Kansas Jayhawk fans and enjoy attending any and all local sporting events! We also try to take the time to appreciate the little things like coffee dates, movies at home, game nights and playing with our nieces and nephews. We have always dreamt of being parents and can't wait to experience that through the miracle of adoption!

Our Home & Community
We live in Kansas City in a family oriented neighborhood with many parks and restaurants nearby. Our home is very centrally located and we can get to nearly anywhere within 15 minutes or less. Our home is a side by side split level with 4 bedrooms, 2.5 baths and a spacious backyard. We love making our home feel cozy by filling it with seasonal and festive decorations and pictures of family and friends. We never miss an opportunity to host events at our home including backyard BBQs, game nights & making s'mores in our fire pit! We want to make sure that our family and friends always feel welcome. We think our home feels the best and coziest when it is filled with noise and laughter! We are so lucky to have an overwhelmingly large community of family and friends in our life. With large families on both sides, we gather together for weddings, holidays and many other events each year! Growing up together has led us to many close friendships that have lasted most of our life. This community has surrounded us with so much joy and laughter throughout the years and will continue to do so as our family grows!

What We're All About
We are both passionate people who are always striving to get the most out of life! We love working with people on a daily basis by helping them improve their quality of life or physical performance. We are also foodies who love to try new things and are always seeking the next greatest meal. This of course includes dessert. We love to travel and explore, near or far, but our greatest trip has been to Croatia! We are always rooting for the home town team, as sports are definitely a passion in our life. We definitely root for all the big KC teams, but also root for home town teams like Mary's competitive youth volleyball kids. We promise to teach your child to be kind and faithful, to never take themselves too seriously, to enjoy the little things, to find a passion in life, to be independent and to work as a teammate, to work hard but play harder and to always take pride in all that you do. We know life is short and sweet so we plan to make the most of it!