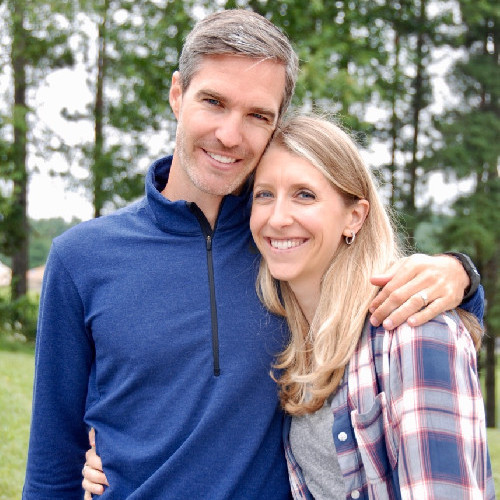 Family Facts
Children:

One Child

Region:

Northeast

Faith:

Christian

Education:

Graduate Degree
We are high-school sweethearts who have always had a desire to become parents. Our home is filled with a lot of laughter and as a family we enjoy being outdoors, having dance parties in our kitchen, and spending time with our family and friends. After several years of infertility treatments, we were able to expand our family through a local, private adoption. Our beautiful daughter, Mackenzie, joined our family in 2014. We have an open relationship with her birth family which has been incredibly special to all of us. Sean works as a teacher and Krista works part-time as a therapist and is at home the rest of the time with Mackenzie. Both of our careers have helped us navigate some of the dynamics that can come from adoption and we know they will be helpful as our daughter grows and her questions potentially become more complex. We are hoping to grow our family again through adoption and would love to have another open adoption. Thank you for taking the time to read and consider us as you make such a courageous decision!


Why Adoption?
Becoming parents has always been something we deeply desired. We went through many years of infertility treatments but are unable to have biological children. Five years ago, a friend of a friend connected us with an expectant mother who was looking to make an adoption plan as she was due in a few weeks. We met with her a few times and she chose us to adopt her daughter. Through that situation we like to say that "adoption found us and changed our lives forever". We adopted our daughter, Mackenzie, at birth and have an open adoption with her birth family. We would love to add more children to our family through adoption. Having adopted once before, we are familiar with not only how the process can go but also how varied the emotional experiences can be for everyone involved. We understand that every adoption situation is different. Our hope is to approach the next adoption with open hearts and minds regarding the level of openness desired by the next birth family, so that it can be discussed openly and that everyone can be comfortable.

Get To Know Us
We have been best friends since we began dating in high school and got married after we graduated from college. Sean works as a teacher at a local public high school and coaches club soccer on the side. He has an amazing sense of humor, is a caring and hands-on Dad, is very tech savvy and enjoys sports, reading, and board games. Krista works part-time as a therapist and loves being at home with our daughter, Mackenzie on the other days. She is kind and fun, loves to cook, enjoys hosting family and friends in their home, and loves to engage in creative play with Mackenzie. Being a Mom is her greatest joy. Mackenzie is 5 years old and words fail us to describe how much we love her. Mackenzie enjoys all things pink, playing Barbies, cuddling our 2 cats, and loves playing outside. We can't wait to add another little one to our family and see their personality develop! Both of our careers have given us a wonderful background for raising children and caring for their emotional well being. We have wonderful friends and family who support us and who will shower any child that joins our family with their love and support as well.

Our Home & Community
We live in South Central, Pennsylvania, not far from Harrisburg or Hershey (we are a short drive to Hershey Chocolate World!). Although we live in the suburbs, we are just a few hours drive in either direction to major cities such as Philadelphia, Pittsburgh, New York City or Baltimore which we enjoy visiting when we get the chance. We recently moved into Krista's childhood home which is a 2 story, 4 bedroom home with an in-ground pool. It has been fun to make it our own and also carry on the legacy with a new generation living in it. Our home is located in a multi-generational neighborhood and we have a park right down the street. Our area has lots of great parks, restaurants, hiking trails, rivers and creeks, and even a small ski resort nearby. Sean teaches and coaches in the same community we live in and we are passionate about being involved in our community. We are also involved in a local church and are grateful to have wonderful friendships and both sets of our parents living nearby.

What We're All About
Our family and our Christian faith are at the core of who we are as a couple. We strive to be genuine people who love the people in our lives well by the love God has given to us. Our day to day lives are not overly glamorous and we do not pretend to have it all together. When we mess up we seek to make it right by apologizing to each other and to Mackenzie as well. We love the simple joys of life such as sharing meals together, taking family walks, having a fire pit with friends, or playing a board game together. Our siblings and extended family are spread out over the country and we enjoy visiting them as often as possible and creating memories together during vacations or other visits. Family means the world to us. As we anticipate another child joining our family, we are looking forward to sharing in more fun, more love, and more joy in what this new little person will bring to our family with their unique personality, interests, and giftings.