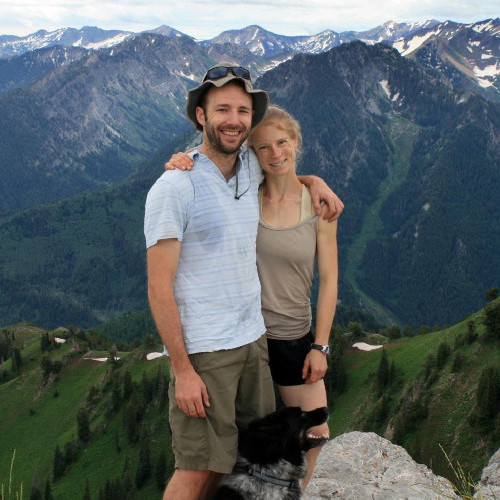 Family Facts
Region:

Southwest

Faith:

Jewish

Education:

Graduate Degree
We're an active, educated, outdoorsy, dog-loving couple hoping to share our life with a son or daughter. We are both hard-working, thoughtful, open-minded individuals with adventures to share, knowledge to pass on, a happy home, and a welcoming extended family. We're so grateful that you would consider us as you make this difficult decision. We understand how important this is and we promise to do everything to give this child the best life we possibly can. We look forward to bringing you into our lives in whatever way feels right to you and creating an open adoption plan that addresses the needs and desires of everyone within this relationship.

Why Adoption?
We regard adoption as an incredibly meaningful way to complete our family. We gave up trying to get pregnant after several years of failed fertility treatments, and have come to regard adoption as an opportunity to experience a love unlike any we have known before. Spending time with our siblings and their children on vacations has made us appreciate how much joy and fun children can bring to our life. We hope to communicate openly with the birth parents to determine what type of relationship will be best for both parents and child. As parents, we want our children to learn honesty, perseverance, inquisitiveness, compassion, environmental stewardship, and respect for others regardless of where they come from, whom they love, or what they believe. A child in our home would be loved and supported unconditionally, and would learn to contribute to the family and the world in rewarding and meaningful ways.

Get To Know Us
We are both passionate, inquisitive and successful professionals. Nira is a full time physical therapist in an outpatient orthopedic clinic in Salt Lake City. She takes a lot of pride in her work and cares deeply about the patients she treats and the quality of services she provides. She appreciates being able to have a tangible, positive impact on the daily lives of her patients. Prior to becoming a physical therapist, she worked as a university instructor and researcher in the environmental sciences, investigating the impacts of river restoration and other human activities on stream ecology and stream health. Outside of work she enjoys climbing, mountain biking, hiking, swimming, gardening, and cooking. Ben currently works for a start-up company in Salt Lake City discovering new treatments for rare genetic diseases. He works with laboratory automation and robotics to perform complex molecular and cellular biology experiments. Born and raised in Iowa and upstate New York, he enjoys mountain biking, skiing, hiking and climbing in his free time. As a couple we enjoy climbing, hiking, mountain biking, gardening, and playing with our dogs together.

Our Home & Community
We live in a comfortable home on a quarter acre lot in the foothills above Salt Lake City. Our fenced backyard includes a large lawn, vegetable garden, fruit trees, decks and a tree-swing. In the evenings, we enjoy poking through the overgrown vegetable plants looking for zucchini, tomatoes, cucumbers, basil and kale to add to our dinner. We love listen to the crickets chirp and the chickens clucking next door while we grill on the deck. Our home is a short walk away from a park and playground with views of the mountains. We frequently take our dogs Khola and Maple there to play Frisbee and soccer. We also love to hike, run, and bike the trails through the foothills that start at the edge of the park. Over the years we've developed a supportive group of friends, colleagues, and neighbors in Salt Lake City. We spend time with our friends and their young families at dinner parties and casual gatherings, and get together in small groups for climbing trips, hikes with our dogs, and mountain bike rides. Our coworkers and employees support us both personally and professionally. Our neighbors are the friendliest and most helpful we've ever had. Despite living far apart, our family has done a great job of staying connected and involved in each others' lives. We visit each other several times a year and talk often. Our parents, siblings, and extended family members have all openly expressed their support for our adoption and will come help us whenever we need it.

What We're All About
Nira has a practical and empathic approach to relationships and does a great job striking compromises with family members and coming up with positive solutions to interpersonal problems. Ben is alternately serious and light-hearted, is thoughtful, logical, hardworking, and devoted, and believes in the importance of honesty. As individuals, we have different perspectives and intelligences that complement and motivate each other. We make important decisions as a team and openly share our thoughts, fears, and hopes. One of the greatest strengths of our marriage is our ability to talk things through and logically arrive at an optimal solution, sometimes acknowledging when we're wrong and validating the other's perspective. The best part of our life is the time we spend together in the outdoors, pushing our bodies through physical challenges and appreciating the beauty of nature. In our professional lives, we are driven by a desire to make a difference in the world: Ben is helping pioneer new drug discoveries; Nira improves the quality of her patients' lives by reducing pain and improving mobility. In our personal lives, we are driven by the joy that comes from athletic accomplishment and being in nature. As parents, we look forward to instilling in our child an appreciation of the environment, a desire to help others, and a strong work ethic. To learn more about us, please visit our website: https://sites.google.com/view/ben-and-nira-adopt/