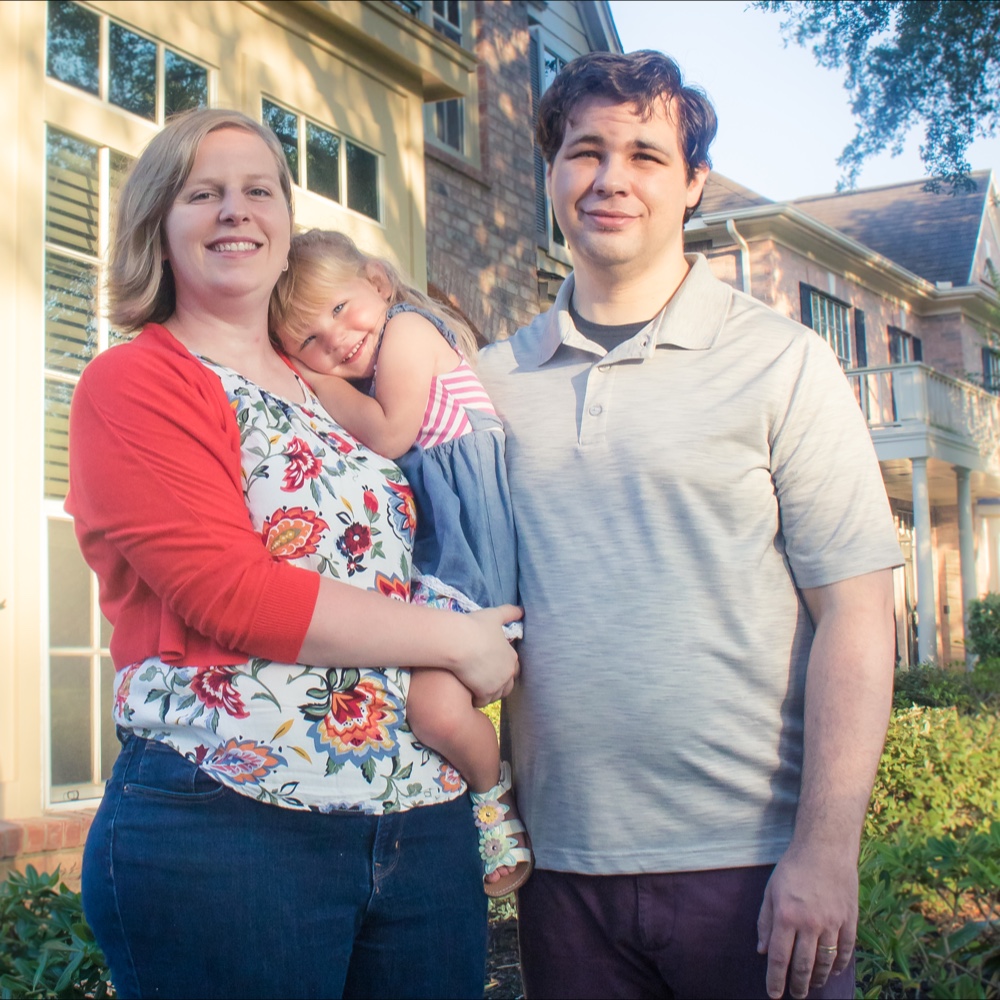 Family Facts
Children:

One Child

Region:

Southwest

Faith:

Christian

Education:

Graduate Degree
Hi! We live in Texas with Alex's parents and our daughter, Nora. Alex is a high school teacher, and Jessica is an oncology nurse. We have had adoption on our hearts since dating in college and realized that we still wanted to pursue adoption after Nora was born.

We enjoy many things like reading, musicals, and spending time with our family in Georgia. What we do most frequently together is cook. Alex bakes, Jessica enjoys trying new recipes, and Nora likes to do cooking shows and post them on social media.

Look forward to meeting you!

Why Adoption?
We started talking about adoption while dating, as there was a possibility that we could not have a child. After Nora was born, we started discussing adoption again. This time, we wanted to pursue adoption both to provide a child with love and to be open to learning from and supporting birthparents we would not have known otherwise. We visualize having an open adoption where we have regular contact with birthparents. If close to us, we can accommodate several visits. If farther away, visits may be a few times a year. Contact by phone, video, letters, etc. can be frequent.

Get To Know Us
Both of us enjoy our jobs to the fullest. Alex is a high school science and math teacher. He reads and collects books and listens to various podcasts. He likes to do simple experiments at home to teach Nora about science. Jessica is an oncology nurse. She enjoys music (playing piano, accordion, and guitar) and video games (Animal Crossing is a family favorite). Nora loves ballet, Barbies and musicals; "Mamma Mia" is her favorite. We have the evenings together at home, and the weekends are spent doing some fun activity like going to the zoo, beach, or the children's museum.

Our Home & Community
We live in a two-story house in the suburbs. We have a swingset and playhouse in the backyard, and Nora likes to pick fruit from orange and lime trees. Our favorite room is the kitchen where we have dinner together each night. During the holidays, we treasure our time in the living room, each chair filled and toys strewn across the floor. Our neighbors are excited about our plans for adoption and are willing to help us incorporate our child's culture if it is different from ours. Alex's parents, Donna and Glenn, live with us, and Nora loves having her grandparents involved in her life.

What We're All About
If we had to sum it up in one sentence, we would say that we are all about loving others. We hope to instill this love for people in Nora and our second child. As we prepare for parenting two children, it is important to us that we spend special time with each and explore each interest. We look forward to spending time with birthparents to gauge what these interests are and will cherish the moments when we all get to see our child's personality develop. What matters most is that we see our child flourish into his/her full being through the love of both adoptive parents and birthparents.