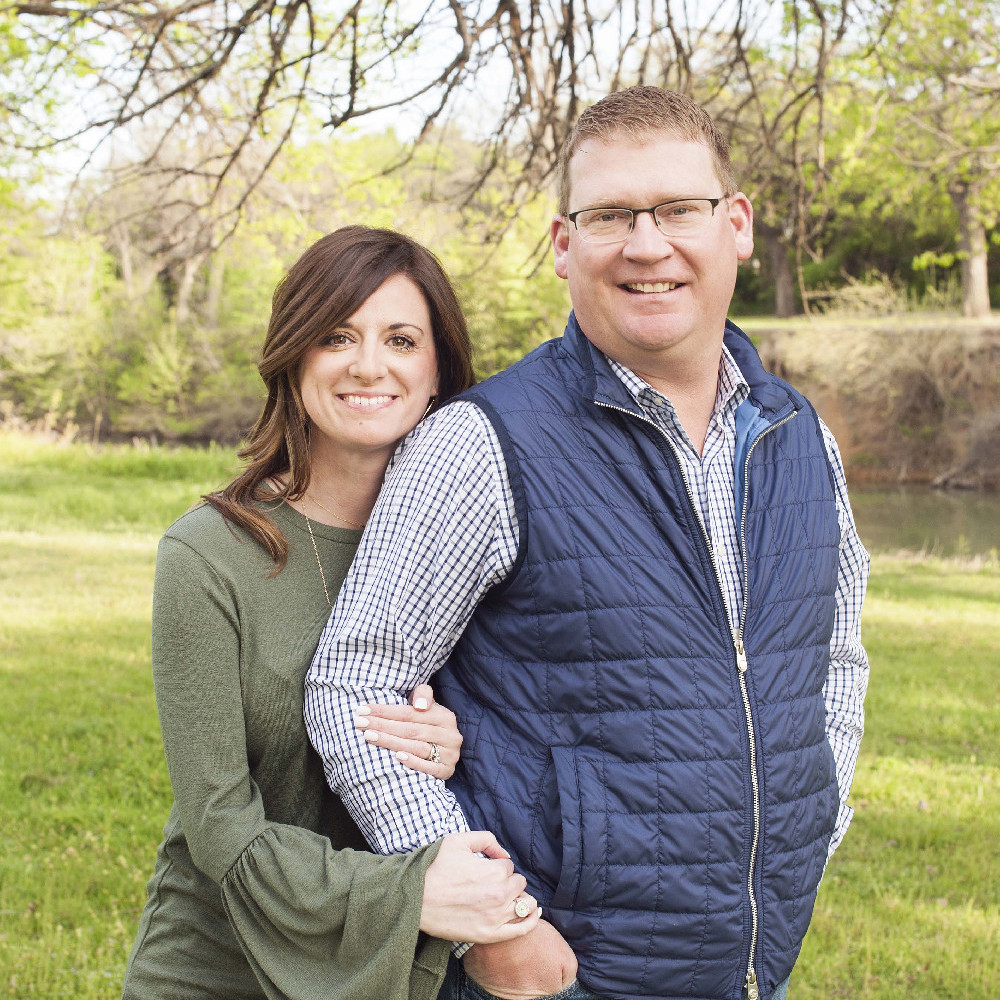 Family Facts
Region:

Southwest

Education:

College Degree
We have known each other since high school and both grew up in small towns near one another. Our paths crossed often during school events and most often at livestock shows. We both grew up raising and showing pigs which holds a very large part of our hearts. As luck would have it, Jay was invited to Janie's senior prom, by another girl, but we were able to chat quite a bit throughout the night. We both agree there was a little "spark" for each of us. The luck continued as we both attended the same college and ended up running into each other on the first day of school. Janie shared her number with him and thankfully Jay has a wonderful memory of numbers (cell phones were not a common thing at this time) and called Janie later that night. We hung out the remainder of the week and we've been together ever since. We got married on our friends ranch about 6 years after we started dating. We have been married for 11 years now and every day is a new adventure, we look forward to celebrating many more anniversaries and milestones together.

Why Adoption?
Adoption has come to our hearts over time and has been a common topic since we were seriously dating. After years of infertility treatments, heartbreak and unanswered questions, adoption became a very bright light in our hearts. It's like God allowed us to travel a path to learn more about each other, to grieve together, to support each other and build a supportive community around us. All of that has come full circle and now we have been brought together with you. Jay's family has worked very closely with a Children's Home for 3 generations and his grandparents adopted his aunt when she was an infant. His great grandmother and grandmother were head dietitians and his Aunt was the Kitchen Director as well as Manager of the Family Care Unit for the Children's Home. His father now plays Santa each year at the Christmas events. Our best friends recently adopted their daughter and she is an amazing little girl. She has taught us all how to love BIG and know that we can do so much more than we ever thought possible. Having been through these experiences, we have listened to our hearts and are excited to grow our family.

Get To Know Us
"Janie grew up playing softball, basketball, running track and was very involved in the Future Farmers of America and 4-H. Being a ranch hand/agriculture teacher's daughter, she was the son her dad never had. She is not afraid to get her hands dirty and is very helpful around the house when we need to make repairs or upgrades, especially when it comes to instructing me on how she thinks I should do something ;). She works for an oil and gas company and is very respected in her job. She is extremely organized and motivated which allows her to be a major component to her company's success. Her work family is supportive of each other, offers flexibility, and encourages family/work life balance. She often volunteers her time to industry events such as the annual golf tournament and sporting clay shoot that raises money for local charities. Janie's side of the family has really become my own. Her mom and dad are as good of in-laws that you could possibly ask for and we are very appreciative for all they do for us. Janie is the most self-less, kind-hearted and patient person that I have ever met. She always thinks of other's happiness before herself and is an absolute joy to be around. She is a great friend and wife and I am lucky that she is mine." – Jay "Jay is about as good as they get when it comes to a husband and best friend. He is supportive, full of love, thoughtfulness, and FUN! He is a great golfer, cook, hunter and a former baseball standout in his younger years. He is very handy around the house and does not complain too much about the projects I ask for his help with. Jay grew up in a very small community where he played baseball, basketball, golf and showed pigs through the local 4-H and FFA (Future Farmers or America) associations. When he was around 16, he placed 8th with his pig and was able to purchase his first truck, a 1978 Ford Bronco with his winnings. Deep down he wishes he still had this truck. Jay's family is very supportive, and his parents never miss any birthdays, softball games, or other activities their grandkids are involved in. They are always willing and able to join us for fun weekends or when we need help. Jay works for an oil and gas company and not only excels at his job, but also serves on several organizational boards for the betterment of our industry and community. Jay received his degree to be a teacher and baseball coach but has successfully found a niche in this business. One of my most favorite things about Jay is that when he gets really tickled about something, he has a cute giggle that I absolutely love. I cannot imagine my life without him and am truly thankful for the past 11 years of marriage, and 17 years spent with my best friend. Through it all, Jay has been the leader, voice of reason, the clear-headed thinker and the rock of our relationship. To see him interact with children is magical and they really do think he is pretty cool. I feel confident that Jay will continue to lead our family through joy and tears for years to come." – Janie

Our Home & Community
We have settled in a small suburb that is only about 2 hours from where we grew up and we travel back as often as we can for events, hunting and to simply visit. We have been in our current home for 3 years and absolutely adore it. Since we both grew up in the "country", we knew we wanted to get out of the hustle and bustle of the big city and see the stars at night. We have a little over an acre of land in a neighborhood where neighbors have horses and chickens. Our home is a modern farmhouse style with a big front and back porch. It has 4 bedrooms, 3.5 bathrooms, a media room and game room. Kids basically take over the game room when they come to visit. Jay is a really good cook and our kitchen is a hub whenever friends are over. Everyone congregates around the island and eats his delicious cooking. Our backyard is our favorite space and where the majority of our time is spent. We have a large back porch that has a TV, tables and a couch to lounge and eat around when we are not swimming in the pool or relaxing in the hot tub. There is also an outdoor kitchen that Jay smokes chicken, brisket and all sorts of food. We love our little piece of paradise and plan on this being our forever home.

What We're All About
We wish this time was spent in conversation with you. Learning about your family, your hobbies, and dreams for the future. But, because that wasn't the case, we hope we get the opportunity soon to learn about you! We can't wait to hear!