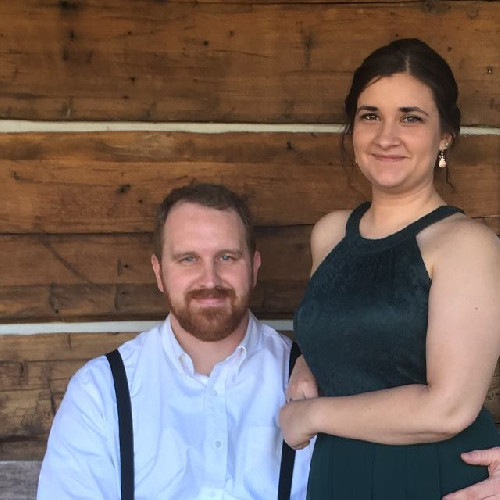 Family Facts
Region:

Southeast

Faith:

Christian

Education:

College Degree
Thanks for checking out our lives and hopes as future parents! We're incredibly excited to be a party of three. If you decide on a birth plan that includes us, we promise to provide the best life we can for our child, with all the birthday parties, pets, good food, and love we can give. We hope to always have our child's birth family as a part of our lives, but of course we'll honor whatever degree of contact is best for everyone.

While we won't pretend like we know how hard this decision is, you'll be in our thoughts no matter what you decide. We wish you all the best in creating an adoption plan and in life!

Why Adoption?
When we first started dating and had all the big talks, we talked about adoption. Eight years and a wedding down the road, and we've still always known adoption would be a part of our family. When we picture our future it's with a farm, and a porch with a blue ceiling, and that kid we've imagined for such a long time running around slamming screen doors and swiping dessert. We're still working on the farm—but we're more than ready to start the parenthood journey! It feels like we've had this baby in our hearts forever, and being this close to meeting him or her is incredibly exciting!

Get To Know Us
Patrick is a manager at a local farm store, and his discount comes in handy providing for our own mini-farm. Anna is an environmental educator at a nature sanctuary, where her main mission is helping kids develop a sense of love and adventure for the outdoors. In our downtime, we love anything outside—kayaking, caving, hiking, or even just porch sitting with our feet up and some coffee. We try to raise as much of our own food as we can during the summer, and when we're at home we like spending time experimenting with heritage vegetables and spoiling our chickens. We can't wait to have a kid along for the adventures (and porch-sitting)!

Our Home & Community
We feel pretty lucky to live onsite at Anna's work. To walk outside your door into a huge nature sanctuary is an awesome privilege! We also live about twenty minutes from a big beautiful city, and while we love the outdoors, we definitely appreciate the food, culture, and opportunities of being so close to town. And, while it might be a little premature, we've already got our eye on potential schools for our future child. We're also pretty fortunate to have a supportive community. We come from big families, and we have lots of aunts, uncles and cousins waiting on a baby to spoil--and, of course, our parents are anxious to be grandparents again. Both our workplaces are supportive and accommodating, and Anna's coworkers are extra excited to have a work-family baby in the mix. Coincidentally, some of our best friends, Megan and Jason, are also right in the middle of the adoption process with us. We believe strongly that families are built in all kinds of ways, and we're glad we have Megan and Jason to help us model that.

What We're All About
We think changing the world begins in your community. Whether it's volunteering to help build a playground or picking up trash during a hike, we want to show our future child that making a difference can start right outside the front door--bringing a neighbor groceries when they can't leave the house; speaking up when someone's being treated unfairly; offering the spare room when a friend of a friend has nowhere else to go. Our hope as parents (and human beings in general) is to leave the world better than we found it.