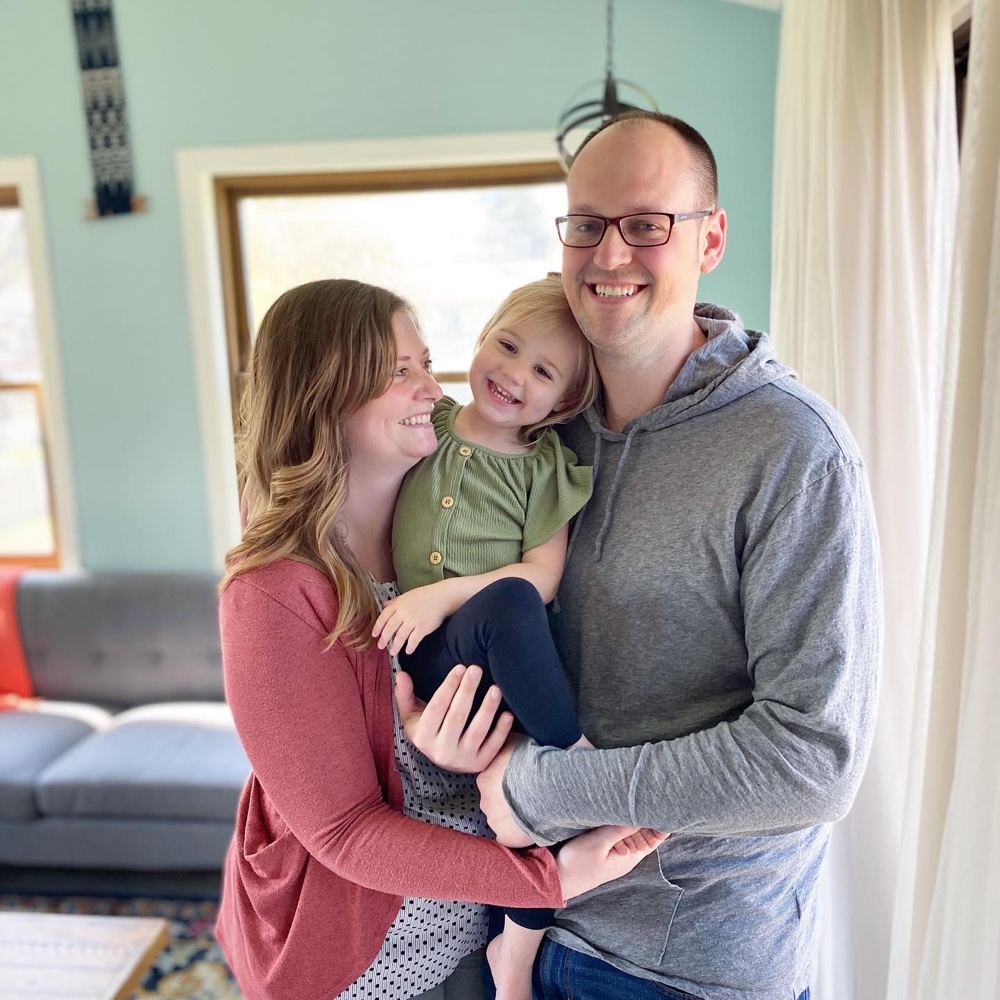 Family Facts
Children:

One Child

Region:

Midwest

Faith:

None

Education:

Graduate Degree
As a couple, we appreciate little things like sharing a good book, our first cup of coffee in the morning together, watching a new Marvel movie, and ultimately trying to teach our daughter about love and respect.

We call West Michigan home and look forward to having an open adoption!

We have an agency profile full of more information! If you'd like to meet us, we'd be happy to meet you as well! We want you to know we appreciate the time you took to read through our profile. No matter what you choose, we wish you peace on your journey.

Why Adoption?
Adoption was an early topic of conversation for us. Megan has wanted to adopt since high school and we talked about adoption early in our relationship. Prior to conceiving our daughter, we attended an adoption orientation to learn more about it. We decided to pursue adoption for our second or third child. After experiencing secondary infertility, we both felt positively about growing our family through adoption rather than pursue medical interventions. We have a lot of love and passion for open adoption and recognize the importance of maintaining a healthy connection with biological families.

Get To Know Us
We have been together since 2012. Now as a family, we enjoy visiting the library, visiting with family, going to antique stores, hiking, riding our bikes to the park, visiting the zoo, and much more! Adam is a software engineer specializing in quality assurance. Megan works as an environmental team manager. Megan believes strongly in integrity and trust. Adam believes strongly in patience and learning. Our daughter, Natalie, is extremely caring and imaginative. This translates into our family values as believing in one another, being there for each other, and having fun together.

Our Home & Community
We both grew up in west Michigan and love it here! We now live about two miles from family. We love west Michigan for the beautiful seasons, close by family, and our safe neighborhood. We have a ranch-style home with four bedrooms and a finished basement. Our favorite room is the sunroom turned playroom. We have a fenced backyard with a sandbox, bikes, water table, and a garden area to learn and play. Our immediate families are primarily Caucasian, African-American, and biracial. We value the enrichment a diverse family brings to our lives and celebrate our differences.

What We're All About
OUR VALUES: We will always want what is best for our children. We want them to grow up to be the best versions of themselves. As parents, we want to give them those opportunities and resources to accomplish this. We are driven to care for our family, friends, animals and earth. For us, it's the moments. If you asked us our top three things we love: 1) Family morning cuddles + coffee + dog 2) Weekend movie night as a couple 3) Hanging out with family