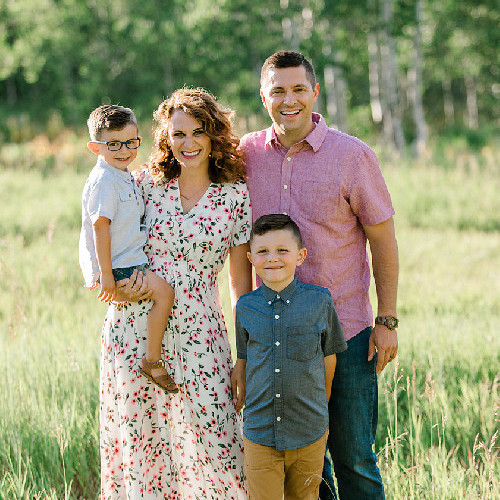 Family Facts
Children:

Two Children

Region:

West

Faith:

Christian

Education:

Graduate Degree
💗We are Nate, McKell, Bryant, and Chase. 
💗We are home study approved and live in Utah. 
💗We are ready and willing to travel! 

We are a family that loves to be outside! We love to travel to new places together and spend time outside hiking and exploring the beauty around us. Utah has so much to offer, from the gorgeous mountains to the many lakes we visit throughout the summer. We are surrounded by extended family that we love and see often. We have an incredible support system. We have annual passes to our zoo, aquarium and museums that surround us. Most of all, we love building memories together. Our boys are really invested in our hope to adopt and will be the most protective, loving big brothers to a sweet baby girl.

Why Adoption?
Welcoming our boys into this world was far more difficult than we expected. After some difficulty getting pregnant, Bryant joined our family in the summer of 2014. During Bryant's pregnancy, McKell was diagnosed with Hyperemesis Gravidarum (HG), which is a pregnancy complication that is characterized by severe nausea, dehydration, and dangerous weight loss. The pregnancy seemed to go on forever and was extremely difficult, but we were so happy to be parents and finally hold our sweet boy for the first time. ​In April of 2016, we became pregnant with our little Chase man. His pregnancy was much worse than Bryant's and McKell ended up not being able to eat or drink anything at all and had to get all nutrition via feeding tube and eventually intravenously, through a PICC line. After this pregnancy, we were advised by our doctor that becoming pregnant with another child would be dangerous for McKell's health and therefore detrimental to our family. We had to make the extremely difficult decision that McKell would not carry any additional children. In spite of this, we realize we are beyond fortunate to have our two boys and are forever grateful they joined our family. Our boys are the best of friends. This led us to idea of adoption. We have a unique situation where we have two biological children, which has made us hesitant in moving forward with adoption. We have felt selfish, even guilty at times, for wanting this for our family, because we already have two kids. We have realized that those feelings are completely normal and don't want them to prevent us from finding the sweet baby that is meant to be a part of our family. We do feel like it could give us a greater connection. McKell has experienced pregnancy and child birth and the many emotions that flood in during that time. We want to be a support to you in any way we can. We would absolutely love to have an open adoption and have you in our lives. Our boys will be the best big brothers to a little sister. They are very invested in our hope to adopt and have a fierce love for her already. She will be a miracle for our family and her big brothers will always love and protect her. Thank you for reading about our family. We wish you the best in this difficult process.

Get To Know Us
We have been married for 10 years in May. We were both born and raised in the same hometown. We grew up a few houses apart. We are surrounded by family, it wouldn't be a normal day if a grandma, grandpa, aunt, uncle or cousin didn't drop by to say hello. Nate works from his home office in our basement as a Technical Integration Manager for a payments company. McKell is a busy stay at home mom. She loves volunteering at both of her kid's schools. We love creating, exploring and building together. Both of our boys have entered the world of sports, which has become some of our favorite family times cheering each other on! We absolutely love birthdays, boating, Legos, and spending time together. Words that describe Nate: Soccer, outdoors, trail running, slalom skiing, BYU, projects, expert YouTuber, handy man, good friend, boating, kind, ESPN, computers (Mac), camping, exercising, ice cream, MBA, buying second hand, Cadbury eggs, Santiago, Lake Powell, road trips, HIS BOYS. Words that describe McKell: planning, organization, mom-ing, Christmas cards, birthdays, TEACHING, projects, learning, girl time, fashion, shopping, boating, hiking, reading, children's books, scrapbooking, memories, HG SURVIVOR, swimming, journaling, the zoo, Lake Powell, my family ranch, date night, matching, weddings, sunshine, morning snuggles with my boys, packing cubes, Disney Plus, cleaning, decorating, holidays, gift giving, chocolate chip cookies, heated blankets. If you would like to continue to get to know us you could visit our website at www.dennisfamadoption.com.

Our Home & Community
We have lived in our home for a few years now and absolutely love it! In making our decision to purchase the home, we wanted to ensure it would be an ideal place for kids. We picked a safe street and our home is located at the top of a cul-de-sac. We are fortunate enough to be surrounded by younger families which makes playing with friends easy and close. There is always a group of kids playing basketball, soccer, or football in the afternoons. We are blessed to have a beautiful backyard where the kids can spend hours playing in the sandbox, swinging on the play-set, or helping us grow a small garden. Inside our home, we recently finished our basement and tailored it to our kids. We have an indoor trampoline the kids can bounce around on. We have a whole wall dedicated to reading books. Most recently, we built Lego tables for our boys to engineer their Lego creations. We are fortunate to live close to family and between birthday celebrations, holidays, and sporting events we get together often. McKell has three siblings and Nate has five, all of which live within a short driving distance. Our boys have seven cousins on the Dennis side, three on the Murdoch side, and four puppy cousins. Our kids attend wonderful schools in a very inclusive community. We absolutely love where we live.

What We're All About
One of the mottos our family lives by is work hard, play hard. We are passionate about raising our kids to be their best selves. Every day we strive to be the best parents we can be to our kids. We are constantly evaluating and finding new ways to improve our parenting. Our greatest goal in life is to help our children know they are loved and for them to reach their potential. As parents we feel educating is important and that many life lessons can be learned through learning. For this reason, we want our children to develop a love of learning. Currently our boy's favorite things to do is learn about new animals or discover new facts. Through books, educational activities, and visiting nearby attractions we have helped them accomplish their love of learning. Additionally, over the years we have built an impressive library of children's books. It is not uncommon for our boys to be quietly reading for long periods of time. It warms our hearts to see them enjoy learning. Love is the most important value we want our kids to experience in our family. This means we want them to know they are loved regardless of their life choices, but also that they know how to love those around them, whether that be a neighbor, classmate, or someone with differing views. We ensure our kids feel comfortable talking with us. We strive to listen to them as often as we can so we can foster a healthy relationship as they grow older. These moments of listening have become cherished memories we will hold dear forever. The thing we are most excited about with adopting is to be able to grow our family. We feel strongly that we need to adopt a girl. We both have relationships with our sisters that are among the strongest relationships in life. We desire the same for our boys. A sister is someone you can trust, tell anything to, or lends a listening ear. Likewise, we want our daughter to feel the same way about her brothers. Our sons have already said they will always protect their baby sister and will watch over her forever. We constantly imagine the strong bond they will have between themselves. Since we considered adoption as the form to grow our family we felt inspired to adopt a girl. We both feel like our family is incomplete without one. We long for a daughter to be a constant guide, confidant, and friend for life. There is such a wonderful relationship between a mother and a daughter as well as a father and a daughter, and we feel like we can make that relationship magnificent. It will always be a focus of ours and we hope to make that happen. We hope to have the pleasure of sharing this love and these successes with her birth family; for our child to grow up knowing, loving, and bonding with her birth family. We know this can be a unique relationship with mutual blessings and encouragement for all parties. We know you, as birth parents, will have something special to offer. We want her to know her unique story and be proud of where she comes from.