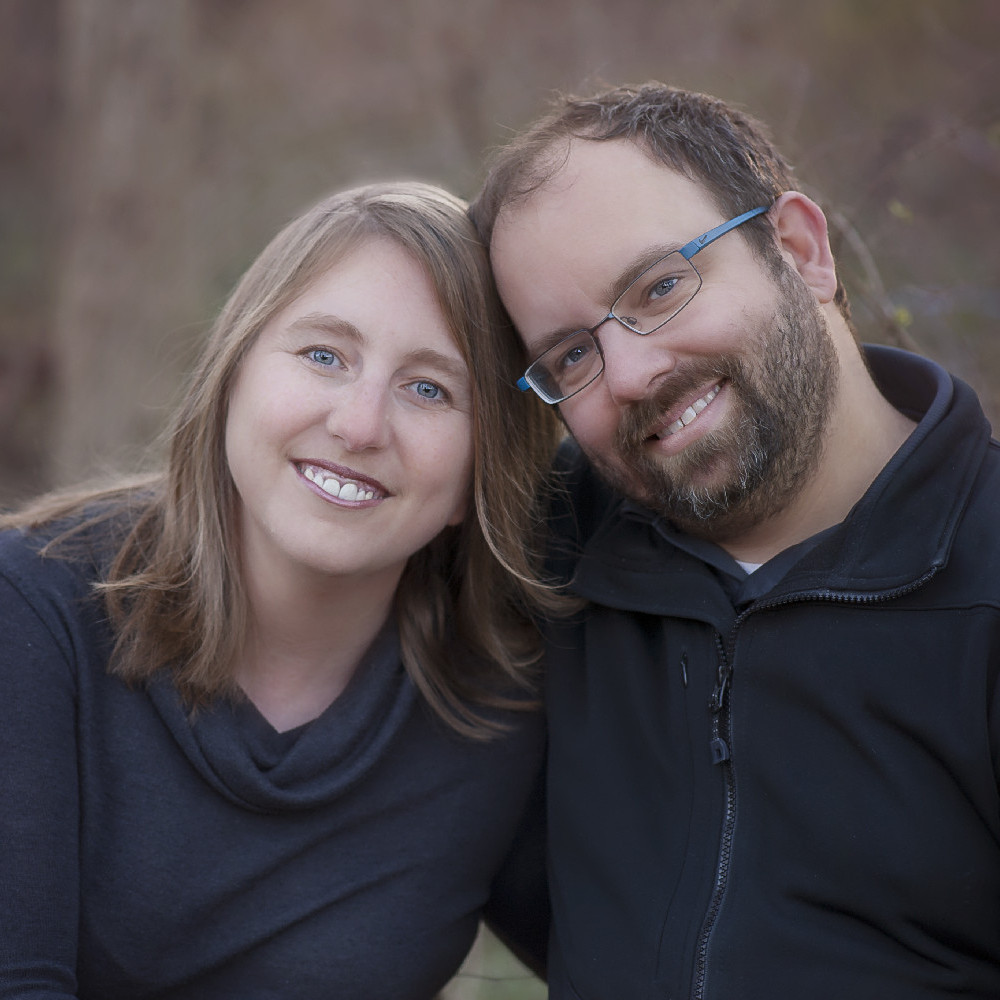 Family Facts
Region:

Midwest

Faith:

None

Education:

Graduate Degree
Hi! We are James and Emily! We live in Southwest Michigan about an hour from the beach! We live in a wonderful, kid friendly neighborhood that backs up to an agricultural farm. We are excited that you are taking the time to view our profile. It is our hope that this will give you a good glimpse into our lives as you consider us as the future parents of your child. We have done our best to show the love that we have for each other and our excitement to share our love through open adoption. If we are chosen, we will cherish the privilege of parenthood that you have so selflessly given to us. We believe that you will make the best decision for yourself and your child.

A little bit about us that makes us unique: James moved back to Kalamazoo from his last tour of duty in South Korea while serving in the Marine Corps at the end of 2013. He didn't know a lot of people so he signed up for Match.com where he met Emily in May of 2014.

We talked via email for about a week and then went out on a date. While Emily was nervous of strangers, James was a charming fellow. We quickly became exclusive within a couple of months and enjoyed seeing each other often.

On Christmas of 2014, James made the best decision of his life and proposed to Emily. In 2016, we were married in Allegan, MI on Emily's birthday in a fantastic barn wedding ceremony surrounded by all our friends and family.

Why Adoption?
Since we've been married, we've been trying to have a family of our own. This has proven more difficult than we ever imagined. In 2019, we were excited when we learned we were pregnant with twins. Unfortunately, at the eight-week ultrasound, we found out that they did not survive the early stages of pregnancy. After many conversations, we've realized that adoption is the right next step for us. We know adopting a child will be a positive experience that will bring love & joy into our family as well as help us grow together. It is our desire to build an open, honest and loving relationship with you. Your child will be raised with the knowledge and understanding of their adoption. We would like your child to have a healthy and loving relationship with you as you are a very important part of the child's life and story, and always will be. During the pregnancy, we are willing to attend prenatal appointments, meet you (and your extended family should you choose) and go shopping for the baby. If you are comfortable with the idea, we would love to be at the hospital for the birth. Throughout your child's life we are open to phone calls, texts, pictures and visits with you, your child and us as well as anything else that may arise as our relationship grows.

Get To Know Us
Emily loves to volunteer with JCI Michigan. With this organization, she participates with charitable events such as holiday family adoption programs, Easter egg hunts and many more activities. She is adventuress in trying new things and enjoys traveling to cities and countries she's never been to before. She loves pumpkin pie and could eat it for breakfast, lunch and dinner if calories were not a thing. She earned her degree in Hotel, Restaurant & Resort Management from Northwood University. She is also a Certified Meeting Professional. She currently work at a fantastic family owned spice company in Southwest Michigan as a Senior Administrative Assistant and Meeting Planner. She really enjoys that the position affords her the opportunity to work in a very diverse environment with colleagues all around the globe. In this position, she also works for several Vice-Presidents within the company which is challenging, yet rewarding. No two days are ever the same. James enjoys playing board games with friend and family as well as cooking for these events. He's a big Michigan football fan (Go Blue!). Loves heading out to the cinema to catch the latest action / adventure movies with a big bucket of popcorn! On his leisure time, he enjoys smoking meat and tinkering with computers. James spent 11 years working in supply chain while serving in the United States Marine Corps. Upon moving back to Michigan, he earned his BBA in Integrated Supply Management and his MBA focusing in Computer Information Systems. He earned both from Western Michigan University. He now spends his days working for an animal healthcare company about 15 minutes from home, as a Master Scheduler. He enjoys his fellow colleagues he work with as well as the challenges a career in Supply Chain provides. The work / life balance with his employer is exceptional and allows him to spend lots of time with the people he loves. Both of our companies offer extended maternity / paternity leave after the adoption of a child. We plan on fully utilizing these benefits to bond with our new child before returning to work. Emily's work offers wonderful child care on site and there are also many child care facilities near our neighborhood.

Our Home & Community
In 2017, we purchased our first house together in Vicksburg, MI. Vicksburg is about a 10-minute drive from Kalamazoo. We live in a 3-bedroom ranch house in a neighborhood that backs up to a farm. We have a big, fenced in backyard with a deck, swing set and slide. Emily has some raised planters that she uses in the summertime to grow vegetables. James loves sitting next to our fire pit in the evening time as the sun sets. The neighborhood is very friendly, and children are seen outside on bicycles, playing basketball and are having a great time with their friends. We also live just a mile away from the elementary school that we hope our children will be attending in the future. We have spent a lot of time in putting our personal touch on the house to make it our home. We live close to many fun activities in the area. Just a few minutes' drive away are parks, museums and little league fields! Emily's parents live within a 15 minute drive of our neighborhood and James' parents live within 45 minute of us. We also have one nephew and two nieces that would love to add a new cousin to the family.

What We're All About
Together, we are deeply passionate people. When we have goals in mind, we do our best to work towards accomplishing them. We enjoy helping others and spending time with family and friends. James has picked up a love for creating BBQ dishes to share in the neighborhood after a recent vacation to Kansas City which is famous for their BBQ. Emily enjoys being the taste tester (most of the time). Emily enjoys working in her garden and growing fresh vegetables to use when James cooks. She also spends time researching and creating new wooden art to decorate inside the house. She hopes to build a bench in the upcoming months to put out on our front porch. In regards to our future family, we strongly believe that respect for all members of the family is important. Everyone is loved and honest with each other. We believe that having a fair and objective attitude towards different practices or beliefs is a cornerstone of our family's values. Each person's opinion is appreciated and taken into consideration. We hope to ingrain in our children a willingness to try new and different things, even if they are difficult. Through all of this, we want to instill positive and moral values. Education is very important to the growth of any person. We will give our children every opportunity we can to further that education both inside and outside the classroom. There are many lessons that can be learned that are not always taught in schools. These lessons can be learned through activities, bonding experiences, travel and even playtime. As our children grow older, we will fully support their decisions whether it be military, a traditional college or trade schools. A child should be able to operate within a set of standards that are clearly marked. Knowing the difference between right and wrong as well as the consequences for these actions in advance is important. The goal of discipline is to teach values that a child can use throughout life. Positive reinforcement of good behavior is just as important as discipline for negative behavior. Positive reinforcement should be rewarded with additional privileges that would not be provided for poor or negative behavior. We believe one should never just punish a child if they don't understand WHY they are being punished. Children should also be given a chance to express their feelings and thought process on why they did something. This way it can become a learning experience for both parents and children. Under no circumstance will any type of physical punishment be used.