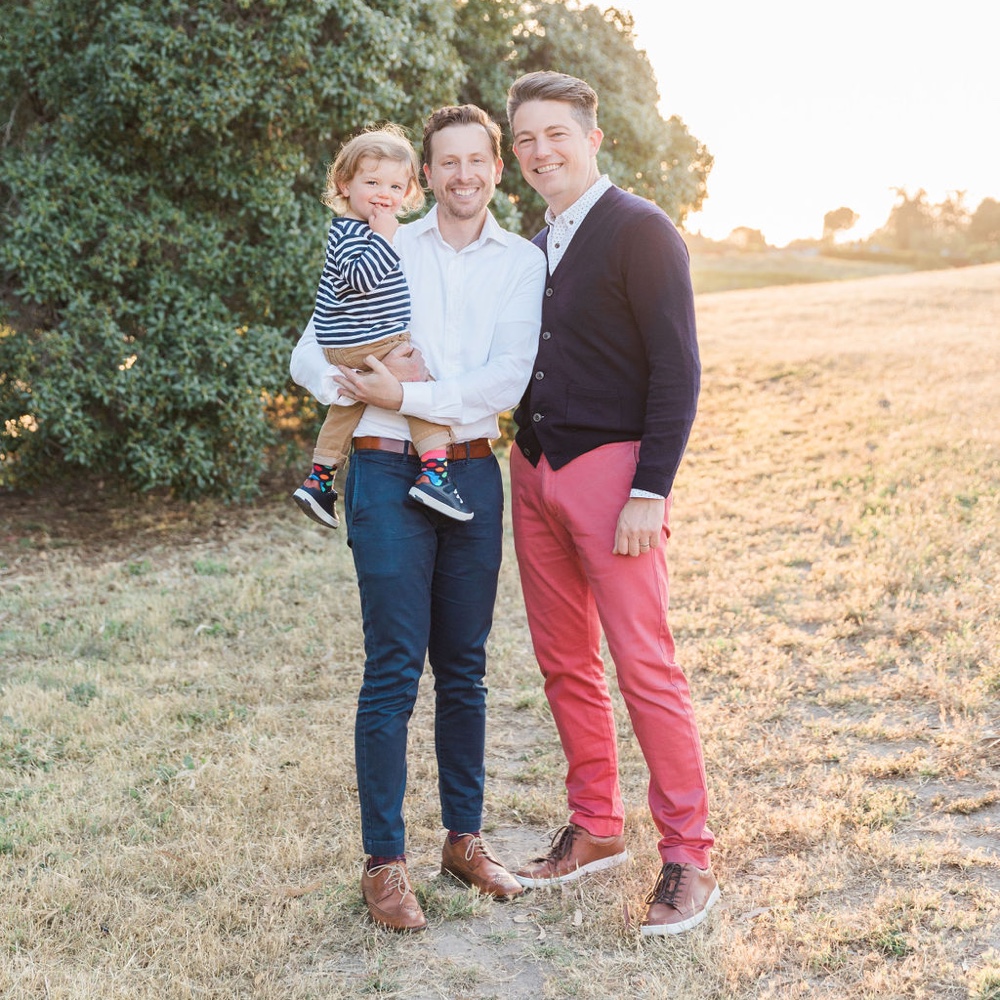 Family Facts
Children:

One Child

Region:

West

Faith:

Catholic

Education:

Graduate Degree
We are Brian, Jamie and Jackson and we currently live in Los Angeles. Thank you for considering us as potential parents for your child. We honor the decision you're making and cherish being a part of this process with you. Hopefully this profile provides a good sense of who we are as a family.

Brian is an advertising executive and Jamie works as an interior designer. We both grew up in the Midwest and lived in Chicago for 12 years before moving to LA. We love being outdoors, either hiking in the mountains surrounding LA or hanging out at the beach. Brian is an incredible cook and often makes French toast or pancakes for breakfast on the weekends (Jackson's favorite.) Jamie enjoys tending to the yard and garden with Jackson's help. We both love to laugh and play silly games with Jackson, and enjoy taking turns reading him bedtime stories at night.

Why Adoption?
Since we started dating nearly 20 years ago, we have discussed how much we both wanted to have a family of our own. And given Brian's youngest brother and two cousins were both adopted, we always knew it would be a fantastic way to make that dream possible. Moreover, it gave us peace of mind to know our child would have an extended family that celebrates adoption with multiple family members to talk to about their feelings and experience. In the case of Jackson, he came into our lives after a three year wait but only one week after we bought our house in LA. We had only moved in the week before, but when we brought that sweet baby home from the hospital he turned our house into a home. Yet we have always envisioned a family filled with the joy and laughter of multiple children, so we are now looking for a wonderful little brother or sister for Jackson to share in our family's love. We believe in openness within adoptive families, rooted in the benefit for the child. After all, that's why the birth parents and adoptive parents come together in the first place. In keeping our children's well-being as the focus, we welcome ongoing contact to whatever degree is comfortable for everyone involved. We look forward to discussing with you what feels right, and figuring out a plan that everyone is comfortable with, which could periodic text messages, photos, or even in-person visits (as an example).

Get To Know Us
Brian's favorite pastimes are playing softball and cooking. Brian has made sure to include our son in both of these passions and in fact our son refers to baseball as "Dada ball" now. As well, Brian takes charge of cooking most meals -- but both Jamie and Jackson are in the kitchen helping with preparation. Our son loves being able help pour and mix ingredients and lick spoons. One of Jamie's biggest passions is nature and the outdoors. The three of us often go on hikes in the mountains surrounding Los Angeles or explore the beaches and tide pools along the ocean shore. Around the house, Jamie is the designated handyman, but Jackson is quickly becoming his apprentice. He loves to be a helper on all projects big or small, with his little toolbox in hand as he helps his Papa on some new task.

Our Home & Community
We live in a beautiful and historical neighborhood in Los Angeles. We have come to know and develop friendships with many of the neighbors on our block and they have become a wonderful support system. Having dinner outside is one of our favorite things to do as a family. And second to being outside would be Friday family movie night where we gather in the den after dinner to watch a kids movie, eat popcorn, and cuddle together on the couch. Both of our families live in the Midwest where we return to for holidays and occasional visits. Our parents also frequently visit us in Los Angeles for one or two weeks at a time to really spend quality time with their grandchild. Brian has two brothers that are both married and Jamie has one sister that is married. We have a number of close friends with young children (both in CA and back in IL) who we love to take family vacations with and make wonderful memories.

What We're All About
We believe in raising our children to be kind and loving members of society who think about others' well-being and not just themselves. Education is a significant part of that, and we plan to ensure our children learn and grow in outstanding schools that teach them to think both critically and with their heart. We are also committed to supporting the environment and preserving the beauty of the world for future generations. You can expect your child to join us in visits to National Parks throughout the US and to amazing destinations around the world (Patagonia, Chile is still on the list for when the kids are older and able to enjoy remote hiking).