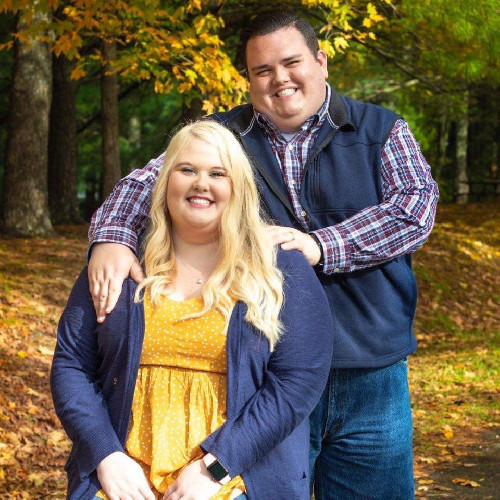 Family Facts
Region:

Southeast

Faith:

Christian

Education:

College Degree
When we first laid eyes on each other we knew that we wanted to spend the rest of our lives together, as corny as that sounds, we just felt "at home" when we were with each other. We knew immediately that God had put us in each other's paths. Just like any other couple, we talked about our hopes, our dreams, and the mutual desires we had for the future. We both really wanted a house full of children. We always knew that we wanted to adopt a child one day, our hearts are overflowing with love to give. We believe that everything happens for a reason and we pray that one day someone will feel a connection with us and entrust us with their child. Thank you so much for taking the time to read this about us and we are so proud of the decision you're making for your baby. God Bless You!

Why Adoption?
Adoption has always been something that is very dear to our hearts. Even before struggling with infertility issues, we both knew it was something we wanted to pursue. We truly believe that it is God's plan for us to adopt. To us, this decision was an easy one, and we are beyond excited to grow our family. We desire nothing more than to have the opportunity to love and care for a child. We want to create a family filled with unconditional love and support. We are so thankful for those who entrust their children to adoption and give us the chance to become the parents we have always dreamt of being. We have so much faith that God will guide us throughout this process, and the mere thought of you reading this gives us so much hope that all our prayers will be answered. We want you to know that we are open to sending yearly letters or blogs. We want you to know how the child is doing and that they are safe.

Get To Know Us
Emily works in the school system and is finishing out her teaching degree, she has weekends and snow days off. Neal is a life insurance agent and funeral director. Our work schedules are very adaptable so we have the opportunity to spend a lot of time at home with the baby. As a matter of fact, Emily plans on taking the first entire year off to spend solely with them. In our free time, we LOVE traveling. We enjoy going to the beach, visiting the smoky mountains, and finding new little places to put our own stamp on. During the weekends we enjoy going out to eat at different restaurants, having family game nights, shopping, attending our nephews' sporting events, and watching our favorite tv shows. (Golden Girls, Friends, and many others.) Most of the time we're accompanied by our huge, very loving, and involved families who are SO anxious to have a little one to spoil. Neal enjoys fishing and playing games. Emily enjoys crafting with her cricket, decorating, and coaching cheerleading. We also attend church every Sunday and Wednesday and are very involved with church events.

Our Home & Community
We live in a small, quaint little town in Kentucky. It has always been home to us. We love knowing everyone, being able to develop personal relationships with most of the people, and living in a close-knit community. Everyone is so nice and caring. We live in a home that has so much sentimental value to us. Emily's aunt lived here and she spent a lot of her childhood here in this house with her, (watching murder she wrote, eating oatmeal with molasses, and listening to vinyl records of johnny cash.) When she passed away we bought the house. Emily's dad has completely remodeled it himself to our liking with some help from us. (we were only qualified to paint LOL) A lot of materials, some outside blue paint, a whole lot of labor, and some love later we were finished and have made it into the home we always wanted. We are surrounded by friends we have had our entire lives and live next door to Emily's mother and father, which has been convenient. We are only 10 minutes from the heart of town, and 5 minutes from an amazing school ranked #1 in the county. There are so many memories here for us in this town and our home. We can't wait to create more as a family!

What We're All About
We are passionate about many things but the first and most important is our faith. We try to always put God first, and trust him to guide us through this process, and grow our little family. Our love for each other, and our passion to create a family is so important to us. We both enjoy our careers and wake up every morning with excitement to be the best that we can be every day! Our faith is paramount in our lives and we try to lead our lives in a way pleasing to God. Even on the days when it's hard, we thank God for the blessings he has given us. We enjoy being active in our church and our community. Neal feels like he was called to be a funeral director and loves to help people. Every time he goes to work he helps people on the worst day of their life and he feels like if he can accomplish one thing to make their lives easier through that rough time, he achieved his goal. Emily is so passionate about kids, she works at school doing an after-school program to help kids with homework and tutoring. She is beyond excited to finish out her teaching degree and finally get her own classroom full of students to teach and love. She truly loves spending time coaching her cheerleaders, they won 2nd place this past year at the tournament. She's so thankful for the relationship she develops with these girls, being just a small part of their journey. She believes that by helping them find something they are passionate about, helping them to create friendships, and promote teamwork, that's something they can build on throughout life.