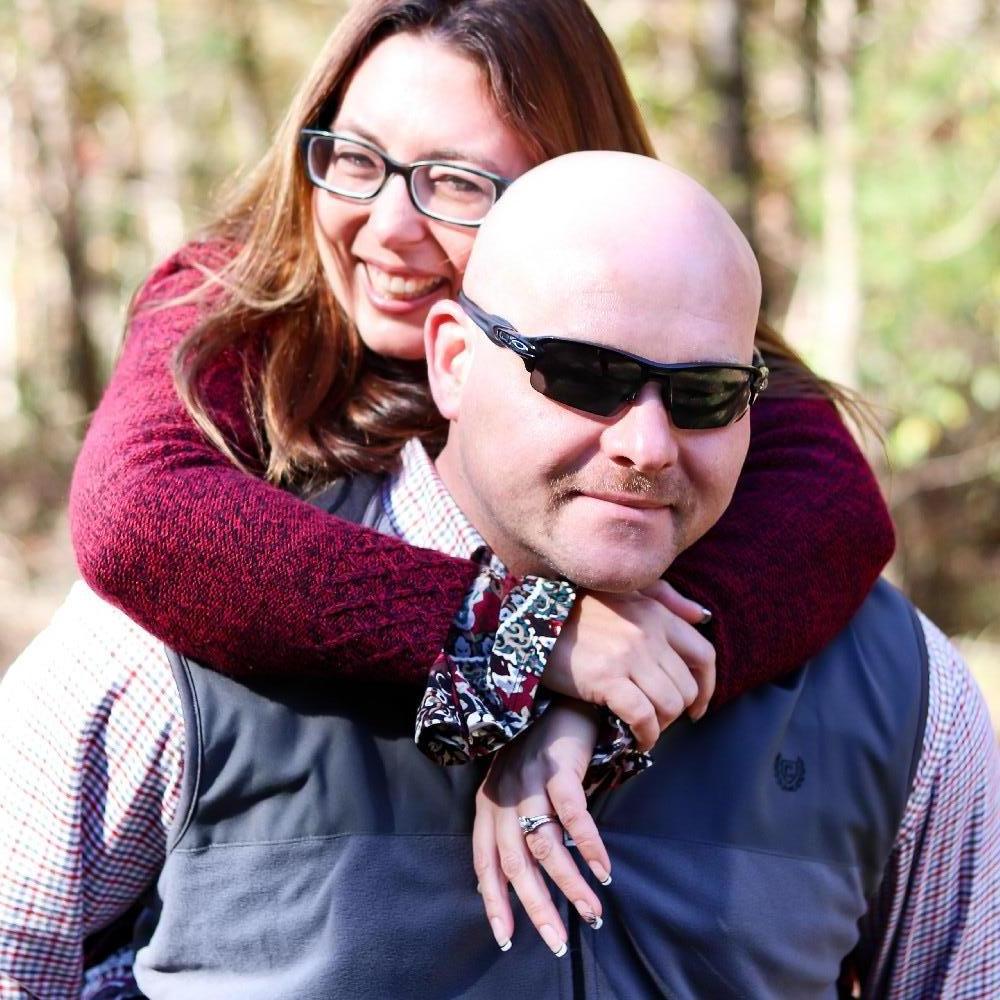 Family Facts
Region:

Southeast

Faith:

Christian

Education:

Graduate Degree
Welcome to our profile!

Our lives together began 11 years ago over Chinese food...2 years and countless dates later, Aaron proposed with a fortune cookie at the same Chinese restaurant, and we've been together ever since.

Both coming from tight-knit families, we have always wanted to be parents, and we are so excited at the idea of being able to grow our family of two to three.

Why Adoption?
We always knew we wanted to start a family, but due to infertility issues, having a child the traditional way was not in the cards for us. We have family members who have adopted, and their good experience has led us to the same path. The choice you are making is likely one of the hardest of your life...and it's also one of the bravest acts that anyone could possibly do for their child.

Get To Know Us
After high school, Aaron followed in his father's footsteps and became a Master Journeyman electrician. He worked in that field for 10 years before listening to his heart and joining the fire department. Today he is a Lieutenant at a busy fire hall with a close-knit crew, working everything from fires to traffic accidents to medical calls. All first responders are heroes, and Julia couldn't be more proud of him and the difference he makes in people's lives every day. Aaron is a 'man's man.' He loves tools and trucks, 4-wheelers, and creating things with his hands. He always puts the people he loves first, going out of his way to make sure they're happy and safe. Julia worked two jobs while she earned a graduate degree in Business. Afterwards, she had the opportunity to work for a company and travel around the country for a few years before eventually settling back in Tennessee, where she and Aaron met just a few months later! For the last 12 years, she has been a manager with an insurance company, doing a job she's really passionate about. Julia is one of the most easy-going people you'll meet, always smiling and laughing. She loves reading and jigsaw puzzles, loving on animals and watching scary movies.

Our Home & Community
Our first home was a starter house that we remodeled ourselves. The hard work paid off, and we were able to sell it and build our dream home with plenty of space for our future family. We couldn't even pick a favorite room, as we've made memories in all of them! We live outside of a small town in Tennessee with lots of room to run. We want our child to have the same love of the outdoors that we both grew up with. Aaron's dad passed away 15 years ago, and he often plays a supportive role for both his siblings and his mother, helping them with all things big and small, from repairing plumbing to being a shoulder to lean on. He's carrying on in his father's footsteps, which is a legacy he'd like to pass along to his child. Julia has a nephew and two young nieces who consider her house their second home, and her family all live within 15 minutes of each other. She hopes to pass down that same sense and love of family to her child.

What We're All About
We spend a lot of time outdoors, from working in the yard to swimming in the pool. Family game night is an ongoing tradition, and we have amassed an obscene amount of board games. We both enjoy camping (as long as marshmallows are involved) and going new places. Movie nights, kayaking and sitting around the fire pit (again with the marshmallows lol) is a good summary of how our summer time is spent. We love the different seasons and decorating for the holidays. Aaron enjoys adding spooky decorations and hiding fake spiders in every cupboard at Halloween time, and Julia likes pulling out the stuffed animals to decorate the staircase at Christmas. Most important for us is being together as a family. We have so many traditions we want to pass along, and we are looking forward to our child being a part of our day-to-day lives.