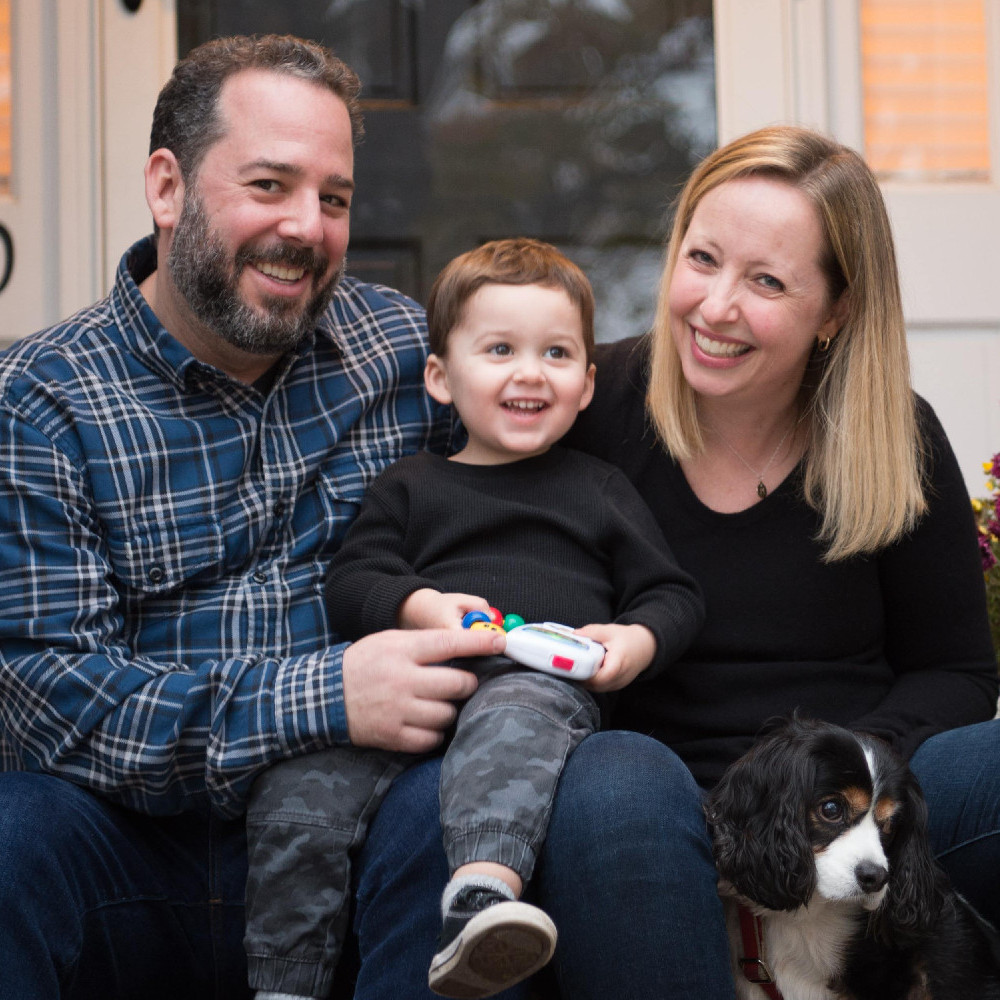 Family Facts
Children:

One Child

Region:

Northeast

Education:

College Degree
We can't imagine the difficult decision you are facing, and are honored you would consider us as adoptive parents. Family is everything to us, and we can't wait to provide a warm, loving, healthy home for your baby.

We clearly did something right to be blessed with our son, Mason, who has brought so much love to our lives it defies description. Our son is a sweet, kind, adventurous little boy, who is loved beyond words. We know he will be an amazing big brother and we can't wait to watch him develop a lifelong friendship with a sibling!

We look forward to meeting you and welcoming you into our lives- which may include marching around the house to the Mickey Mouse March, building elaborate train sets in the basement, or last minute trips to the ice cream store on a random Tuesday night!



Our Home & Community
In 2018, we moved from New York City to a suburb in New Jersey. We have a beautiful four bedroom house, with a fenced in backyard. We have an empty bedroom just waiting to be filled, and lots of room to run around. One of the main reasons we moved was to make sure our children have access to a great education, and our town has some of the top rated public schools in the state. We live on a tree-lined, dead-end street, with a park at the end of the block. Our neighborhood is full of children and has been very welcoming. Being in New Jersey has given us the chance to be closer to our friends and family, the majority of which live nearby. We love to have friends and family over and are happy to have the space to host holidays and get togethers on a regular basis. We are fortunate to be part of such a great community and are excited to get more involved in local activities and events. We come from a close knit family, where we each have a brother and a sister, and lots of extended family that we see regularly. We have three nieces and lots of cousins, aunts and uncles that live nearby. Both of our mothers are retired, and spend a lot of time with our son. Sunday dinners, birthdays and holidays are all spent together and as our family expands we are creating new traditions. We are also very fortunate to have close friends that we consider family in our lives. Everyone is very excited for us to add to our family!!

Why Adoption?
We met in August 2013, and our relationship moved quickly once we realized how happy we were together. We share a lot of the same goals, values, ideals and sense of humor. We knew right away that starting a family was our top priority, and after consulting with doctors, we decided to begin fertility treatments. In December 2015, we were thrilled to learn we were expecting and are now the proud parents to a beautiful two and a half year-old boy. We have had a busy few years - getting engaged and then married, having a baby and buying a house - but we've realized that we are still missing a piece to our family. As we've considered our options for adding to our family, adoption has always been top of mind. We know that we want to raise another child, and would love to have the opportunity to grow our family via adoption. We will always put the needs of your child first, and would love to maintain an ongoing relationship with you- let's decide what that looks like together!

Get To Know Us
Sara loves bringing people together and organizing social activities; our door is always open for friends and family to stop by. Both of our families live near us and come by for visits regularly. Sara loves to travel, read and attend concerts and Broadway shows. Sara is very active - she takes yoga and cycling classes several times a week. Sara works as a Human Resources Director at a media agency in NYC and has traveled the world with her job. Helping professionals fulfill their career goals is a very rewarding way to spend her time when she's not with our family, and luckily, her schedule is flexible so she can work from home a few days a week. David loves to travel, photography, attending sporting events (he's a huge New York Red Bulls soccer fan!), and watching movies. David is the family cook - we're always excited to see what new dishes he is cooking up. David worked in New York City as a Media Executive for over 20 years, but since Mason was born, he's taken some time off from his career to be a stay at home dad. Mason is your typical fun-loving, happy toddler. He loves Paw Patrol, his stuffed animals and our dog Murray (our first baby, a very sweet 12 yr old pup!). He is full of sunshine and we know he will be the most patient and kind big brother. As a family, we're very active! On the weekends, you can find us visiting with friends and family, at the beach or pool, visiting local parks and trying new restaurants. As much as we love to be outside, we also enjoy an occasional family movie night- snuggled up on the couch introducing Mason to different movies. Lately, we've been watching Cars on repeat!!

What We're All About
We've given a lot of thought to how we would like to expand our family, and could not be more excited to share this journey with you. You will find that we are very warm, caring and down to earth people. We've worked very hard throughout our careers to be able to provide a wonderful home for our son and can't wait to welcome you and your child into our lives. Having Mason has been a dream come true and it's been a privilege watching him develop and grow into the wonderful little boy he has become. We can't wait to add to our family! Thank you for taking the time to get to know us a bit, we look forward to talking to you even more!!