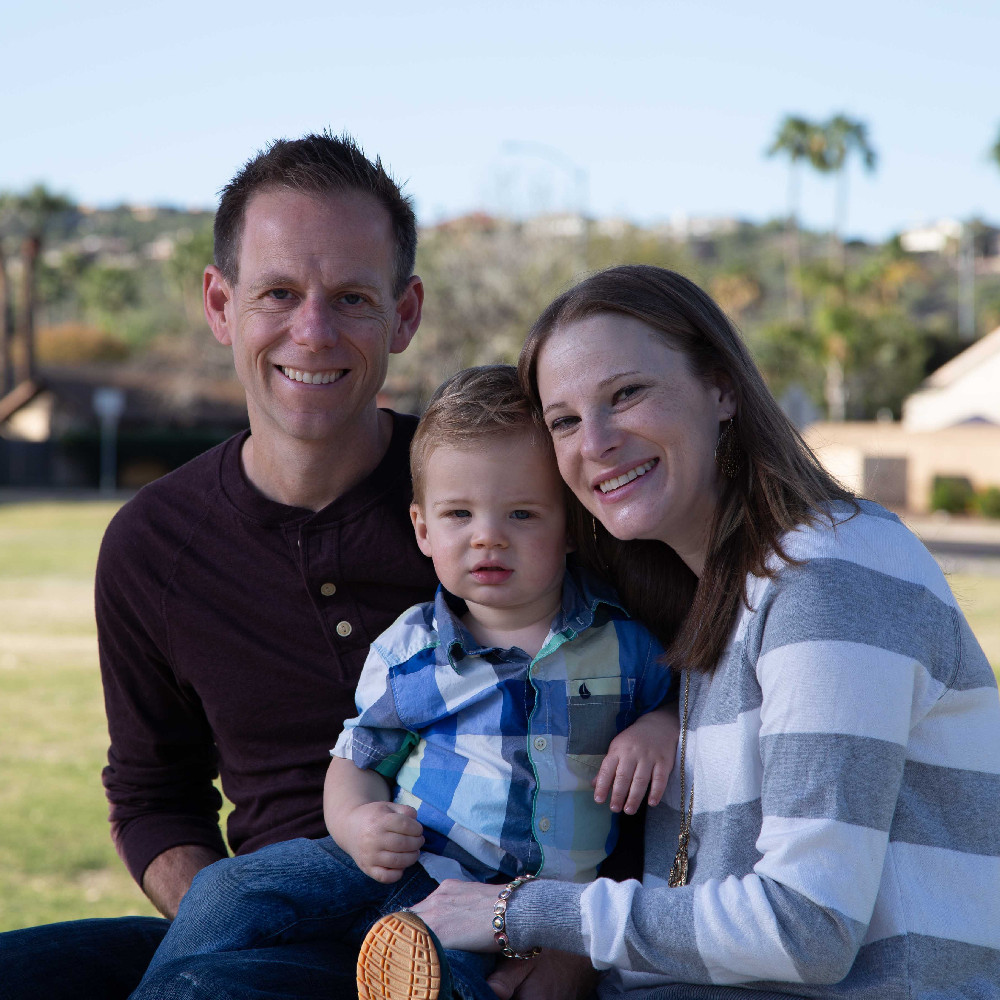 Family Facts
Children:

One Child

Region:

Southwest

Faith:

Christian

Education:

College Degree
After a few years of dating, we were married in September 2011. We realized early in our relationship that we both have a love of travel. Our love of travel has taken us all over the world together from Alaska to Iceland, San Diego to Bermuda and Boston to Italy. We can't wait to start sharing our love of travel with our family and learning of different cultures and traditions around the world.

Our other early love was in running. Jason started running in high school and Sharon started in college. We consider ourselves lucky to have found each other through running. We've run races together and cheered each other on from the sidelines. Our last hurrah was to run the Boston Marathon in 2015 before starting our family.

Why Adoption?
After a few years of unsuccessful fertility treatments, we knew that adoption was the path that we were meant to take. However, in December 2017, we received news that we were pregnant with our son. He stole our hearts and changed our lives immediately. This joy we came to know only solidified our desire to continue growing our family. Adoption was in our plans in 2017 before our surprise news, and we are so excited to meet our new child and share our love. Having the opportunity to adopt to add to our amazing family is such a privilege.

Get To Know Us
Sharon has always been determined, no matter what the situation or task, she will put her whole heart behind it. She is always there when needed and will fight for those that she loves; and she loves her son, husband, and family. Secondly, she is hilarious - always there to lighten the mood with a funny comment or impromptu game of peek-a-boo. It is no doubt that people are drawn to her. Sharon works as a meeting and events manager. In her job, she has planned and traveled to meetings in Greece, Peru, Galapagos Islands, Turkey, and Israel. Sharon gets to work from her home office and gets off early in the afternoon to spend time with Asher, taking him to swimming lessons, the park, and on other adventures. In her free time, Sharon enjoys traveling, reading, scrapbooking, and baking. She is also an accomplished athlete having run marathons all over the county, including the Boston Marathon. Sharon's favorite thing now is spending time with Asher and meeting up with her best friend for play-dates with her son. Jason is caring, loyal and does whatever is needed to make sure his family is taken care of. He is calm, patient, and level headed. He can make people laugh when they are mad or lift their spirits when they are sad. Jason started his career as a trial lawyer and is an in-house attorney and executive for a software company. While demanding, this job affords him the opportunity to have Fridays off to spend with Asher. Together they go to the zoo, gymnastics class, and to get coffee with Grandpa. In Jason's free time, he loves running, cooking, and traveling. Jason even finds time to coach a local high school cross-country team, which is fun and rewarding for him. His favorite runs now are pushing Asher in the jogger to the park or to the nearby stables to look at the horses and tractors.

Our Home & Community
We have a 4 bedroom house in a quiet neighborhood in Phoenix with a big backyard, play room and gated pool. It is walking distance to the grocery store and local restaurants as well as a huge park and mountain hiking trails. During the summer, the local golf course puts on a fire works show for neighbors and during the holidays the neighborhood transforms in a holiday light competition. We are very fortunate to have all of our immediate family nearby. This includes our parents, siblings, and lots of nephews and a niece. Family is important to both Sharon and Jason, and being so close to all their family is a blessing.

What We're All About
Day-to-day life revolves around family. Mornings start off with Sharon and Jason saying good morning to Asher – of course the dogs lead the way. While the parents are working, the little guy gets to spend the day with Grandma playing and learning new things. When 2 o'clock comes around, Sharon picks up Asher to enjoy an afternoon of adventures until Jason gets home from work. As the day comes to an end, Asher gets to spend some extra time running around, swimming, or reading one of his favorite Dr. Seuss books with whomever is not on dinner duty. We then all sit down for family dinner together. After dinner, we spend some last minutes with our kiddo for bath time before saying goodnight. We both love new experiences. Because our birthdays are one day apart, we try to celebrate by escaping the city for a cabin in the woods, Denver to visit friends or Disneyland. Together, we have been lucky to travel to Iceland, Italy, England, Hawaii, Alaska, Bermuda, St. Lucia (honeymoon), Vancouver and all over the United States. Asher has started his travels now, too. As a family we have done a lot of trips close by in other parts of Arizona, and some longer trips to Denver and the beach in San Diego. We love seeing how others live and learning about new cultures. We hope to continue to share these experiences with our family as we grow.