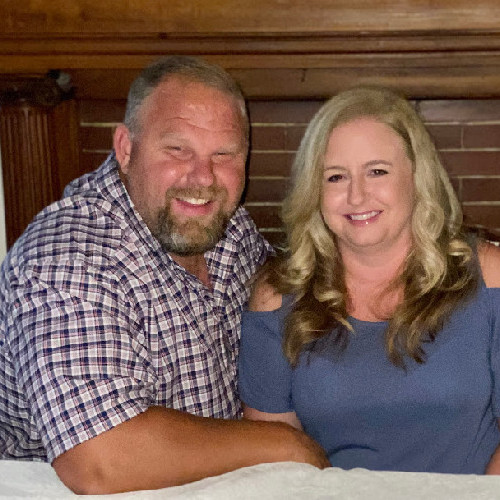 Family Facts
Children:

Three Children

Region:

Southeast

Faith:

Christian

Education:

College Degree
Jennifer & Charles "Chip"
We have tremendous love and respect for your journey. It takes great courage and strength to make such an important decision. Your thoughtfulness and dedication show the immense love you have for your child. We have always dreamed of having a large family. We are extremely excited to be adopting and have so much love to share as we expand our family. We will love and cherish any child in our home unconditionally. Thank you for taking the time to look at our profile.

Why Adoption?
We always knew we wanted a large family. When our kids were younger I was working as a nurse an hour away from home and Chip was working 60+ hours a week at his construction company. Our kids were spending the majority of their time with babysitters. It wasn't the life we had envisioned for our family. We made the decision I would stay home with the kids and life was much better. A few years later we decided it was time to expand. Unfortunately we suffered with infertility. After years of treatments, IVF, and surgeries we were heartbroken. It seemed as though our journey to have another child was ending. We tried to move on but the longing for a child just wouldn't lessen. After many months of research and talking to several adoption agencies we decided adoption was a perfect fit. Many friends have asked why we want to start all over since our children are older now. We don't consider it starting over. Our journey was on pause for a while and we are now simply continuing our path. We are comfortable with an open or closed adoption. We would be happy to welcome a birth family into our family. We are open to all the possibilities that create a loving life for a child.

Get To Know Us
6th grade! That's when I remember seeing Chip for the first time. He was in 7th grade and I instantly had a huge crush on him. I have always been a bit shy so I kept my feelings to myself. It wasn't until my senior year of high school I revealed the feelings I'd had since middle school to my best friend. Much to my horror she told him immediately. We have been inseparable ever since. He asked me to marry him one year after our first date. Chip and I both graduated from community college. He graduated from the machinist program and I graduated from the nursing program. After graduation we were married in a chapel on a mountain top in Tennessee surrounded by family and friends. I am shy and love calm and peacefulness, Chip, on the other hand, is a social butterfly and thrives on chaos and constantly going and doing. Throughout our relationship we have encouraged each other to step outside our comfort zones. This has led to a very strong marriage where we very much compensate for each others weaknesses. He makes me get out and see the world and I make him slow down enjoy the view. We started our utility construction company 17 years ago. Chip bids work and spends his days checking on the different crews at jobsites and occasionally running heavy equipment on a jobsite. Due to the hard work he has put in over the years his company is thriving and he now has a very flexible schedule. A couple of years ago we were given the opportunity to buy a fitness gym that Chip had been a member of since he was 15. We have a manager that handles the day to day operation and I do the bookkeeping. All of my work is done from home and can be done in a few hours a week. Being a stay at home mom is very important to our family. We have 3 children, Chase is 20 and attends college and works part time for our construction business. He moved out into his own apartment last year. Even though he no longer lives in our home he is very much a part of our daily lives. We also have a 16 year old daughter, Katelyn, and 15 year old son, Carter, We love to hang out together having fun as a family. We spend time at our farm taking care of the cows and miniature pigs, In the summer months, we are often camping, spending time at the lake, or trail riding our side by side. We love to get away and take a family vacation to the beach every year. As a family, we love to be with our friends making memories to cherish. In the fall and winter months, we love going to the high school and middle school basketball and football games, playing breakout games, and watching movies together at home.

Our Home & Community
We were both raised in the small town we live in today. Most of our immediate family and extended family live here too or are within a short 10-15 minute drive. Our town is full of character. We have many buildings dating to the early 18oo's. We love how close knit and safe our community is. If anyone is ever in need there is always someone to lend a helping hand. We live just feet from the middle school and a short walk from the elementary and high school. We live in a 102 years old craftsman style 2 story home. It has 4 bedrooms, 2 1/2 bathrooms, and a full basement. We completely remodeled the kitchen and bathrooms last year and refinished the original hardwood floors. We absolutely adore our home and community.

What We're All About
As we look back over the years our favorite memories are those we shared as a family. We have loved all the ups and downs of being parents. We simply cannot wait to experience all the firsts with another child. Our goal as parents are to raise children that are healthy, happy, secure, and loved. We love to watch our children succeed and achieve their goals. Each member of our family is so excited to welcome and love a new family member. The amount of love that will be given will be immeasurable.