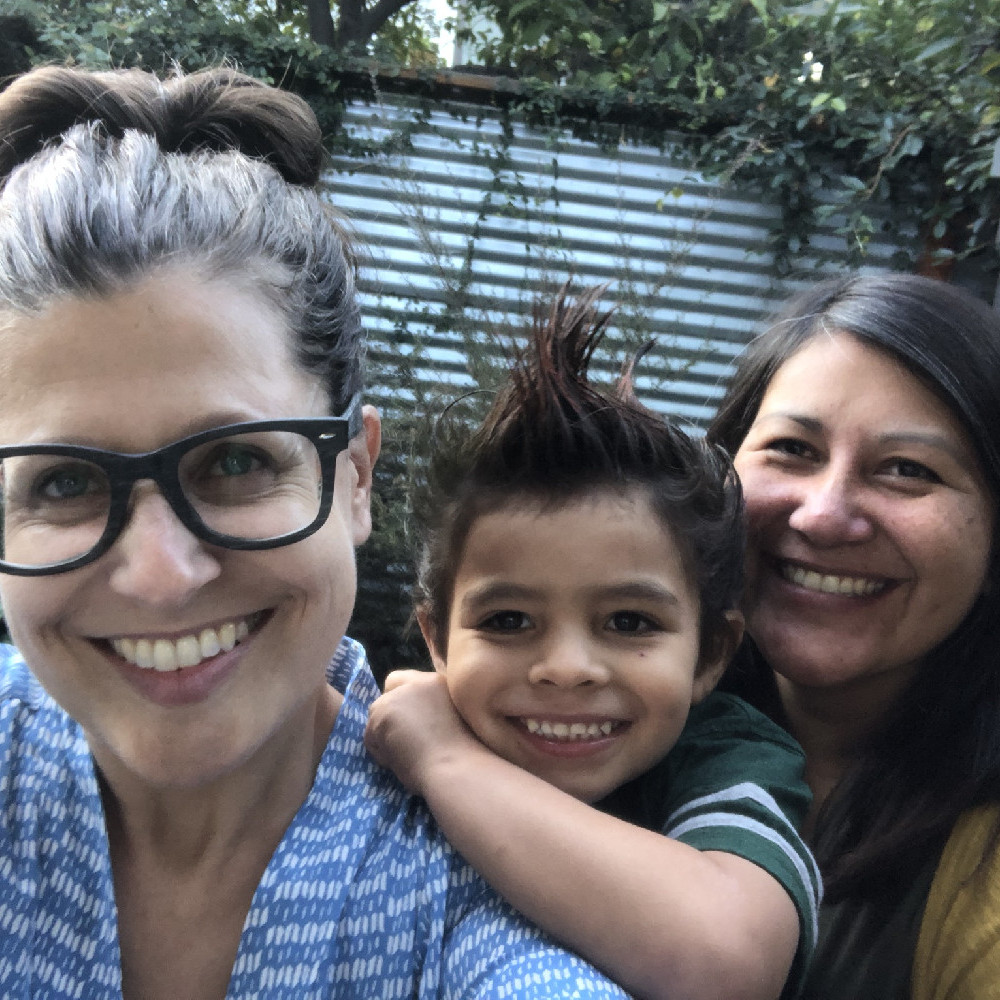 Family Facts
Children:

One Child

Region:

West

Faith:

Other

Education:

Graduate Degree
We're a family of three living in Los Angeles. We adopted our son Dash at birth in 2015, and we're excited to expand our family again through adoption. Placing a child for adoption is a huge decision. Not only are birth parents making a plan for their child, but they're selecting people they'll have a connection to for life. We look forward to getting to know our child's first parent.

Why Adoption?
Adoption runs through our family tree: C.C.'s mom was adopted, and Cheryl has cousins who were adopted. We are building a network of friends with adopted children Dash's age. All of these relationships are part of openness surrounding adoption, but we especially hope that our future child will have a relationship with his or her birth family. We would be honored to incorporate traditions from our baby's birth family and culture into our lives. Before we even met, we both read The Kid, Dan Savage's memoir about adopting his son through open adoption. It made perfect sense to us, and served as a foundation for our conversations about growing our own family.

Get To Know Us
We like exploring with Dash and discovering the world through his eyes, whether we're camping on Catalina Island or swimming at our local YMCA. In addition to the things we do as a family, each of us has special activities we do with Dash. C.C. loves gardening with him and taking him to Dodger games. Cheryl likes taking him to the library and reading with him at bedtime. He often helps her make pancakes and lemonade. C.C. is social, playful, and non-judgmental by nature. She is an avid reader and a movie buff, who pours her creativity into planning family trips and activities. She's a loyal friend and has maintained many of her friendships for decades. C.C. studied English at Cal Poly San Luis Obispo and Clinical Psychology at Antioch University. She is working part-time at an arts college while working toward getting her Marriage and Family Therapy license. Cheryl is a hard worker who values honesty and kindness. Both of us view parenting as one of life's biggest learning opportunities, and we look forward to growing and changing alongside our children. Cheryl studied English at UCLA and CalArts and has published fiction and nonfiction. She has worked at nonprofit organizations, helping formerly incarcerated people get back on their feet and, at her current job, providing writing workshops for students from under-resourced communities. Both our jobs are family-friendly and allow for flexible hours. When Dash was a baby, he attended a wonderful daycare three days a week, and we took turns staying home with him. We intend to arrange a similar schedule with our new baby.

Our Home & Community
We live in a California bungalow-style home in Highland Park, a diverse neighborhood in Northeast Los Angeles. Dash loves playing with the girls next door, and we can frequently be found playing "Monster" as we chase them through our back yard. Our two friendly cats usually scoot behind the couch when they hear the thunder of little feet. Our walkable neighborhood is bursting with parks, kid-friendly restaurants, libraries, and cultural centers. The living room, dining area, and kitchen in our house are combined into one big, open area. We love being able to cook dinner while Dash plays nearby. There are prints and paintings by local artists on the walls (and of course our favorite budding artist is Dash, whose drawings of tigers, goats, and snowmen cover many surfaces). But our favorite thing about our home is that it's close to the people we love. Dash's four grandparents, two aunts, two uncles, and little cousin all live within an hour's drive. His godfather lives less than a mile away. And we can walk to the homes of many friends. Even during COVID-19, we've found ways to stay connected to our family, friends, and community.

What We're All About
Recently Dash told Cheryl, "Even when I'm mad at you, I still love you." We knew in that moment that we'd instilled one of our most deeply held values, the "no-matter-what-ness" of love and family. We believe that unconditional attachment—between the two of us and between each parent and each child—is the foundation for a strong family. With that in place, we can communicate honestly and tackle any problems that come our way.