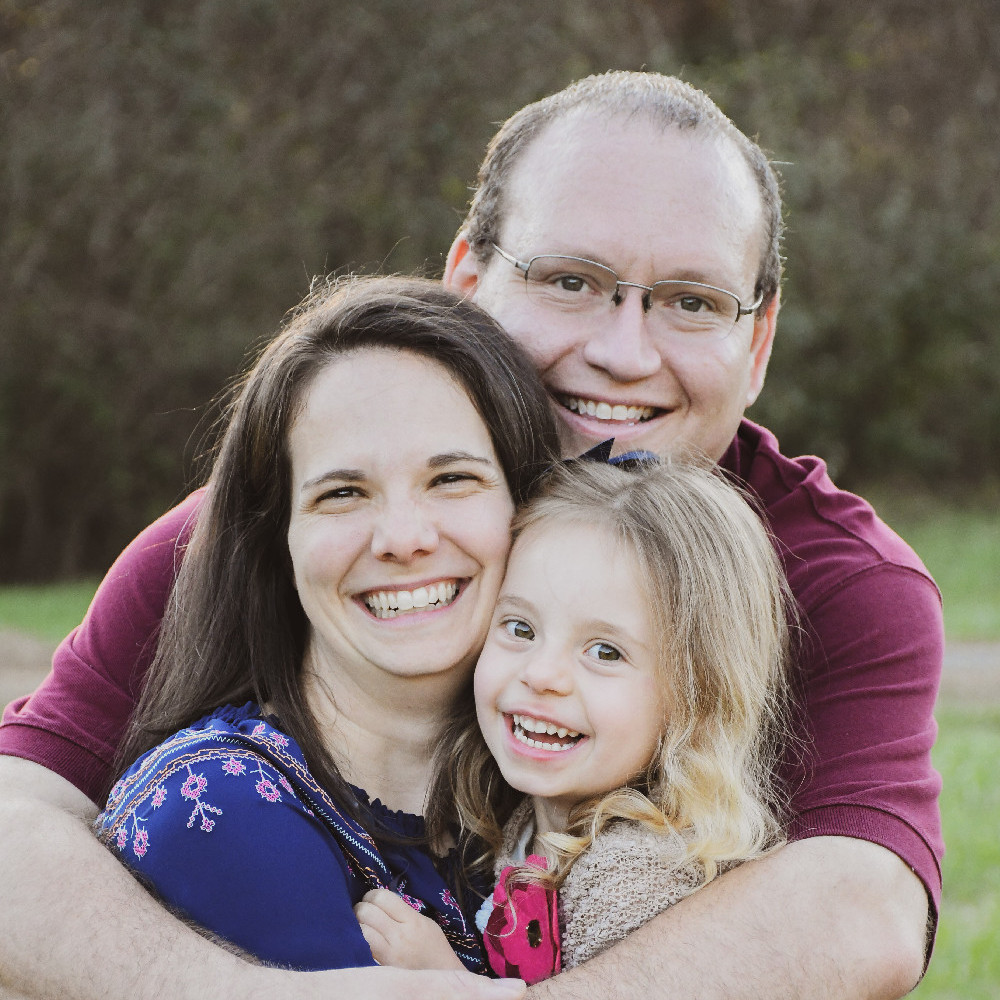 Family Facts
Children:

One Child

Region:

Southeast

Faith:

Christian

Education:

Graduate Degree
Dear Friend-
We are in awe at the courage you have shown in considering an adoption plan for your baby. Words are not enough to describe the depth of love you display for your child. For parents, the greatest acts of selflessness are on behalf of their children.

We are praying that God surrounds you with peace and gives you wisdom throughout this journey.

We would be honored to meet you.

Get To Know Us
We are currently a family of three.
We began dating in March of 2007 and were married in May 2009. Nicole was born in 2015.

Brian is an associate pastor at a church. He enjoys camping, making delicious things to eat, and designing websites. Brian also enjoys reading books about ministry and science fiction.

Joan works from home as a banker. She enjoys reading a wide range of fiction books from Harry Potter to Anne of Green Gables. Joan loves to garden and play the piano. Joan is happiest when spending time outside with family.

Nicole is a joyful child. She loves to give hugs. She loves playing with baby dolls and helping Mommy and Daddy. She is a tremendous source of joy in our lives. Nicole looks forward to having a baby brother or sister!

Our Home & Community
We enjoy spending time together as a family and exploring our community. We have a large yard, and we love to be outside. To us, it is important that our children have plenty of room to run, play, and explore.

Our favorite thing to do is spend time in the mountains of Virginia or on the beaches of North Carolina. We enjoy spending time together as a family. Weekends find us at home or at community events, enjoying all our region has to offer.

What We're All About
We believe it is important to live every day of our lives as followers of Jesus, and that belief also influences our parenting. We believe all children should be given unconditional love and respect. Our house motto is to model the behavior we want to see in our children.

Why Adoption?
God has given us a desire to grow our family, while decreasing our desire to risk another pregnancy. We were led to this decision after experiencing infertility treatments, 2 miscarriages, the premature birth of twins, and the miraculous birth of Nicole.

We hope to always honor you as the hero of your baby's adoption story, and are open to as much interaction with you and your family as possible.