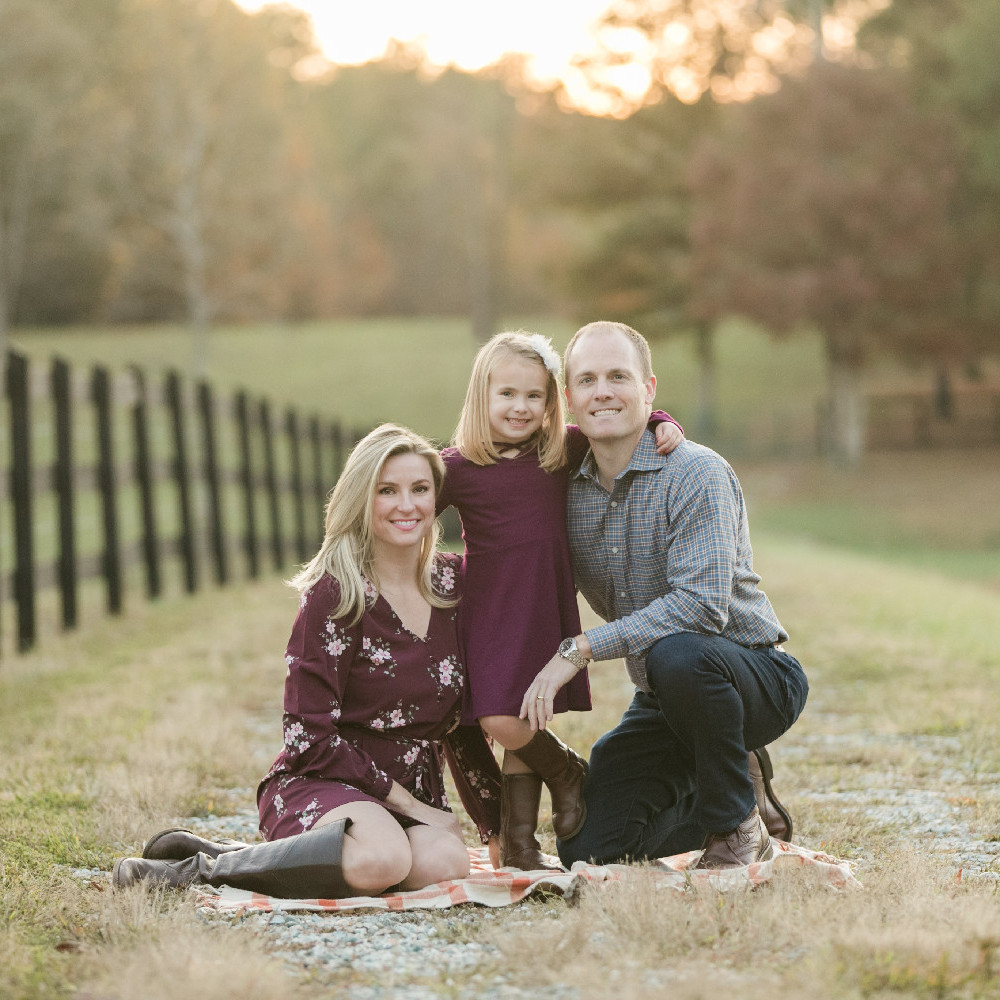 Family Facts
Children:

One Child

Region:

Mid-Atlantic

Faith:

Christian

Education:

College Degree
Greetings from Richmond, Virginia!

We've always hoped that in addition to any biological children, our family would be grown through another family's incredible act of adoption.
Along with our biological daughter Claire (5), we are ready to share our positive energy, encouragement, love, and safe home with an adopted child in the beautiful suburbs of Richmond, Virginia!
Thank you again for learning about our life. Its our hope that we can provide you and your baby the best path forward!



Thank you again for your extraordinary courage and selfless decision you are making on behalf of your child. We look forward to one day getting to know you!


Why Adoption?
Adoption has been part of Dory's life since her younger brother (and his girlfriend) made the brave decision as teenagers to place their newborn daughter up for adoption. They hoped to find a family who could give her the safety, love, and foundation she needed to experience all of life's wonders. And indeed, they found it! "Grace" and her adoptive family are doing great and regularly provide her birth-father updates, pictures, etc. Witnessing this special occurrence was life changing and Dory knew she could offer a home and life where any mother would know her child was safe, loved, and setup to experience all of life's wonders. Being blessed with our own daughter, Claire, has taught us so much about life, love, and God. We are confident that our second child will have everything they need to embrace life and all its beauty, challenges, and without hardships that befall so many wonderful yet less fortunate parents. We are excited to help build a brighter future for our adopted child. Our commitment to you and your child is an honest and loving family built on a foundation of encouragement, safety, integrity, faith and FUN! We can't wait for you to reach out!

Get To Know Us
In 2014, Dory gave up her successful career in Skin Care (Master Esthetician and Laser Specialist) to devote as much time as possible being a stay-at-home Mom for our biological daughter Claire. Dory has been there every step of the way to provide encouragement, support, love, and FUN! Dory understands that this would have been extremely difficult as a working or single Mom and completely embraces the gift of adoption (see earlier anecdote about her teenage brother who found an incredible adoptive family for his biological daughter). Dory's passion is all things "Mom" in particular being active at preschool (she is a teacher's assistant aka 'room Mom'). Her hobby is scrapbooking and completes a new one every month to capture memories. Dory also enjoys playing suburban tennis league and time permitting, the viola (think violin but larger). Claire recently started taking tennis lessons and is loving it. Violin or piano may be in the future – if she takes interest of course! David has spent the past 12 years working in Medical Device Sales. One of the benefits is a flexible schedule and he is home every afternoon for family dinner, with very little out of town travel. Without a doubt, connecting around the table is a favorite pastime! It doesn't hurt that Dory (and Claire) love to cook, bake, and plan exciting meals. David claims that Dory is the best cook alive – no kidding and he's traveled around the globe with nobody coming close to her skills! David's true passion is being a devoted father and husband. Fishing with Claire has become a popular activity along with adventures to the neighborhood park(s) with Mom, Claire, and Scarlet (dog). Once or twice a month he squeezes in a bike ride or round of golf. Watching David nurture Claire with his undivided attention and encouragement brings Dory much happiness and confidence in their quest to grow the family through adoption. As a family, we are most passionate about having fun together whether at home or traveling to new places. This spring we took our first trip to Disney World and look forward to returning with her sibling in a few years. If we had to pick one, tennis would be our family sport. In addition to the relaxed fun, the etiquette, sportsmanship, and teamwork help reinforce many of the qualities we value as a family.

Our Home & Community
Our neighborhood is full of young families who have become some of our closest friends that we interact with regularly. In fact, our cul-de-sac and adjacent street has close to a dozen families with children all under 5 years old. From chili cookoffs to Halloween parties, there is always plenty going on. David's mother, sister, brother in law, and two nieces are an incredible support system located just 10 minutes away (father is deceased). Between holidays, Sunday night dinners, and movie nights, Claire sees them on a regular basis. Notably, David's sister is a Sheriff's Deputy and brother in law an ex-Police Officer. It takes a village and we have the support in place to allow our adoptive child to flourish. Dory's family resides in Nebraska but despite the distance, we visit at least once per year. It's a huge gathering as Claire has over a dozen cousins in Omaha alone! We stay busy during the week with trips to the library, preschool, tennis, and now ballet classes. We save the weekends for spontaneous trips to the beach, birthday parties, or swimming at our nearby Country Club. Our house is walking distance to the local elementary school (award winning and top ranked in Virginia) and Claire loves playing with her friends in the safety of our cul-de-sac and safe neighborhood. Our next child will enjoy having their own bedroom and bathroom as we are fortunate to have plenty of space in our 3 story home. Right now, Claire's favorite spot is a tie between her pink bedroom and her downstairs playroom that sits just off the family room. Perhaps someday this room will graduate to a ping pong or air hockey room!

What We're All About
Coffee gets us out of bed…just kidding! We are actually early risers, which is great for kids as they awake to a day already in motion…with a tasty homecooked breakfast to get things started off right! Mom and Dad are driven by a genuine gratitude for all our blessings and dedicated plan towards elevating our children's emotional and physical wellbeing. Our short and long term goals surround expanding our family of 3 to a family of 4 and we hope we've offered a glimpse of what we can provide! We know firsthand the power of adoption, that it truly works, and provides an incredible path forward to all involved parties. Thank you again, please reach out if you think we'll be a good fit for your child's needs. We look forward to connecting!