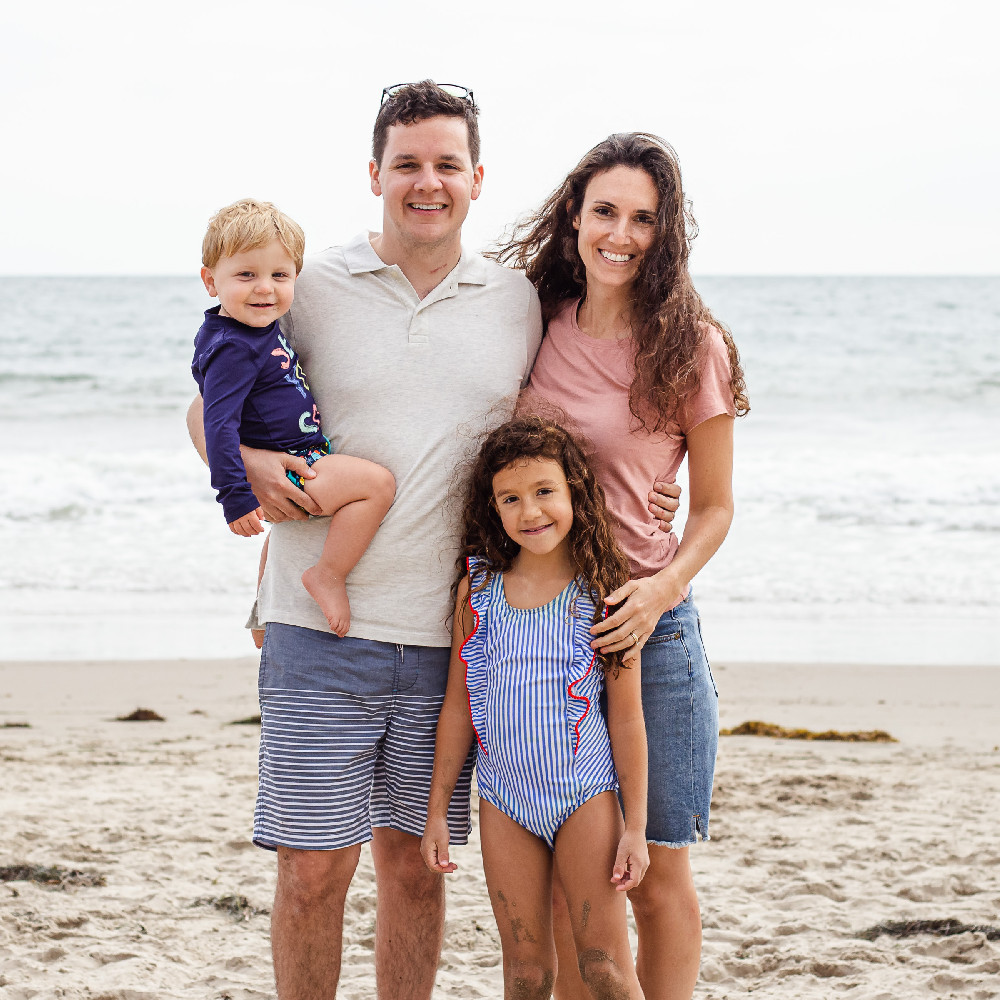 Family Facts
Children:

Two Children

Region:

West

Faith:

Catholic

Education:

Graduate Degree
We are Greg and Monica and we are so thankful to have you consider us to be the parents of your child. We cannot begin to imagine how difficult this process must be for you, and we pray that God's compassion and strength sustains you through every moment. We hope the words and pictures of this profile settle peacefully on your heart and provide you with a meaningful connection to our family. If you choose us to become the parents of your child, he or she will be so cherished and loved, not only by us, but also by our daughter Isabelle and son Gregory. Our hope is that this child will also be able to experience your love through knowing you, if that is something you also desire. We write this profile so that you might catch a glimpse into our little family's life.


Why Adoption?
We have been married for 10 years and are blessed with two beautiful and active children. Isabelle is our biological child, and our Gregory came to us through the gift of adoption. Our hope has always been to have a big family, and we continue to pray for this every day. We were open to children from the beginning of our marriage, but we had to wait for our Isabelle to arrive almost 2 years later in May of 2012. Since then we have suffered three miscarriages and one ectopic pregnancy, all of whom we had difficulty conceiving. Although the loss of our babies was overwhelming and painful, we cling to the hope that our loving God has a plan for our family that is far better than any plan we could come up with for ourselves. We started our adoption journey 4 years ago, and we were overjoyed when we were matched with Gregory's incredible birth parents in 2017. Gregory's entrance into our family has been a blessing beyond anything we could have imagined. Our hearts are overwhelmed with immense gratitude to God and Gregory's birth parents, and our Isabelle is so in love with her little brother.

Get To Know Us
Greg is a psychologist and director at a local inpatient psychiatric hospital, and Monica is a stay-at-home mother. Greg's passion for helping others motivated him to pursue a career in mental health; a challenging and rewarding job that will always remain second to his vocation as a husband and father. Monica loves being a stay-at-home mother and homeschooling our two children. Being able to take a central role in educating and forming Isabelle and Gregory into well-adjusted and virtuous children brings Monica so much daily fulfillment and meaning. Monica finds great joy in doing fun and educational activities with Isabelle and Gregory throughout the week. We take full advantage of our membership to the Sacramento zoo, meet up daily with friends and family at local parks and pools, or head to the library often to rent new books. After Greg returns home from work in the early evening, we often head out for a run or bike ride after a family dinner, or take a quick walk around the neighborhood before the bedtime routine starts. We look forward to weekends full of friends and family, or trips to our cabins in Tahoe and the Bay Area, or the beach in Southern California. We both love the outdoors, and enjoy camping and the ocean.

Our Home & Community
We live in a 4 bedroom ranch-style home in a beautiful suburb of Sacramento, CA. We have a large, fully enclosed backyard with a covered concrete patio perfect for entertaining, and a large grass area that is great for children to play all sorts of games. The kids planted vegetables and herbs in raised beds near our front fence, along with a small playhouse and a rabbit hutch for our bunny named Honey. Our neighborhood is wonderful to walk in, with 2 great parks and a beautiful nature reserve. Just two blocks from our home is the community pool where we have met many of our friendly neighbors. We have witnessed so many of our neighbors do random acts of kindness for one another, and Halloween is an unbelievable community wide event full of so much joy. Our neighborhood is very safe and quiet, and we are so happy to raise our children in this community.

What We're All About
Faith is the center of our family and it provides our lives with incredible meaning, purpose, hope, and happiness. We were both raised Roman Catholic, and through grace and the guidance of our parents, we never allowed the practice of our faith to diminish. Monica and the kids try to make daily mass throughout the week, and Sunday is always considered a day for church and family. We have especially clung to God throughout our fertility struggles, and have found that there is no end to His love, compassion, and consolation. Living our lives according to the teachings of the Catholic Church is our primary value, and we work to instill this value in Isabelle and Gregory every day.