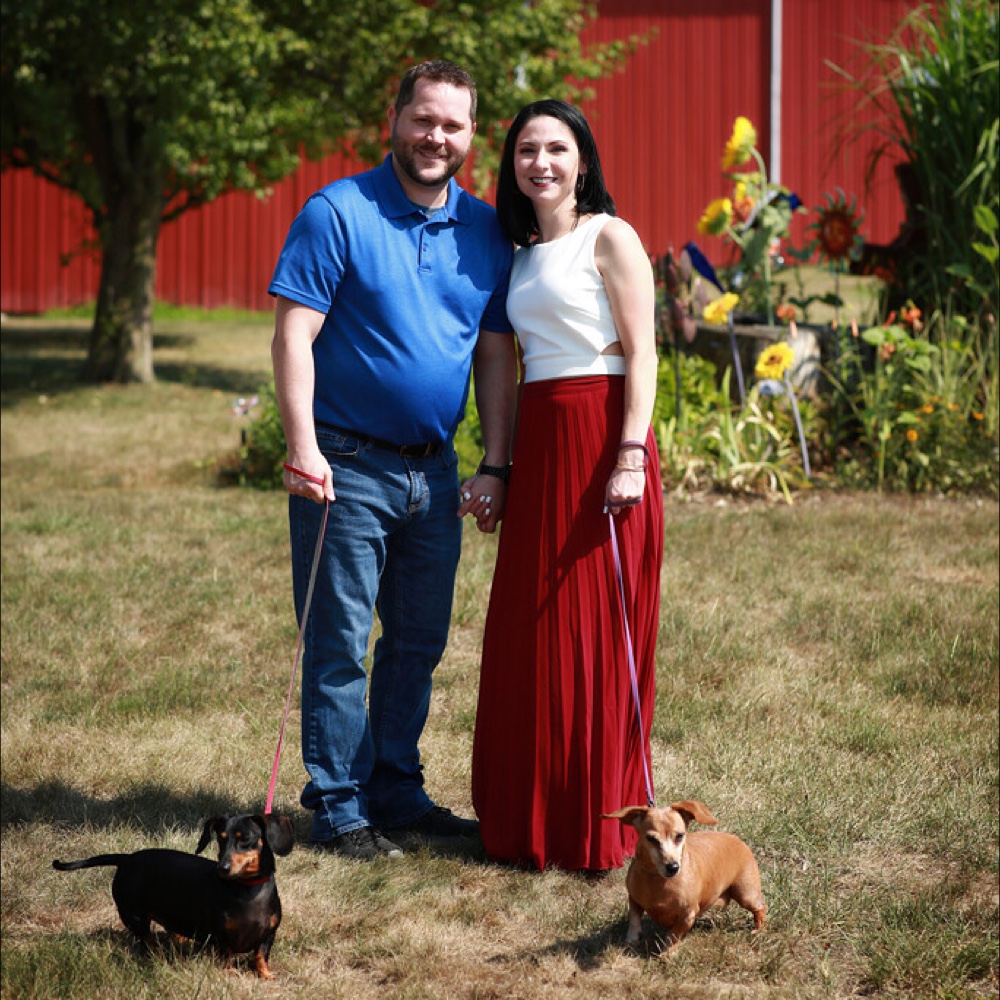 Family Facts
Children:

No Children

Region:

Midwest

Faith:

Christian

Education:

College Degree
We are a loving couple whose story started nine years ago. We met through mutual friends and became friends ourselves. After years of being friends we began to date, and were married three years ago. Our family also includes two mini-dachshunds. We are very family-oriented, and wanting children was never a question to us. But we came to realize that God had a different plan for us when we were faced with fertility difficulties. Deciding to adopt was an easy decision for us and we know it will be the greatest blessing. We are very grateful that you are taking the time to read about our story. Our hearts and thoughts are with you while you embark on this journey, and hope you allow us be a part of it.

Why Adoption?
We have always wanted to become parents. However, after multiple miscarriages and unsuccessful infertility treatments we have realized natural conception may not be possible & may not be God's plan for us. The decision to grow our family through adoption was easy, & was made from our hearts & strong faith in God. We are excited, nervous, & blessed to have this opportunity to welcome a child into our lives to love endlessly, protect, and help grow into something special. We have the utmost respect for the expectant mother & birth family. You will forever have a place in our hearts, & we would like an open adoption or any level of involvement preferred by the expectant mother. We are looking forward to this unique, special, & rewarding journey of growing our family & becoming the parents we have dreamed about through adoption.

Our Home & Community
Our home is nestled in a quiet urban suburb neighborhood. Our home is a four bedroom, two level house on a large corner lot with a deck & fenced in backyard. We bought our home because of the open floor plan, there is room to grow our family, the safe & family-friendly neighborhood, & the location. Our home is located within walking distance to a park. We are also near our church, schools, major shopping center, grocery stores, and urgent care clinics. Our family & friends are very important to us, including our two friendly & loving mini-dachshunds, Layla & Xena. Jennifer comes from a big & close family, & Matt from a small, close family. We both have family that lives close, as well as only up to a few hours away. We spend time with our families every few weeks as well as on holidays, birthdays, annual reunions, & any other special occasion.

Get To Know Us
Matt is a health insurance manager & has been in the health insurance field for six years. Jennifer is a Nurse Practitioner & has been in the nursing field for 15 years. When we are not working, we love to spend time with our family, friends, and dogs. Together we enjoy cooking, spending time outdoors (riding bikes or walking on nature trails), watching sports, & making each other laugh. Matt is kindhearted, very laid back & easy going. He is a big sports fan, esp. wrestling, & there isn't a sport he does not get into. He also has an interest in keeping up with the current events. Jennifer is energetic, & in her spare time she likes to run, go shopping, reading (history & non-fiction), & re-decorate the house. She is also compassionate & generous to anyone who crosses her path.

What We're All About
Despite our struggles with infertility & loss of pregnancies we have not lost sight of our dream to expand our family. Growing our family through adoption will be such a blessing & give us so much joy. Our hearts are full of so much love to give a new little one. We will be devoted to teaching our little one about their adoption story, the love his/her birthmother has for them, & about their ethnic background. As parents we will support and encourage our adopted child to become who they want to be at their fullest. Family is a big part of our lives, as well as family traditions (old and new) & creating new memories. Expanding our family & creating new memories with adoption is something that we are excited about!