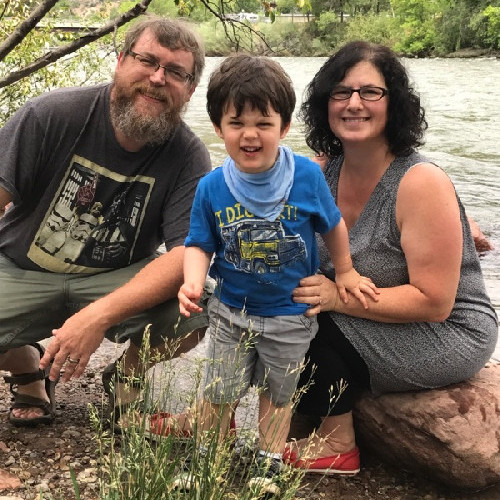 Family Facts
Children:

One Child

Region:

Southeast

Faith:

Christian

Education:

Graduate Degree
We are chic, stylish trendsetters. Nah, just kidding. The truth is, we're total nerds. We like to read-Dr Seuss to classic literature. We sincerely enjoy yard work. Six years ago we got married and bought a house together. Caleb is our funny and spirited five-year-old. We love parenting. He is a joy! He is excited to welcome a new little one and we know that he will make a great big brother. We enjoy hiking, playing with our cat and dogs, and traveling to visit family and friends. We are honored and grateful that you are considering us as you plan for your child's future. Knowing that we are truly blessed, we'd love to open our hearts and home to another child.

Why Adoption?
Early on in our relationship we agreed that we wanted children and were open to adoption. To our happy surprise, we got pregnant in our first year of marriage. We tried to get pregnant again, but suffered three miscarriages. Now we're revisiting our desire to bring another child into our family. We both grew up with siblings and know that special bond. It would be wonderful for Caleb and a future child to experience that too. We will tell your child their history and ensure they know your love for them. If you choose us to parent your child, we promise to love them with all our hearts, listen to them even in hard conversations, and support them in any way we can through life. We would be happy to share updates and photos if that is what you wish, but respect your privacy if it is not. We've felt the incredible love that a child both gives and receives and would feel doubly blessed to have a second child.

Get To Know Us
Jeff- Jeff is kind, generous, and creative. In some ways he is a total kid, yet he is one of the most responsible people I know. As a professor Jeff works hard and invests a lot in his students and in creating curriculum, but his priority is his family and we definitely feel that! When he walks through the door after work he often says "this is my favorite part of the whole day". Jeff likes to hike, bike and hang out with the dogs in the backyard. He is a voracious reader and always has a book on his bedside table. Jeff is an involved and playful dad. He and Caleb have great fun taking neighborhood walks, reading aloud, and having knock-knock joke marathons (Caleb usually makes his jokes up on the spot, so the punchlines are a bit iffy). In his free time, Jeff makes found object art sculptures, curates his music collection, and works in the yard. Desha- Desha is a talker and a hugger. She gives it her all as a part-time nurse and full-time mom. Every day our five year-old can count on her for a play date,trip to the grocery store, library visit, or some other adventure. Desha loves big! She takes care of everyone around her, so nursing is a very fitting profession. Not a day goes by without her communicating with family and friends, whether it's a simple chat or a more vital question like"did I break my toe?" Desha is also a talented baker and cook. she has a talent for making cakes that look too good to eat (but are too delicious not to).

Our Home & Community
Our home is in a friendly neighborhood with many families. We are a university town which adds a lot of fun and diversity to our community. We are less that 10 minutes from several parks,a community pool, and a good elementary school. We have a big fenced backyard and spend many hours swinging, climbing, and playing with our pets. Our 3 bedroom home has lots of character. We have a downstairs library/family room that we cozy up in most evenings and our living room has a large play area that usually has a puzzle or block tower in progress. We are also close to a botanical garden and a library that have great kids programs. During the summers we enjoy visiting the farmer's market and listening to live music at the park. Most of Desha's family lives close and we see them regularly for meals and fun. Jeff's family lives in the Midwest, but we visit often and get together for yearly family reunions. Our church is also supportive and would be excited to welcome a child with us.

What We're All About
We are organized folks who like to make plans, but also try to embrace spontaneity and living in the moment. We believe in enjoying meals together without electronics distracting us. We believe in loving God passionately and loving others tangibly. We believe that structure and stability allow children to thrive, but an occasional bonus cartoon or second helping of dessert is alright too. We believe that in the long run, the love you take is equal to the love you make.