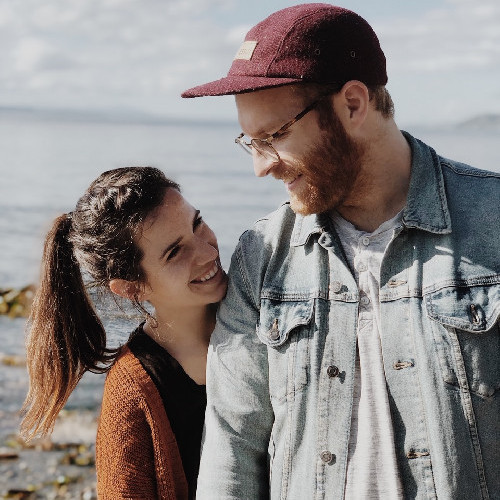 Family Facts
Children:

Two Children

Region:

Southeast

Faith:

Christian

Education:

Graduate Degree
If you are looking for a type A, picture perfect family and home, do not look this way! We are a creative couple that loves to engage life even through the messes! Our home is warm and welcoming with 2 children that are full of love to give to anyone who walks through our door. We've been married for 5 years and always had planned on waiting 5 years before adopting and having kids. God had a different plan for us though, with our sweet sassy surprise daughter around 4 years ago then we decided to have one more almost 2 years ago. We can't imagine it any other way now, but we are so excited to continue with what we always hoped for, growing our family through adoption!

Why Adoption?
Both of us have many family members through adoption on each side of our families: Lily's mom, two nieces, six cousins, and an uncle! We've seen the wonderful aspects and the challenges, but mainly how incredible it is how God can bring family together in unique ways. Even when we were just dating we both knew we wanted to adopt. It's always been God's plan for us, we just didn't know what it would look like. As time passed, we both came to realize one of the things we love about adoption is how we can love our child and and love our child's parents too. We want to be a good option for expectant parents that want to be able to have connections. Our families are all very excited and we look forward to seeing what is in store!

Get To Know Us
Kirk is a creative tech director for our church. He makes videos, runs lighting, sound, stage set up, streaming, etc for anything they need. This is a great position for him because he loves being able to serve our church while also getting to be creative visually and musically. Lily is an art teacher and artist. She teaches art from home to Tennessee Virtual Academy students so she can do what she loves while also being home with the kids. She paints and markets her paintings as well. When we are not working, we love to spend time with our friends and community, especially outside with some good music on. We live close to the mountains so we often hike and explore beautiful sights. Our families are large so we love to get together and let all the cousins make forts, run around, and have frequent dance parties.

Our Home & Community
We live in an old 1939 home that we are currently slowly restoring, keeping the charm but updating certain aspects. Our neighborhood is full of friends with kids as well. Since the neighborhood is older, there are a lot of huge trees and beautiful greenery for many walks! We live in a diverse area of East Tennessee, very close to the city, close to wide open spaces, and a short drive to the mountains. We like to say we get the best of many worlds. We have many friends who are having kids as well, some biologically, some through adoption. And our families are a huge part of our community too! One of our favorite things about where we live is that it is only a three minute walk to our church! We often walk instead of drive which is fun because we can wave to everyone on the way!

What We're All About
We are passionate about God, our families, our friends, and loving each other to the best of our abilities! We are very different people. Kirk is a quiet, old soul, introvert and Lily is loud, vivacious, and animated. But our values are the same. So we really balance each other out as we go about life. We are very active in serving at our church, and also give to an organization Kirk's aunt and uncle started that helps families stay together in Eastern Countries. We also have a couple of college age Young Life leaders we meet with and come alongside as they serve in different high schools across the county. We love to give this example to our children as we want them to go out and be lights in the world.