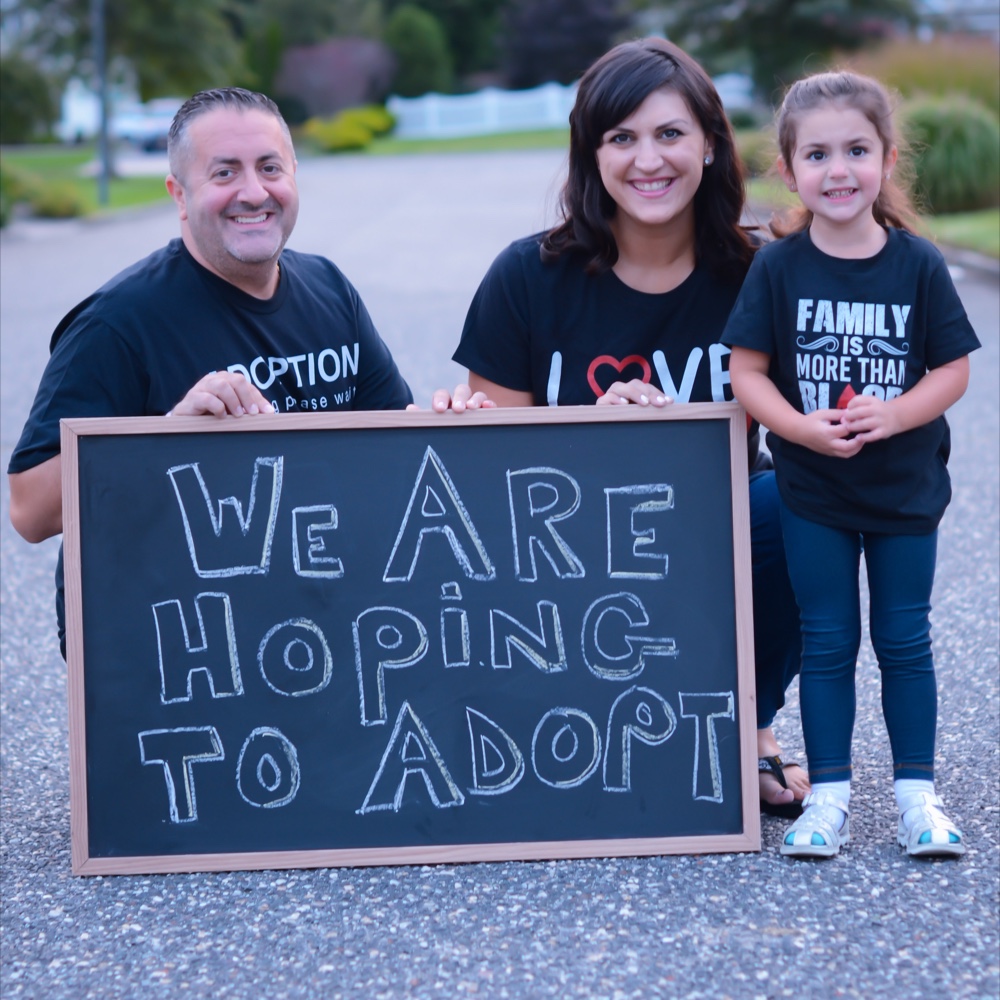 Family Facts
Children:

One Child

Region:

Northeast

Faith:

Catholic

Education:

Graduate Degree
Welcome to our page! We are so honored that you chose to get to know us and truly grateful that you are considering adoption for your baby.
We met at work....(I know-scandalous!) Kim was working as a bookkeeper while in law school and Steve was an insurance agent. Both of us would tell you that we had an instant connection to one another. Kim loved Steve's hilarious sense of humor and the way he made her laugh. Steve loved Kim's warm smile and spicy attitude.
We were married after a year and a half of dating. We wanted to start a family as soon as we purchased our first home but had fertility trouble. Finally after 4 years we had our daughter. However, due to health complications after her birth, Kim is unable to have more children.
We always thought we would have 2, maybe 3, children as we both have siblings and we cherish our relationships with them.
This is what led us to decide to adopt our second child.
We are financially secure and have a large extended family living close by. We never placed our daughter in daycare when she was an infant due to our flexible work schedules and family's ability to watch her. We are so lucky to share our home with not only our daughter but our oversized lapdog and two snuggly cats. What makes us a great family? We love to laugh and have fun! We travel often, love arts and crafts, cooking together and exploring things around us. We live close to exciting NYC but even closer to farms and orchards.

Why Adoption?
When we discovered we could not have more children naturally, we were devastated. There were many tears shed for the loss of this dream and a lot of internal battles asking "why did this happy? why is everyone around me having babies, while I cannot?" A big family was always something we wanted and what we were used to, coming from large families ourselves. But then we realized, just because we could not have more biological children, did not mean we could not have the family we always wanted. Adoption would be different, but just as good. Just as much love, just as much happiness, just as much family. We realized, family is not about DNA; it's about love. We are prepared to love our adopted child with all of our hearts and offer them a wonderful life. We are not perfect, but we are happy, constantly laughing and secure. These are the values we can share with our new child. For us, the placement of another child would be such a blessing and would make our little family complete. We promise to support our birth mother, or birth parents, as much as we can. We promise to include her in the life of her child, whether that be with an open adoption, if she would like one, or sharing how special she is with our child. She will never be forgotten or disparaged since, to us, her selfless and brave act has given us the most wonderful gift of all.

Get To Know Us
Kim is an attorney and Steve owns his own businesses. Kim has always been the studious type and thrived in school. She eventually went to college where she graduated as the Valedictorian of her class and eventually went to law school. Steve on the other hand was not quite as academically inclined but still attended some college. During college he realized that it was not the right place for him as he learned best when he was in the field interacting with people. He left college and received his insurance license and the rest is history. He now owns multiple businesses and is very successful. Before we had our daughter, our favorite thing to do was travel! We have been to Europe, Hawaii, all over the USA, Canada, Mexico, South America, Central America and the Caribbean. We love to see different cultures, learn new languages, learn about history, bask in the sun while looking at beautiful landscapes and most of all... EAT GREAT FOOD! After we had our daughter, we still love to travel but it's harder to travel with a baby. She just doesn't appreciate the Coliseum the way we do LOL. We started traveling to places we know she would appreciate like Disney World! While there isn't as much relaxing, there is just as much fun. And still GREAT FOOD!

Our Home & Community
We live on Long Island, New York, in a beautiful home with an acre of property and a pool. What I love most about our home is how our kitchen opens up to our living room so I can see our daughter playing and working on her next art project while I prepare dinner. I also love our high ceilings and large staircase when you first walk in. It's the perfect place for great family photos and making a grand entrance! We love to go on adventures both locally and when we travel. Kim is always looking for fun things to do and is a member of several family groups that always make great suggestions for family fun. In the summer, we spend our down time at the beach, going to the Zoo, barbecuing with friends and family, hiking and swimming in our pool. In the cooler months, we enjoy pumpkin and apple picking, watching movies, ice skating, going to museums, doing arts and crafts and cooking! We have lots of friends and family that live locally which provides for additional love and support all year round.

What We're All About
We are all about our family. When we were blessed with our daughter it brought us closer than ever. Both of us couldn't wait to be parents and despite all the sleepless nights and temper tantrums, we wouldn't trade any of it for anything in the world. Seeing our daughter wake up each morning with a big smile on her face keeps us going everyday. We love spending time with her, showing her things, teaching her about the world and just having fun!