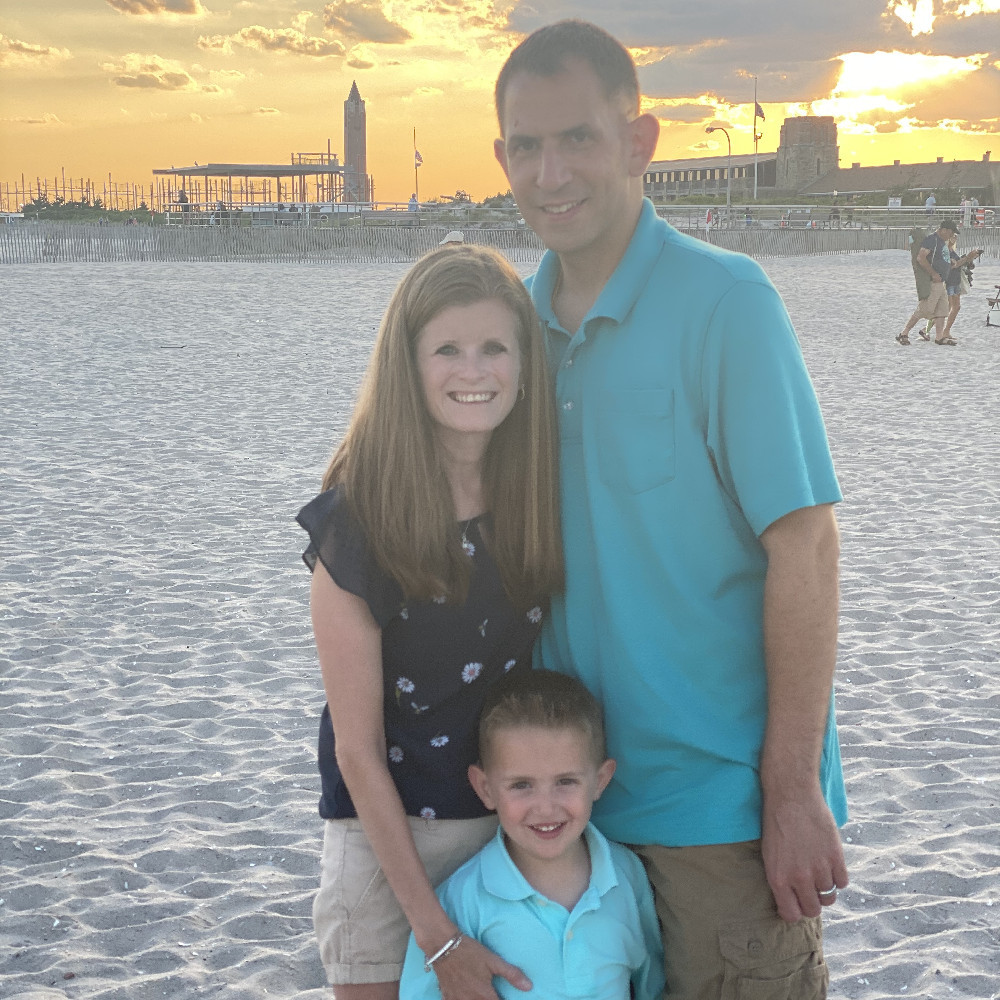 Family Facts
Children:

One Child

Region:

Northeast

Faith:

Catholic

Education:

Graduate Degree
We are Jen and Mike and it means so much to us that you are taking the time to learn more about our family, Our lives together and our home are filled with unconditional love, faith, laughter, and joy! We have been married for almost 8 years and cherish every moment together with our 4 year old son.
We hope to add even more love to our family through the gift of adoption. We have always dreamed of having a big family with lots of children to share our love with. Our son looks forward to having siblings of his own to share life's special moments with. We cannot wait to give the same love to a new baby, the way we love our son! We are so lucky to have such a loving, caring, close knit family who we spend lots of time with. We also love spending time with our friends and their children, who are like family to us!

Why Adoption?
"All our dreams can come true if we have the courage to pursue them." - Walt Disney Finding a loving husband/wife and having a big family has always been so important to us. Our parents are wonderful role models of what true love is and how to be wonderful parents. We both had very happy childhoods where our families focused on enjoying each day together. When we got married, we vowed to accept children lovingly from God. We had talked about adoption before we were married and knew that however God blessed us with children, we would always be a family because love connects us all together. Over the years, we were faced with many infertility issues and an early miscarriage, but we never gave up. We were blessed with our little miracle after many years of trying. He is the light of our world and fills our hearts with so much love. But, we know we have even more love to give and we want our son to grow up with a baby brother or sister (or more) who he can share life's special moments with. We want to be parents once again and be able to rock another one of our children to sleep, sing lullabies, kiss boo boo's, read stories, play games, and give the gift of unconditional love. While we may not be able to have any more children on our own, we know the gift of adoption will allow our family to grow and be blessed beyond measure with another miracle. While our hearts are exploding with love in the times we spend together and we cherish every single moment, we know there is a missing piece of that puzzle. Our family is filled with so much love but we have one more piece to fill to make our family complete. Then our story will not end, but will only continue its next chapter with new stories to tell, more love to share, and more incredible memories to make that will last a lifetime.

Get To Know Us
Mike works in Human Resources at one of the leading hospitals in the country. He works very hard and has great relationships with his managers and colleagues and is a great provider for our family. He has a great work-life balance, as family is most important to him. In his spare time, he likes to watch baseball, play golf, and build legos and k'nex with his son. Jen was an Elementary School Teacher for 11 years before she had their son. She taught 1st grade and 4th grade and loved watching her students grow academically and socially. Now, she is a stay at home Mom and loves every minute of watching her son grow. Jen loves to cook and bake, swim in the pool, and loves making crafts and doing experiments with their son. Family is the most important gift to us in the world and it's the little moments in life that are the most important and allow for the greatest memories. We love taking long walks down at the beach or local parks and preserves. During the summer, we love to grab dinner and sit by the beach. We love to enjoy the beauty of nature by going strawberry picking, apple picking, and pumpkin picking. Christmas is our favorite holiday and we love to decorate the house and tree and bake hundreds of Christmas cookies! This past year we set a record of baking almost 800 cookies to give to family and friends (and of course ourselves!). Our favorite food is seafood and we love to eat by the water when the weather is nice. We love to play board games, and read stories together. We are big Disney fans and can't wait for our next trip back when we can watch the parades, see the fireworks, and take pictures with the characters. We love getting to check out museums and aquariums and some of our favorite vacation spots include Cape May, Niagara Falls, and Mystic, Connecticut. We absolutely love Country Music (I guess we get that from Jen's Dad and Mike's Mom) and love getting to go to concerts of our favorite artists. We especially love Carrie Underwood, Luke Bryan, Zac Brown Band, and Darius Rucker to name a few!

Our Home & Community
We live in a beautiful home in the suburbs on Long Island, New York. We recently renovated our home to add more bedroom and playroom space for our son and future children. We have a spacious backyard with a swing set and many kid-friendly toys. We also have a fire pit where we enjoy relaxing during summer nights and roasting marshmallows after barbecues with family and friends. Inside, you will find our house filled with many pictures of our adventures together. We even have a Family Tree with pictures of us, our parents, and grandparents on each of our wedding days. We always decorate our house for each of the holidays and have our son's home and school art projects displayed throughout the house. We live in a tight-knit community and have wonderful neighbors on a quiet block. We are close to the beach and have many stores, parks, libraries, churches, and restaurants around us. We live within minutes of Jen's parents and siblings and all of our friends and their children are only a short distance away. We love all of the community interaction and events from parades on Memorial Day and other holidays, as well as programs for children offered at our local library. We love exploring the local parks in our neighborhood, as well as exploring the parks and preserves in neighboring towns. We live in a great school district and feel blessed to have become part of this town since we bought our house when we got married!

What We're All About
Love is what makes the world go around. Love is what makes us who we are. We are very positive, happy people who are very resilient and never give up, no matter what hurdles life throws our way. Love, faith, laughter, family, friends, quality time, memory making, and knowing that we are grateful, thankful, and blessed for everything we have been given is what life is all about to us! When we got married, we always knew that the journey to parenthood might not be easy, but we would never give up and would always reach for the stars. This year has brought a lot of changes for so many people, but we can honestly say that it has brought us so much closer as a family. We have spent so much time together making so many different types of crafts, playing lots of sports, cooking and baking, and walking around the neighborhood or local parks, preserves, and the beach. While we missed a lot of our normal routines and seeing all of those that we love, we truly cherished the chance to slow down and just soak up every moment together. We always cherish every moment together, but it was so nice to really get that extra time in between work and daily activities. We can't wait to add another child to our family to share all of our love and memories with. We want him or her to know the story of where he or she came from and respect the level of communication that the birth mother is looking for. After all, we all will share a bond forever and want the child we adopt to feel as loved, safe, and well rounded as possible. As parents to our son, our goal in life is to always make him feel loved, protected, happy, and that the sky is the limit. We also want him grow up being respectful and hardworking. We want him to cherish every moment, keep the faith, and know that we will always have his back. These are the same qualities we want to pass on to any of our future children. And we hope that if we are given the opportunity to be parents once again, our children will be best friends and enjoy their time together. A family is built on love, and that is something we will treasure forever. We cannot wait to go from the "terrific three" to the "core four (or more!)" and cannot wait to see where this journey leads us.